It sure seemed like fall arrived overnight…it was in the high 90's just the other day and now today it's in the 60's and windy.  What to do on this chilly autumn day?  Well bake a tasty treat, of course and so I made my new recipe for these scrumptious vegan pumpkin pecan tassies with warm spices like cinnamon and pumpkin pie spice these little bundles of joy are perfect with a cup of coffee.  My partner is always happy when I blog a vegan recipe since he will be able to eat it, jumping for joy actually…There's something special about making small tarts or cookies, maybe you don't feel guilty about eating those instead of a piece of cake…Just don't count how many of these you will munch on.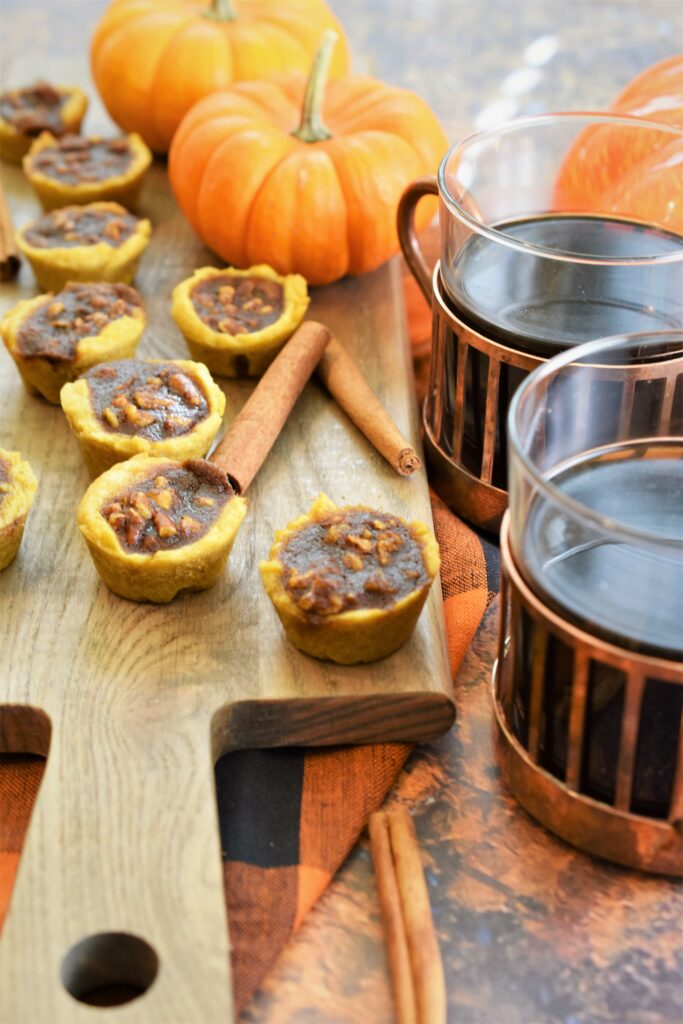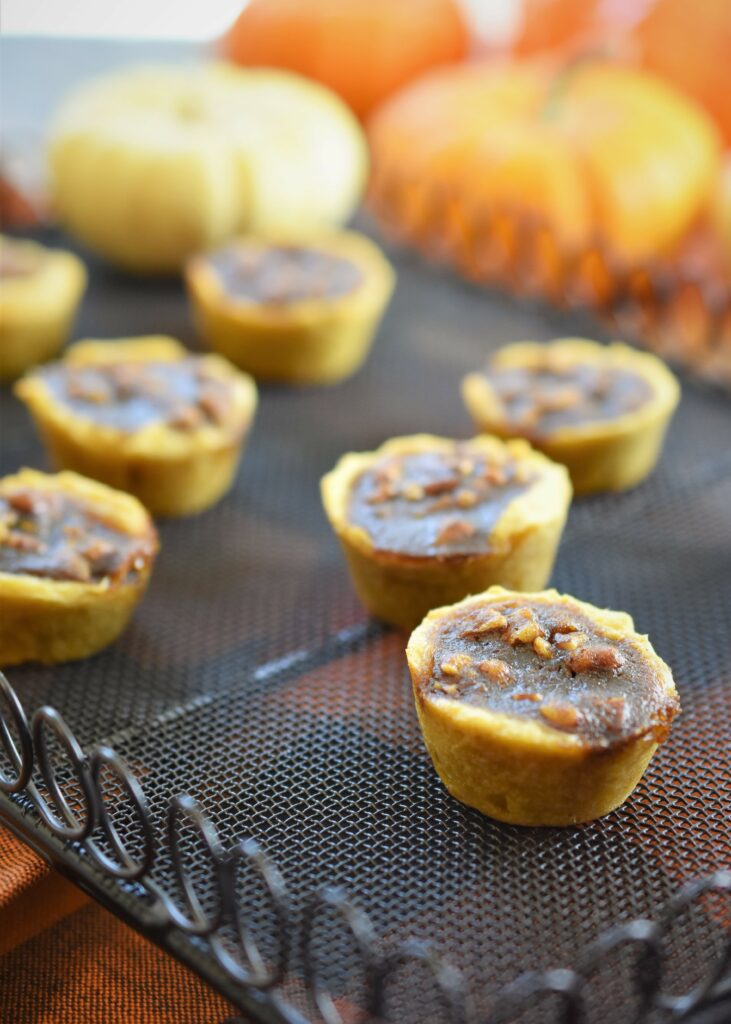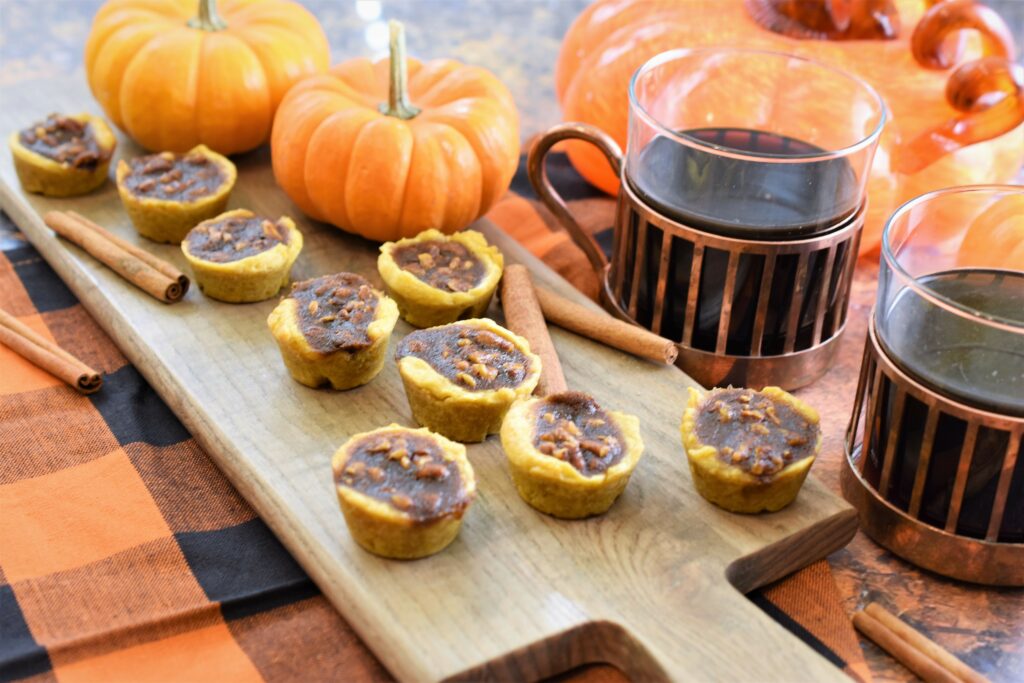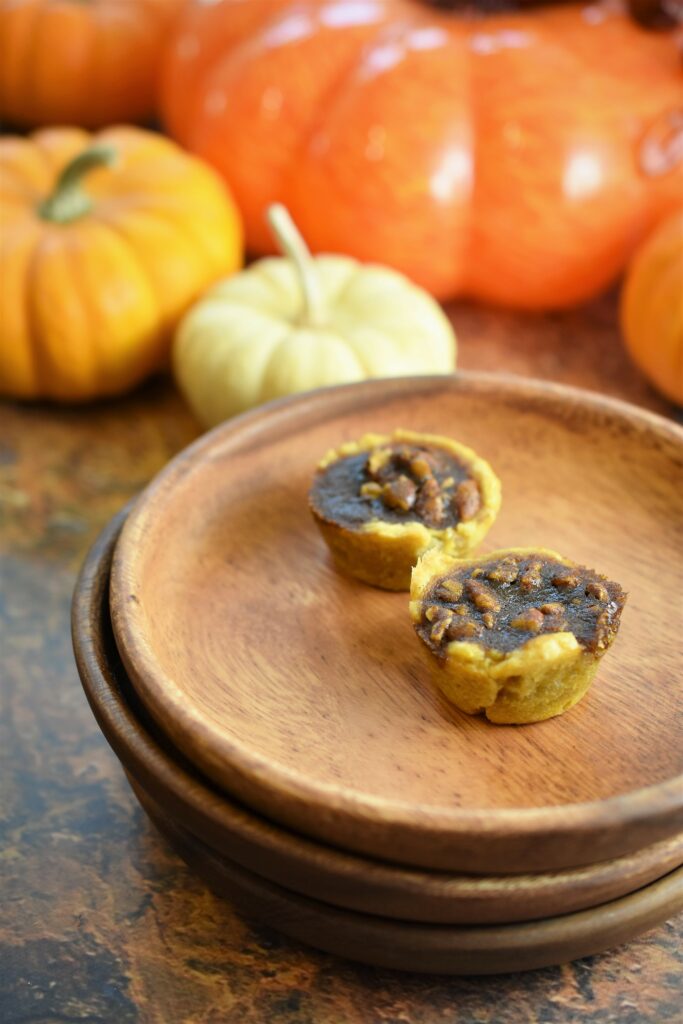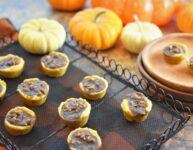 Vegan Pumpkin Pecan Tassies
These bite sized tarts are a mix of the best things for autumn…pumpkin & pecans!
Ingredients
1/2

cup

vegan butter, softened

1/2

cup

vegan cream cheese, in my opinion Trader Joe's house brand is the best

1/4

cup

pumpkin puree

1 1/4

cup

all-purpose flour

1/4

tsp

kosher salt

2

tbsp

granulated sugar

1

tsp

pumpkin pie spice
Filling
1

tbsp

flax seed meal

2

tsp

cornstarch

2 1/2

tbsp

water

1/3

cup

pumpkin puree

1/2

cup

brown sugar

1

tsp

vanilla

1/4

tsp

kosher salt

1

tsp

pumpkin pie spice

1/2

tsp

cinnamon

1/2

cup

pecans, finely chopped
Instructions
In a bowl mix together the vegan butter, vegan cream cheese and pumpkin puree, gradually beat in the flour, salt, sugar and pumpkin pie spice. Cover and refrigerate for at least 1 hour

Roll the refrigerated dough into 1 inch balls and place each ball in a prepared 24 cup mini muffin pan with cooking spray, pressing each ball evenly and up the sides, the dough will become soft quickly. Place back into the refrigerator for a few minutes while you make the filling

Mix together the flax seed meal and the water together in a small cup and let rest for 5 minutes

Preheat oven to 365 degrees

In a mixing bowl combine the flax seed mixture, pumpkin, brown sugar, vanilla, salt, pumpkin pie spice, cinnamon and pecans and spoon on top of each little tarts

Bake in oven for 20 to 25 minutes or until edges are golden and filling is puffed, cool in pan for 10 minutes, remove to wire rack to cool