Nothing else tastes like autumn like pumpkin so I baked some vegan pumpkin pecan donuts with maple cinnamon glaze.  Admit it, everywhere you go you notice everything pumpkin, from dish soap to toothpaste! (Well, I don't know about toothpaste, I made that up, but I'm sure someone will make it).  I was at the store yesterday and saw pumpkin tortilla chips and salsa.  Plus I really could not believe it when I saw pumpkin dog treats, really?  Don't be surprised when you see a golden lab named pumpkin patch in line at the coffee shop getting his pumpkin latte…lol. It's heaven on earth this time of year for pumpkin lovers but it doesn't always mean that everything you see tastes good or should have pumpkin in it.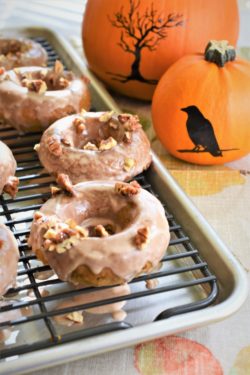 I wanted to create a pumpkin item that isn't a muffin or pie and that was healthier than some pumpkin sweets.  So I developed these delicious vegan pumpkin donuts with maple cinnamon glaze.
The minute my partner knew that I was blogging a recipe that was vegan , there was a happy dance moment in the house.  The best thing about these donuts is that they are baked and not fried.  Therefore your kitchen won't smell like grease.  In addition the calories are way less, so your love handles will thank you after you eat one.  Furthermore, you don't even have to be vegan to enjoy these decadent coffee dunkers.  Plus you won't even miss the milk, butter and/or eggs in this moist cake like donut.
Dunk these donuts in your coffee at breakfast and you will be greeting the rest of your day with a big smile on your face…
One More Fall Recipes Like These Vegan Pumpkin Pecan Donuts with Maple Cinnamon Glaze?
Try these other pumpkin and squash recipes to celebrate Autumn.
I think the crow wants a bite! lol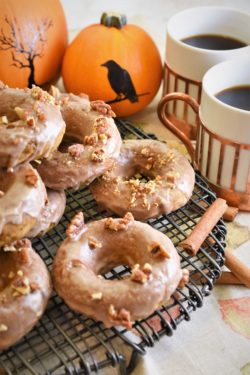 I'll take two to go!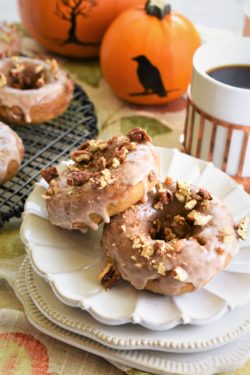 Tower of donuts…yes indeed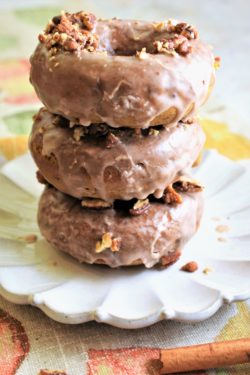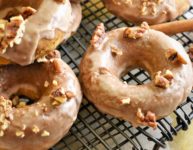 Vegan Pumpkin Pecan Donuts with Maple Cinnamon Glaze
Taste of fall in these cake like donuts...even better, they are baked and not fried and just as good.
Ingredients
2

tbsp

flaxseed meal

6

tbsp

water

2

cups

all purpose flour

2

tsp

baking powder

1

tsp

baking soda

2

tsp

pumpkin pie spice

1/2

tsp

ground nutmeg

1/2

tsp

kosher salt

2/3

cup

brown sugar, packed

3/4

cup

pumpkin puree

3/4

cup

almond milk

2

tsp

apple cider vinegar

4

tbsp

vegan butter, melted

2

tsp

vanilla extract

1

cup

toasted pecans, chopped, divided (I used candied pecans)
For the glaze
2

cups

powdered sugar, sifted

1

tsp

cinnamon

3

tbsp

maple syrup

3

tbsp

almond milk
Special equipment
2

non stick donut baking pans, 6 donut cavities in each pan
Instructions
Preheat oven to 400 degrees

Spray the donut pans with non-stick baking spray and set aside

Combine the flaxseed meal and water in a small bowl, mix and set aside to rest for 10 minutes

In a separate bowl, whisk together the flour, baking powder, baking soda, pumpkin pie spice, nutmeg, salt and brown sugar

In a separate bowl mix together the pumpkin, almond milk, apple cider vinegar, vegan butter and vanilla. Mix in the flaxseed/water mixture once it has rested

Add the dry ingredients to the wet ingredients and blend well, do not over mix; stir in ½ a cup of the chopped pecans

Fill a pastry bag with the batter or you can use a plastic storage bag with a small cut in the corner of the bag and fill each donut cavity with the batter

Bake in the oven for 10 to 12 minutes or until toothpick comes out clean

Let rest for 15 minutes
In a small bowl mix together the glaze ingredients with a whisk until well blended
Dip the rounded side of the baked donut into the glaze and place on top of a wire rack lined with a cookie sheet, with the leftover icing, take a spoon and drizzle more icing on top and sprinkle with the chopped pecans, let rest 20 minutes so the icing can set. Makes 12 donuts

Enjoy this autumn treat with a fresh cup of coffee morning, noon or night…