I served these sandwiches at a recent luncheon and they were very popular.  I'm still harvesting fresh basil from my garden and that is the secret to the wonderful flavor in this recipe.  I love the fact that this creamy pesto is from cream cheese and not tons of olive oil like traditional pesto.  Since this pesto is a spread, it holds up great in this sandwich and it's not oily what's so ever.  You can cut it into 12 large bites or 24 small cocktail appetizer portions.  Great for any type of party year round, especially lunches, tail gate parties, pot lucks and picnics.  You can make it the night before and it travels so well.  Pack up your picnic baskets Boo Boo because you will be enjoying this great recipe for that outdoor party, this time you don't have to steel other people's picnic baskets because you will want your own full of these delicious sandwiches.
I love these mini cornichons on the bamboo knot picks, makes for the perfect garnish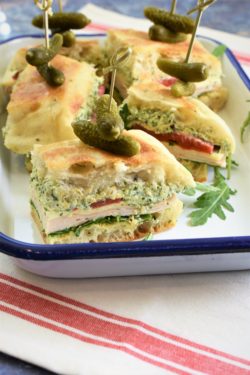 Impress your guests with these sandwiches instead of chili at your next tail gate party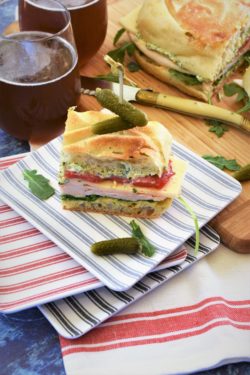 The arugula give this a nice and fresh peppery flavor against the sweet basil pesto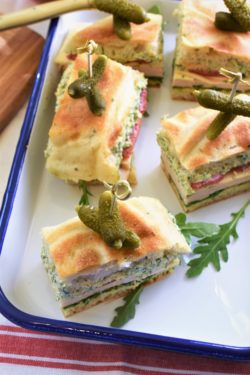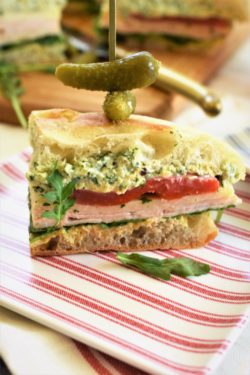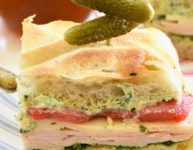 Turkey Focaccia Bites with Pesto Cream Cheese
This versatile sandwich is perfect for any occasion...especially picnics, it travels well...
Ingredients
1

lb

herb Focaccia (7X13 inches) cut in half horizontally

8

oz

cream cheese, softened

1

cup

basil leaves, packed

2

tsp

chopped garlic

1/2

cup

Parmesan cheese, grated

1/3

cup

pine nuts, toasted

1/2

tsp

kosher salt

1/2

tsp

course black pepper

1/2

tsp

red pepper flakes

3

tbsp

Dijon mustard

3

cups

arugula, loosely packed

8

oz

Havarti cheese, deli slices

14

oz

jar of roasted red peppers, drained

14

oz

Roasted turkey, deli slices
Instructions
In a work bowl of a small food processor, add the cream cheese, basil, garlic, Parmesan cheese, pine nuts, salt, pepper and pepper flakes. Blend until creamy, stopping halfway to scrape the sides and blend again.

Open the focaccia halves like a sandwich onto a large work surface or cutting board and spread the Dijon mustard evenly over the top of the bottom half of the focaccia, followed by the arugula

Lay the Havarti cheese slices over the top of the arugula, followed by the roasted bell peppers; you may need to cut them into flat pieces because sometimes the jarred roasted peppers are almost whole when you take them out of the jar.

Lay two layers of roasted turkey evenly over the top of the peppers.

With the other half of the focaccia, spread all of the pesto cream cheese evenly over the top and place it on top of the other half, press gently and serve right away…but I found that chilling it in the refrigerator for at least a couple of hours helps set everything and the flavors develop more.

Cut into 12 large bites or 24 small cocktail party portions