Sadly summer is over but we are still having warm days here in the Bay Area and fall is such a beautiful season as well.  I'm still harvesting my beautiful fresh herbs from my garden for my recipes, so I thought I would use them in today's wonderful recipe with squash.    Butternut squash is one of my favorite squashes and luckily you can get it year round at the store but I really enjoy cooking with it during the fall and winter months.  I'm using this squash in this autumn inspired hor d'ouevres in flaky, buttery puff pastry.  I usually make a ham and cheese palmier but this time I thought that butternut squash would be the star of this main attraction.  Pre-made puff pastry is a close friend of mine, ha, ha…it's such a versatile item and I always have a couple of packages in my freezer.  Don't be intimidated by it, it's much easier to use than phyllo dough and once you get the hang of it, you will want to use it for so many dishes.  This recipe may have a few steps but it really is quite easy and the outcome is so worth it.  Just think, your party guests will be sipping their wine or cocktails and crunching on these gorgeous, flaky tidbits and really enjoying themselves and you will end up being the star at your party.
Don't you wish you had a bucket of these by your side?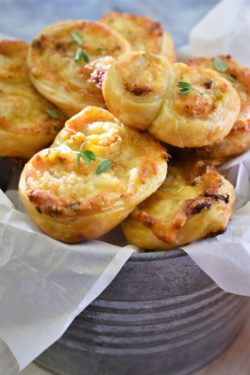 Oh and lastly, you can make this ahead of time up to the point of baking them, just wrap the pastry in parchment paper and plastic wrap and put in the freezer.  When you want to bake them, just thaw for an hour, and then proceed to slice them and bake them off.  That's what I did; because I was a little too ambitious to think I had the time to blog two recipes on Saturday, so I threw it in the freezer and baked them today.
                         It's just as simple as putting toppings on a pizza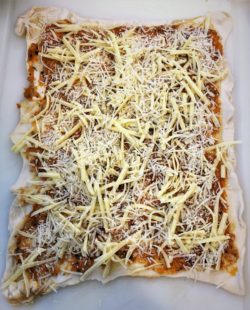 Gently roll the long sides towards the center so they "shake hands"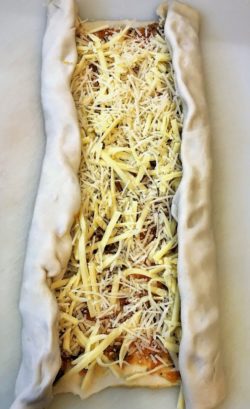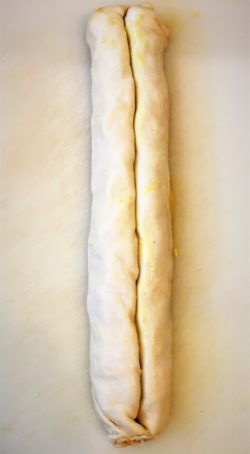 You will impress your guests with this savory fall appetizer, I promise!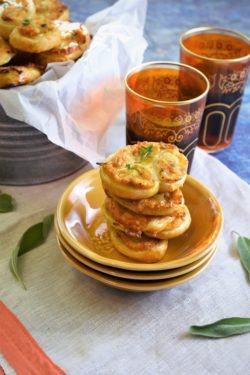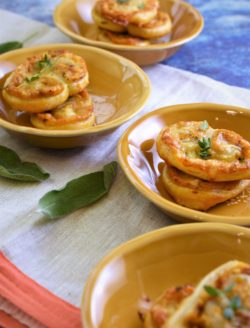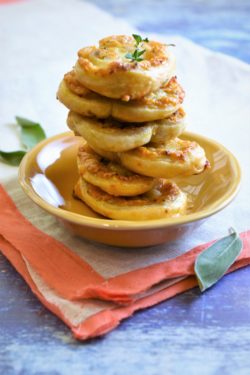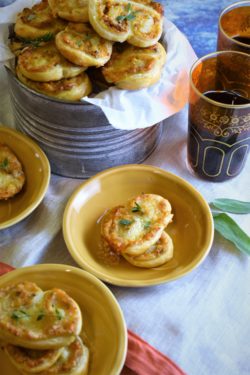 Herb Roasted Butternut Squash, White Cheddar and Dijon Palmiers
Savory, flaky, buttery...what more could you want in an appetizer...oh don't forget the hint of sweetness from the luscious butternut squash...yum!
Ingredients
1

9 oz. sheet of puff pastry

best thawed overnight in the fridge

8

oz

peeled, cubed butternut squash

2

tbsp

olive oil

2

tsp

fresh chopped sage

1

tsp

fresh chopped rosemary

1/2

tsp

fresh chopped thyme

1/4

tsp

kosher salt

1/4

tsp

coarse ground black pepper

1/4

tsp

cayenne pepper

2

tbsp

Dijon mustard

1

cup

grated sharp white cheddar cheese

1/2

cup

grated Parmigiano Reggiano cheese

1

large egg yolk, scrambled
Instructions
Preheat oven to 400 degrees

Place the butternut squash, olive oil, sage, rosemary & thyme on a sheet pan and toss well and roast in oven for 20 minutes or until very tender

In a food processor fitted with the metal blade or with a potato masher, puree the butternut squash with the salt, pepper & cayenne until smooth, set aside to cool for 15 minutes

Meanwhile gently roll out the puff pastry to 9 ½ by 11 ½ inches, spread the sheet of puff pastry with the Dijon mustard, followed by the cooled butternut squash on top of that.

Sprinkle the white cheddar cheese over the top and follow that with the parmesan cheese

Face the short end of the pastry towards you and roll each long end towards the center until they meet, brush some egg yolk down the center of the pastry and press the pastry together to form a seal and gently press the whole pastry log down a bit to compact it

Cover the pastry roll and place in the refrigerator to chill for 45 minutes

Preheat the oven to 400 degrees

Take the pastry roll out of the fridge and brush on the remaining egg yolk over the entire log

Cut the prepared pastry roll into ¼ inch slices and place on a parchment or silicone mat lined sheet pan face up 2 inches apart Bake for 15 to 18 minutes, until golden brown. Makes approximately 28 pieces. Serves 6