I sometimes get inspired by what I have done before, but to do it differently.  I'm sure we all get bored with our lives doing things the same way; the same thing happens in the kitchen, believe me.  A client had asked for my mini BLT's for an upcoming baby shower she is hosting this Saturday; I usually serve them on little toasts, open faced.  I thought to myself, I want to put a twist on this and serve something more substantial and that would have more flavor since my usual way to serve these is on buttermilk bread, toasted and cut into triangles, cute and petite but I've been there and I've done that.  I thought of this new way to make them on biscuits so it's really like a sandwich and the recipe is super easy since I used boxed baking mix, doctoring it up with delicious items, it really elevates this BLT to a whole new level.  So next time you want to make a petite item at your parties, keep this recipe handy and serve your BLT's on biscuits as sliders instead of toast.
These easy biscuits turned out perfect and made wonderful little sandwiches…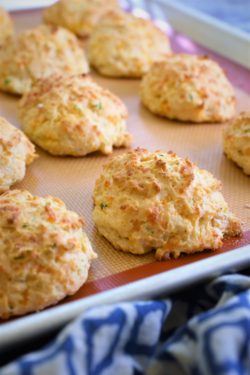 Make sure to garnish your sandwiches with something on a pick, I used these mini peppers and they had a kick for sure but still really good, gave me the hiccups…lol.  You can use olives, cherry tomatoes or the every classic mini cornichon.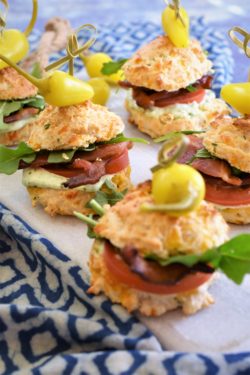 The flavor of the smoky bacon was perfect with ice cold lemonade
The creamy basil aioli paired perfectly with the bacon and the cheesy biscuit and gave this party sandwich a sophisticated flair.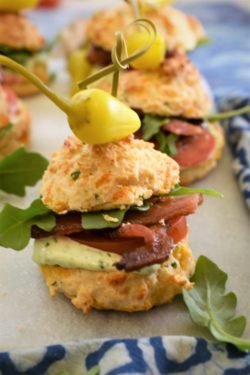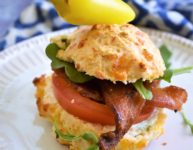 Petite Cayenne Cheddar Biscuit BLT's with Basil Aioli
This mini sandwich is packed with flavor and a nice change to the classic BLT
Ingredients
3

cups

Bisquick

1/2

tsp

cayenne pepper

1 1/4

cups

buttermilk

1

cup

shredded sharp cheddar cheese

2

tbsp

minced chives

1

egg

1

tbsp

water

1

tsp

chopped garlic

1/2

cup

mayonnaise

1/2

cup

basil leaves

1

tsp

Dijon mustard

14

slices of cooked bacon, cut into thirds

1 1/2

cup

arugula

3

roma tomatoes, sliced
Instructions
Preheat oven to 450 degrees

In a mixing bowl, whisk together the Bisquick and cayenne pepper until well blended, add the butter milk, cheddar cheese and chives, mix well with a spoon

Drop by heaping rounded tablespoons, (I used a cookie scoop) and place on parchment or silicone sheet lined baking pan

Whisk together the egg and water to make an egg wash, brush it on top of each biscuit (this will give the biscuits a nice color and sheen) and bake for 10 to 12 minutes until golden brown, take out of oven and set aside to cool

While biscuits are in the oven, combine the garlic, mayo, Dijon and basil in a small food processor or blender and blend until smooth

Cut biscuits in half crosswise and spread some basil aioli on the bottom half, add a slice tomato and top with the bacon and then the arugula, hold sandwich together with a toothpick with garnish of pepper, cherry tomato, olive or cornichon

Makes 21 small sliders, enough to serve 8 as an appetizer