Finally the weather is starting to feel like fall and baking on a lazy Sunday is a great idea. Craving something with apples so I baked my recipe for these scrumptious vegan apple cranberry walnut scones. Plus brunch is one of my favorite meals and scones are a perfect companion with a cup of coffee. There's something special about brunch time, I think it's because it's the only meal where you can eat breakfast and lunch at the same time. I think that's why brunch is so popular with so many people.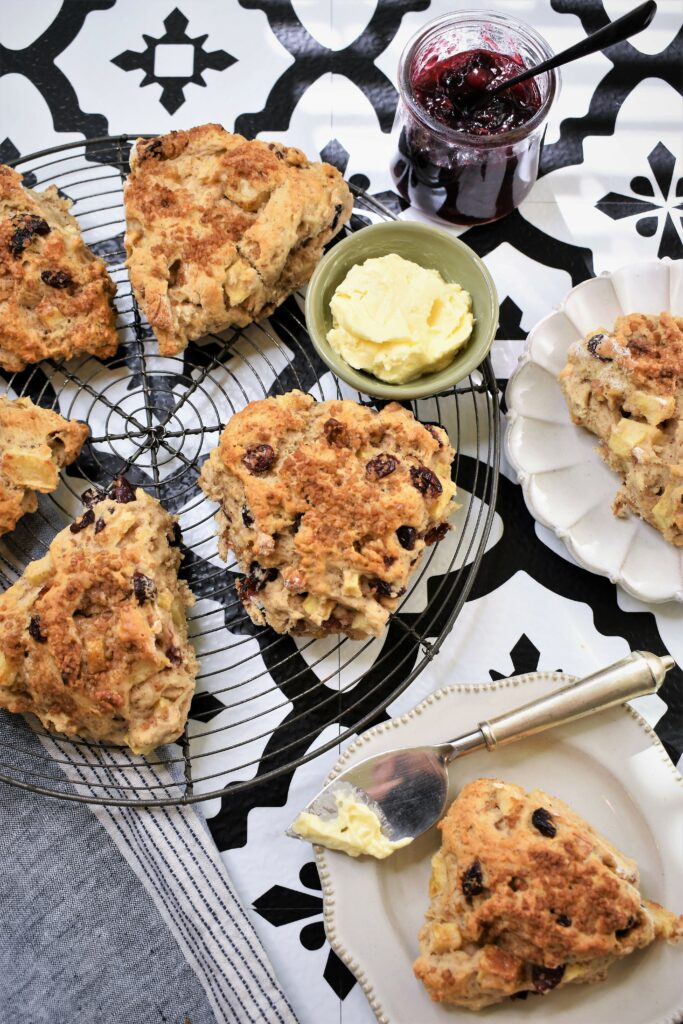 Grazing all day on vegan apple cranberry walnut scones
Coupled with grazing all day on pancakes, waffles, omelets and vegan apple cranberry walnut scones. Not to mention have you ever walked by a bakery or a restaurant noticing their baked goods displayed in the window? Standing in front of the window drooling while staring at breakfast foods like Audrey Hepburn. I might not be looking into Tiffany's window at diamonds while munching on these delicious apple cranberry walnut scones. But looking at fresh baked items are equally mesmerizing to me. I have to admit that I didn't intend to eat so many scones the day I baked these but I ate four. As a matter of fact I stood there and counted them twice and accused Patrick of eating so much more.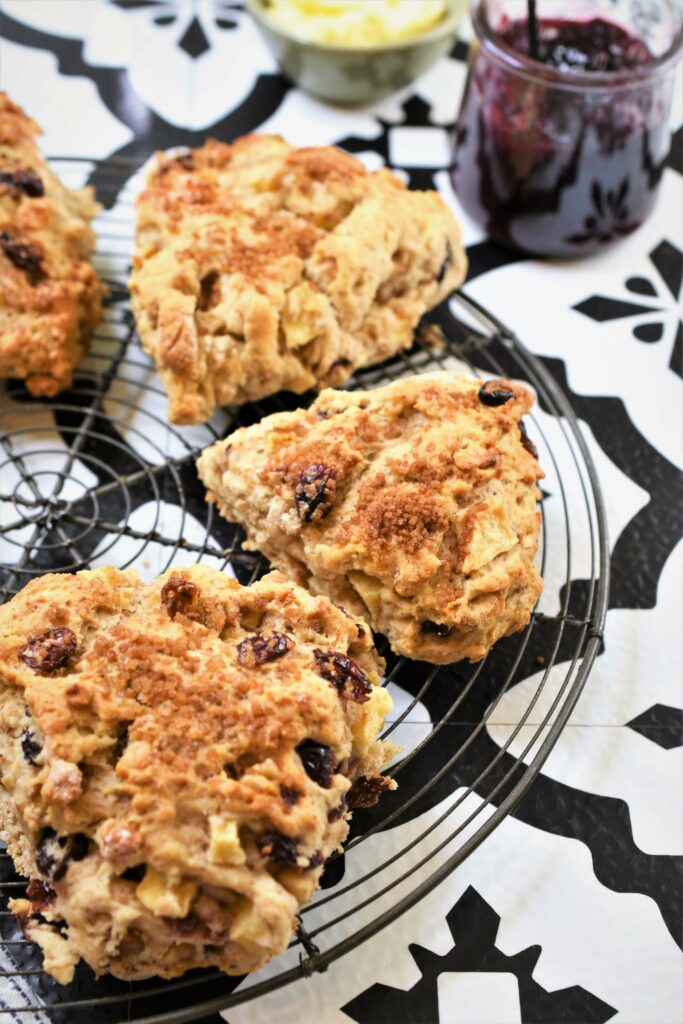 What Makes These Scones Vegan?
Some people ask me why make these vegan and what makes these vegan? First of all my partner Patrick is vegan so I try to blog a lot of recipes vegan. Plus once you try my vegan apple cranberry walnut scones you won't miss the butter, dairy or eggs that are usually in them. I replaced the butter with vegan butter and the eggs with ground flaxseed. Furthermore, you can't go wrong with the fresh apples, tart cranberries and crunchy walnuts. So next time you are in the mood for a brunch feast, make these delicious scones!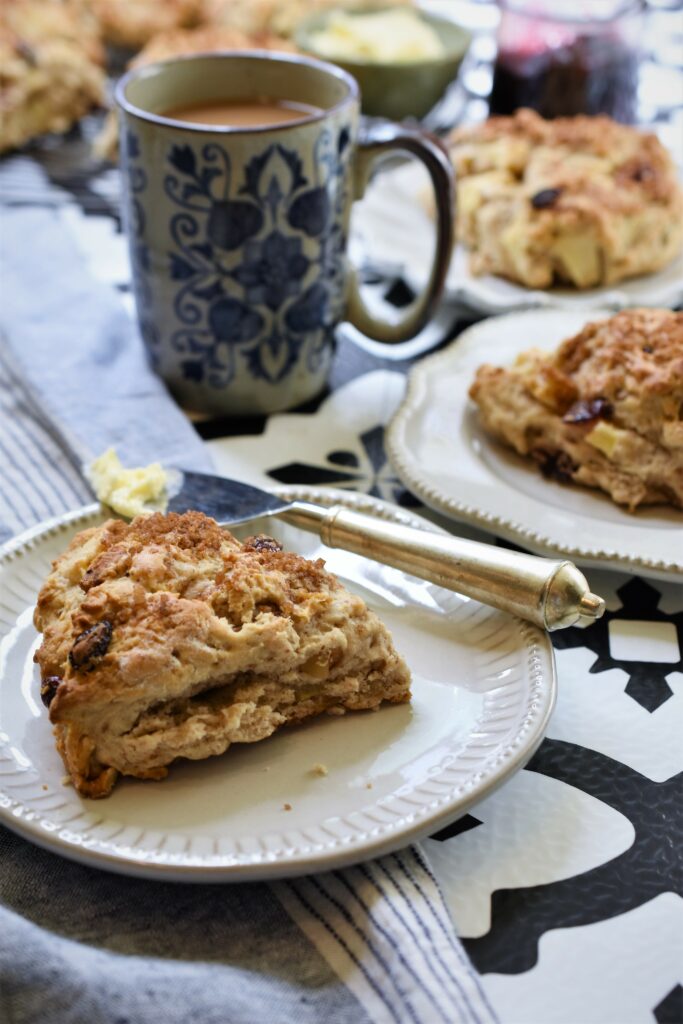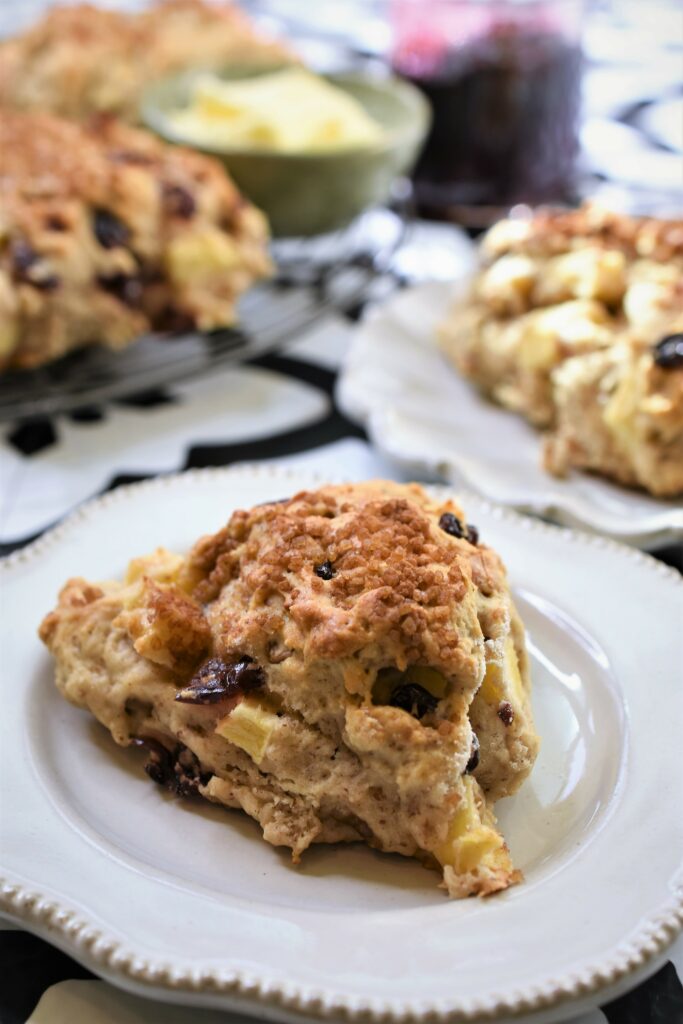 Liking this scone recipe? Try some of my other baked recipes below. Serve them anytime of day. Besides brunch try them at your next tea party.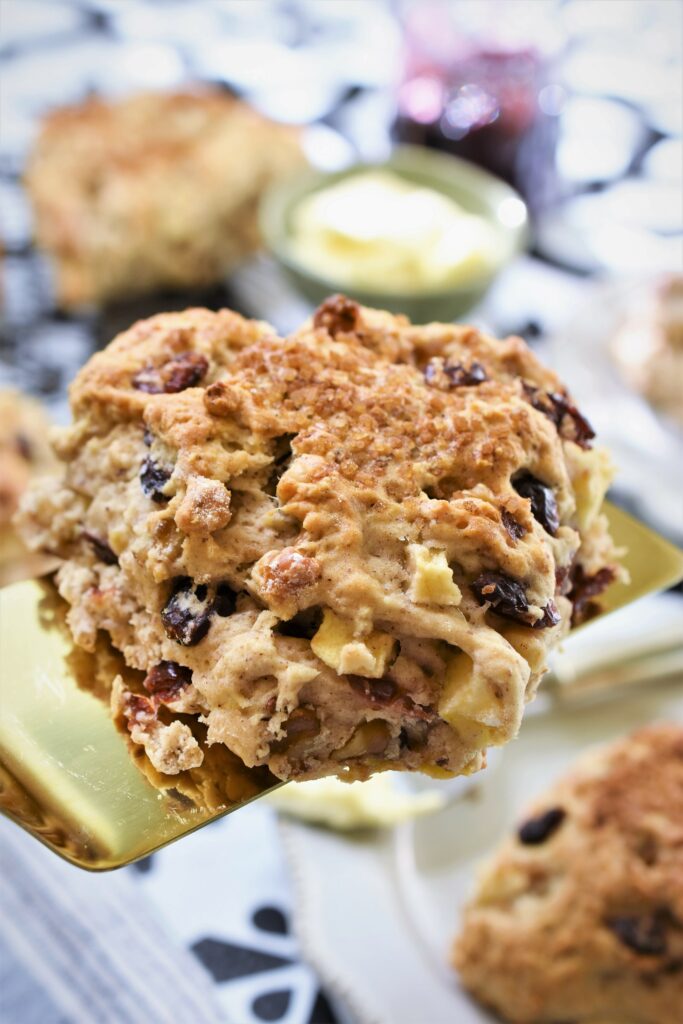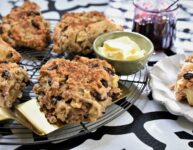 Vegan Apple Cranberry Walnut Scones
These delicious vegan scones combine classic fall flavors for a breakfast time staple worthy of several cups of cappuccinos
Ingredients
1

cup

almond milk or other plant based milk

2

tbsp

ground flaxseed

1

tbsp

apple cider vinegar

2

tsp

vanilla extract

3

cups

all-purpose flour

1/2

cup

sugar

1/2

tsp

kosher salt

1/2

tsp

cinnamon

1

tbsp

baking powder

1/2

cup

cold vegan butter or margarine

2

cups

apples, peeled, cored and chopped

1/2

cup

dried sweetened cranberries

3/4

cup

toasted walnuts, chopped
Topping
2

tsp

almond or other plant based milk

2

tbsp

turbinado sugar or coarse sugar

1/2

tsp

cinnamon
Instructions
In a small bowl whisk together the almond milk, ground flaxseed, vinegar and vanilla, let rest for 10 minutes allowing the flaxseed to thicken

In a work bowl of a food processor fitted with the metal blade add the flour, sugar, salt, cinnamon and baking powder. Pulse a few times until "sifted"

Add the cold vegan butter and mix well

Add the wet ingredients and pulse mix just until blended, don't overwork the dough

Dump the dough out onto a lightly floured surface and by hand mix in the apples, cranberries and walnuts and knead slightly to incorporate all the ingredients together. If dough is too wet, sprinkle a bit of flour on top so you can work the dough better.

Line a baking sheet with parchment paper. Divide the dough in half and shape into 2 balls, put both on top of the sheet pan side by side and flatten into 6 inch circles. Place in the refrigerator and let rest for 30 minutes.

Preheat oven to 425 degrees

Cut each circle of dough into 6 wedges and separate the wedges a bit so they don't touch. The dough will be moist so a great trick for cutting them easier is using a bit of flour on both sides of the blade of a straight edge knife to cut them.

For the topping mix together the turbinado sugar and cinnamon. Brush the top of each wedge with almond milk and sprinkle the sugar on top of each one

Place scones in the oven and bake for 25-30 minutes until golden brown. I took them out at 20 minutes, separated them with a dinner knife since some of them baked together a bit and put back in oven for 5 minutes more.