Celebrate the holidays with this cranberry serrano chili vinegar with orange. Because fresh cranberries are in season during Thanksgiving and Christmas. Plus I love to make recipes with fruits and vegetables that are in season. Furthermore in my opinion you can't have a holiday feast without cranberries. To emphasize how versatile cranberries can be, they are great in savory or sweet recipes. While I like the sweetness to them I also like adding a bit of spice. Because opposites attract right? For instance the heat from the Serrano chili peppers play well with the orange and the tang of the cranberries.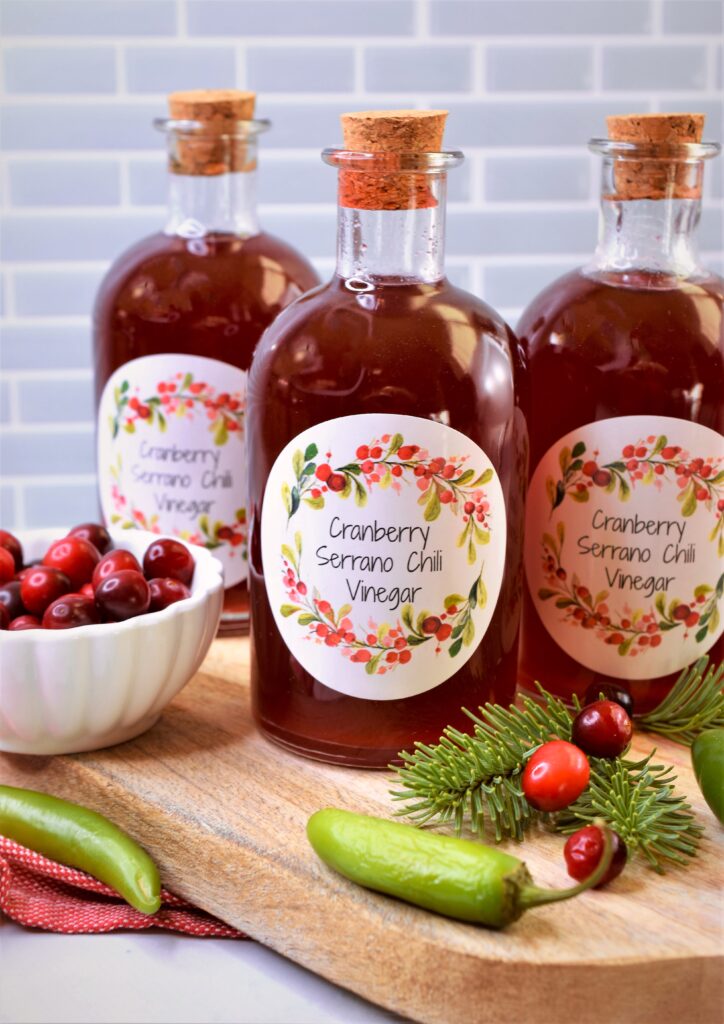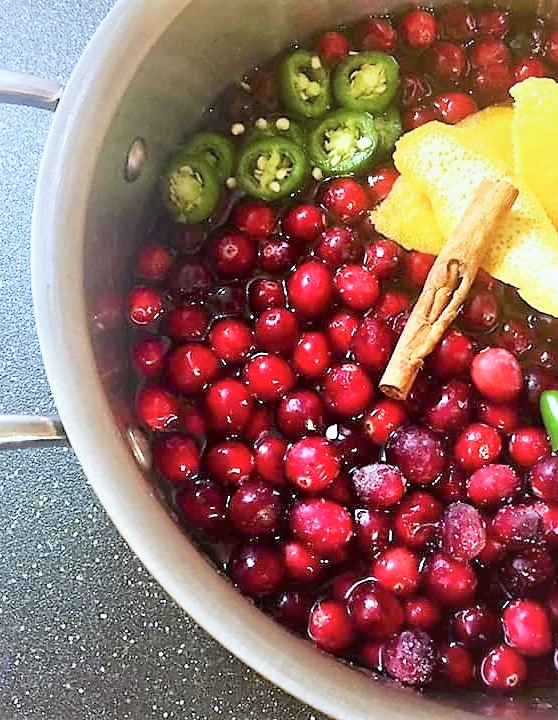 As much as I wanted to make a dish with this I didn't create this cranberry serrano chili vinegar for a recipe in mind. I'm making homemade Christmas gifts this year and this makes a great gift to those cooks in your life. Furthermore I printed the labels I made really easy on Avery labels with tons of free templates. Because presenting and wrapping gifts beautifully is part of the gift. I make homemade gifts from my kitchen for friends and family all the time, here are some you might like: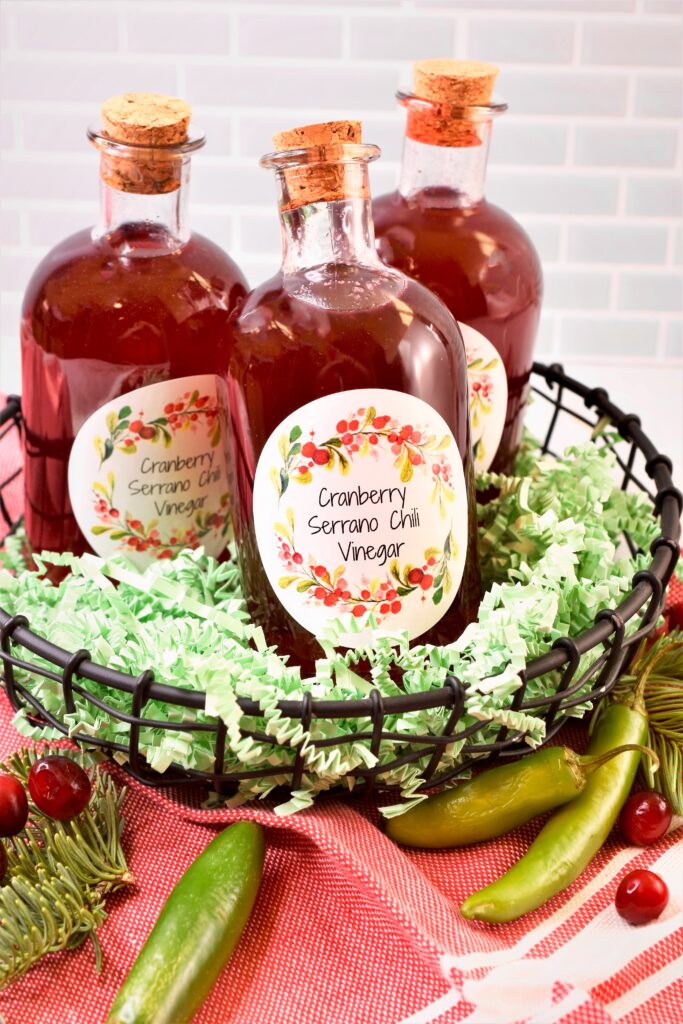 Here are 45 homemade gifts from the kitchen sure to please those hard to get for friends or family members.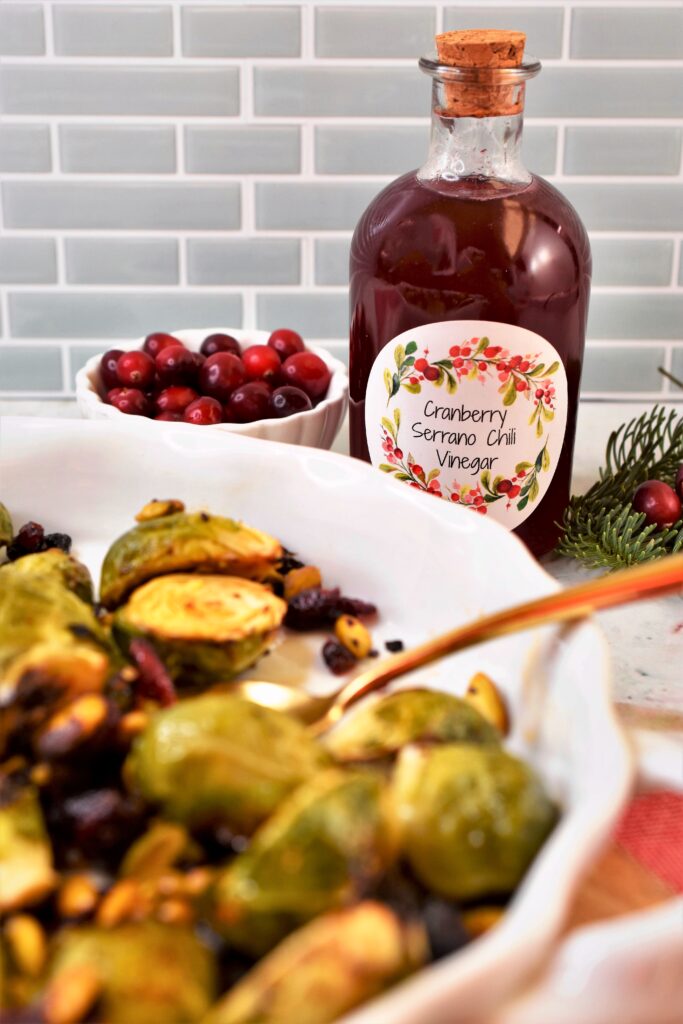 What can I make with this cranberry Serrano chili vinegar?
While making this cranberry Serrano chili vinegar I thought up many different ways to cook with it. First of all in my opinion I think balsamic vinegar receives way to much attention. Although I enjoy it from time to time I love using different vinegars in my kitchen. Otherwise my taste buds get in a rut and everything tastes the same. Furthermore I think vinegar brings out a richness to so many dishes that other ingredients can't do. Since vinegar is a great substitute for lemon it brightens foods. Plus it adds flavor without adding salt. So try adding this cranberry Serrano chili vinegar to pork or turkey scaloppini. Plus duck with cranberries instead of cherries sounds amazing. Uniquely this would be a great addition to vegetables or perhaps a splash in that cranberry tart?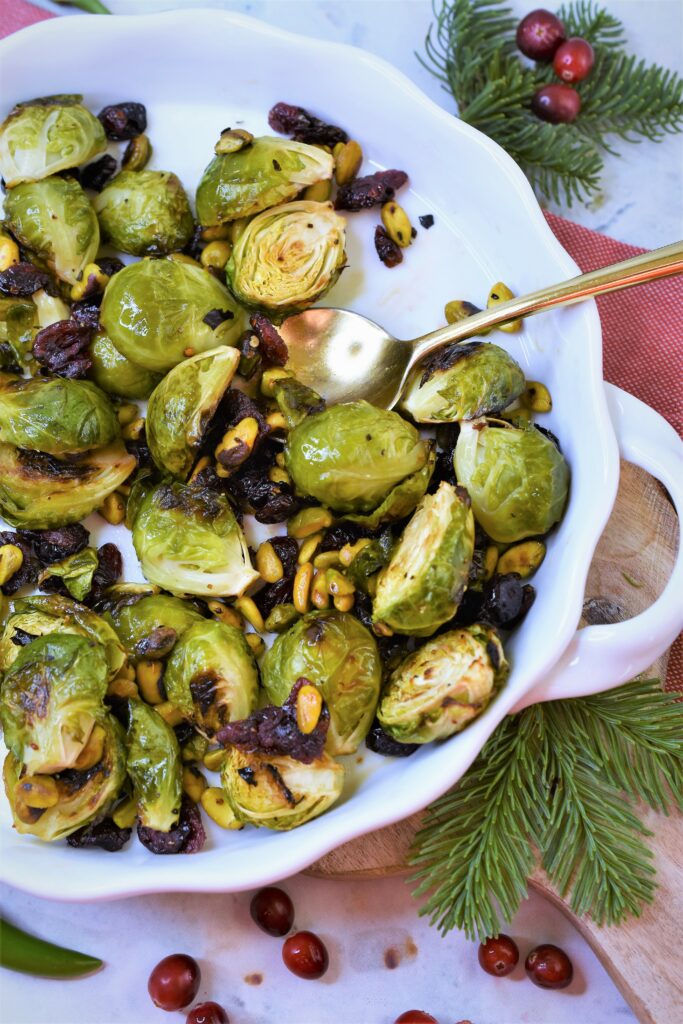 Making this cranberry Serrano chili vinegar with orange could not be easier. In fact just add all the ingredients into a sauce pan and simmer for a few minutes. To finish just strain though a sieve and bottle it up. What could be easier? One note to keep in mind, you can use fresh or frozen whole cranberries. Plus if you want to make it spicier add more chilies or milder use less. I didn't seed these chilies because they were not that spicy. One hint that I always do is taste a slice of chili first with the seeds. Because if it's too spicy then I will remove the seeds.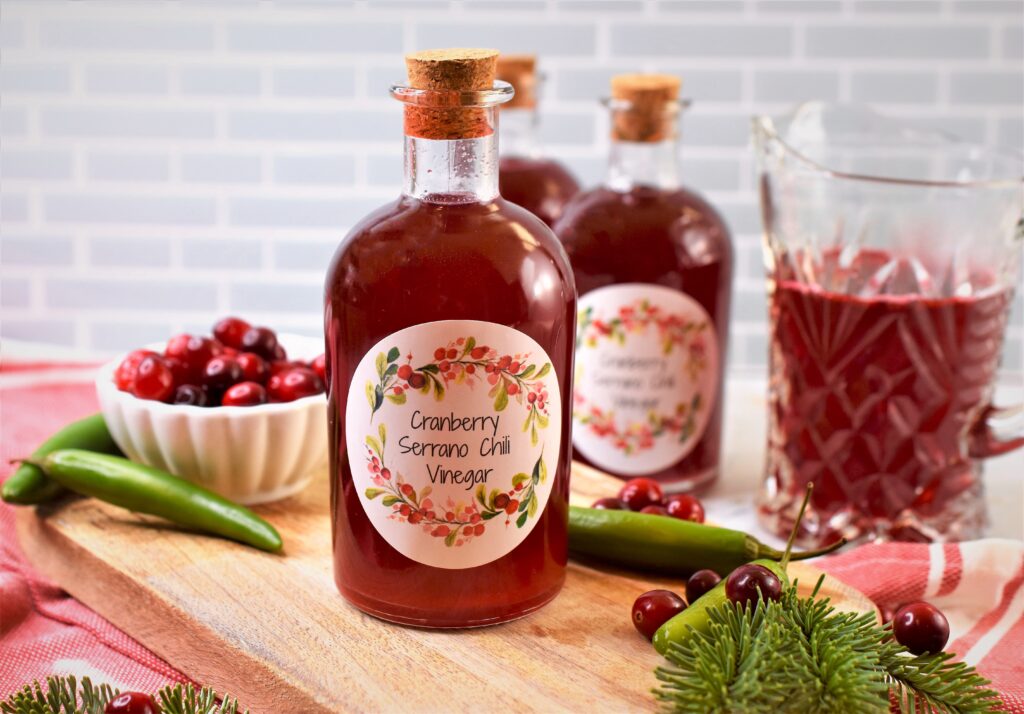 Can't get enough cranberry recipes? I have many right here! Check them out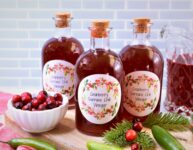 Cranberry Serrano Chili Vinegar
This cranberry Serrano chili vinegar with a touch of orange brings out flavors in so many holiday or weeknight dishes that you may want to use it more often than that balsamic vinegar you have in your pantry!
Ingredients
12

oz

bag of cranberries

1 1/2

cups

apple cider vinegar

1 1/4

cups

sugar

1

cup

water

2

Serrano chili peppers, sliced

3 – 2 inch strips of orange peel

1

cinnamon stick

1

tsp

orange extract
Instructions
Combine everything except the orange extract in a saucepan on the stove and bring to a boil, turn down to simmer for 5 minutes. Stirring occasionally you will hear a few of the cranberries popping.

Let cool completely on the stovetop and add the orange extract.

Sterilize canning jars or bottles in boiling water and dry.

Strain the cranberry vinegar through a fine gauge sieve into a bowl and discard the cranberry mixture, you only want the vinegar.

Pour the vinegar into jars or bottles and keep in a cool dry place for 3 months or in the refrigerator for up to 8 months.