I enjoy the usual sides, sauces and dishes at the Thanksgiving or Holiday table like everyone else but I really crave them when they have a different ingredient in them that give it a new life. One side dish that is just about at every table during the holiday season is cranberry sauce, there are so many variations on it and I created one more for your repertoire.  I had a bunch of persimmons leftover from an appetizer that I wrote about the other day and I thought that they would be a great addition to this recipe.  This cranberry sauce turned out great, the color is vibrant with shades of orange from the persimmons and it sweetens the sauce just a bit more than the usual tartness that cranberry sauce is known for. I added jalapenos for a bit of a kick so the sauce is sweet, tart & spicy.  This recipe is super easy, so keep that can of cranberry sauce that you have on the shelf for another day.  Try this recipe for your holiday turkey or ham and I bet it would be good on that vegetarian loaf or strudel as well.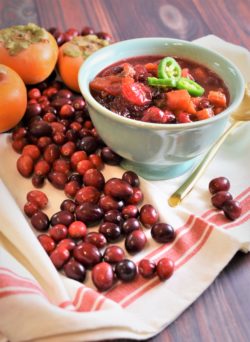 A spoonful of goodness to keep your party guests smiling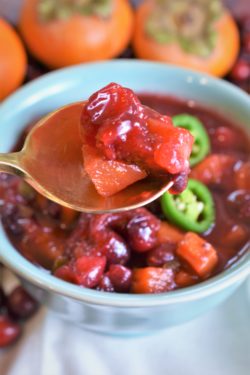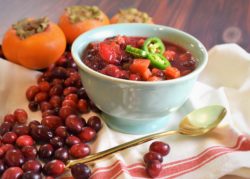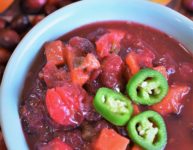 Persimmon Cranberry Sauce with Jalapenos
This beautiful sauce is tart, sweet and a bit spicy...it will wake up your holiday turkey, ham or pork roast
Ingredients
12

oz

fresh cranberries

1 1/2

cups

Fuyu persimmons, peeled and chopped (4 medium sized ones)

2

tbsp

orange zest

1

cup

orange juice

1

cup

sugar

2

jalapenos, seeded and chopped

1/4

tsp

kosher salt

1/4

tsp

coarse black pepper

1/2

tsp

cinnamon
Instructions
Combine everything in a saucepan

Heat on the stove to boil, turn down to low and cook for 15 minutes, stirring occasionally

Remove from heat, let cool completely

Cover and refrigerate for 2 hours or best overnight before serving

Makes 4 cups, enough for at least 12
Recipe Notes
Note: some jalapenos are hotter than others, taste a small slice first, you may not need to seed it, if you want a real kick of spice leave some seeds and always use gloves when handling hot peppers
Note: I tasted it the next day after making it and it was so much more flavorful, so definitely make this sauce the day before serving it.