Cheese balls were all the rage in the 1970's, it was the easiest thing to bring to a pot luck party and holds up well on any celebratory buffet table.  All sorts of shapes and sizes were developed from the classic ball shape to a yule log or a bell… the inside is what mattered, what could be wrong with carefully blended cheeses, spices and nuts.
As I was making my recipe today, I couldn't help but think of all the beautiful cheese balls my mom made in the 70's and 80's when she was a caterer.  One of my favorite ones that she used to make was in the shape of a pine cone, she would use a cheddar blended recipe and then she would shape it into a football shape and decorated the outside with whole almonds and put a pine bough at the top.  It was really popular during the holiday season alongside a strawberry topiary Christmas tree, all the party guests were amazed, especially me, because I helped make them!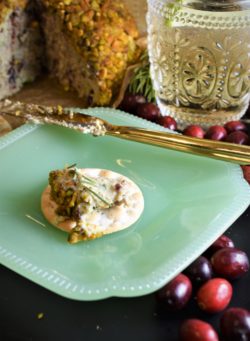 My recipe combines my love of Swiss and Blue cheeses, it gets a sweet note from dried cranberries and a bit of sherry finished off with the earthy tones and crunch of pistachios…any cracker would be proud to have this spread on them.  This recipe takes less than 10 minutes to prepare and then you let it set in the refrigerator for a few hours, (best overnight) roll it in nuts and throw it on the table with some crackers, nothing could be easier.  Don't wait to host a 70's disco party to serve this, yes…it's okay to serve a cheese ball with today's parties.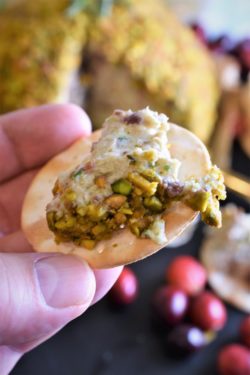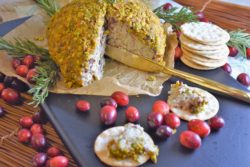 Swiss, Blue & Cream Cheese Ball with Cranberries & Pistachios
This creamy cheese ball combines three different cheese and combines sweet and savory notes that pair well with wine or cocktails at your next soiree!
Ingredients
1

cup

dried sweetened cranberries

1/4

cup

cream sherry

8

oz

cream cheese, softened

3

cups

Swiss cheese, grated

8

oz

crumbled blue cheese

1

tbsp

Dijon mustard

1

tsp

garlic, chopped

1/4

tsp

cayenne pepper

3

tbsp

chives, chopped

2

tsp

rosemary, chopped

1 1/4

cups

pistachios, chopped
Instructions
Line a medium mixing bowl with two long sheets of plastic wrap, covering the entire bowl with the plastic wrap hanging outside the bowl and set aside

Place the cranberries in a microwave safe bowl with the cream sherry and microwave for 2 minutes on high, take out and let rest for 5 minutes

Meanwhile, with a food processor fitted with a metal blade combine everything but the pistachios and blend until smooth and add the cranberries along with the sherry and pulse mix in a few times

Scrap the cheese into the mixing bowl on top of the plastic wrap, fold the rest of the wrap over the cheese shape into a ball and refrigerate for a few hours or if you have time, it's best sitting in the fridge overnight.

On a sheet pan lined with parchment or plastic wrap, evenly spread the chopped pistachios over the surface

Unwrap the cheese and roll it all over the crushed pistachios until well covered, making sure to press them gently into the cheese

Serve with crackers, toasts or sliced baguette along with a glass of your favorite wine or cocktail. Serves 12