What do you crave on a cold and rainy day?  I crave "stick to your ribs" foods, like stews, casseroles and yes…the ultimate comfort food Macaroni & Cheese.  Its rainy today and I haven't blogged a recipe in a while and I thought today would be a perfect day to do so.  There is nothing more comforting than a hot, cheesy and gooey bowl of macaroni & cheese.  My partner is vegan so I thought I would comfort the both of us today and whip up a batch of vegan macaroni & cheese.  It turned out so yummy, creamy and "cheesy" without the dairy.  I've made some vegan mac & cheese recipes that call for carrots or sweet potatoes and they were just ok but I like the vegan cheeses out on the market today and some are very good. My recipe is a simple stove-top version that retains the tenderness of the macaroni and the creaminess of the sauce.  The oven baked macaroni & cheese recipes, I feel can be dry.   Use your favorite "cheddar style" vegan cheese in this recipe and plant based milk of your choice; I used a mozzarella and cheddar blend.  Make sure to use tapioca flour instead of regular flour, I feel this gives the sauce that stretchy and gooey texture that is all so familiar of mac & cheese recipes.  One last note, I used a ½ teaspoon of cayenne because I wanted my recipe to have a bit of a kick, so by all means make it as mild or spicy as you like.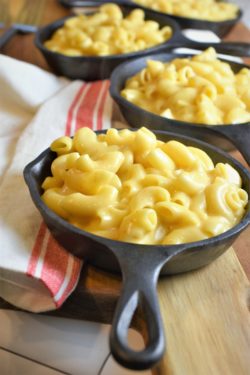 Chase those rainy day blues and put a smile on your face with my creamy recipe, Yes please!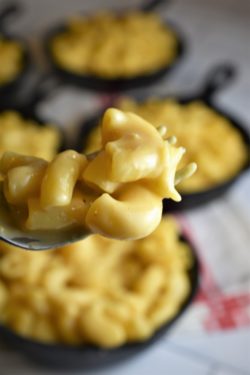 Now this is a skillet dish recipe that will be in your "favorite" file…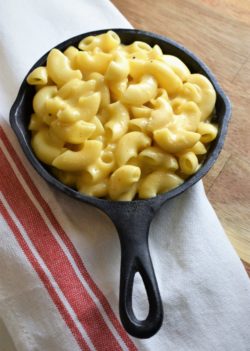 Once you taste this "familiar" food from your childhood, you will want to eat a mountain of this…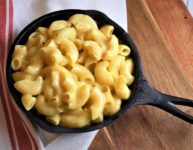 Stove-top Vegan Macaroni & Cheese
When you are craving creamy mac & cheese on a cold and rainy day, this is my new "go to" recipe!
Ingredients
16

oz

large elbow macaroni

1/2

cup

vegan butter

3

tbsp

minced onion

1

clove of garlic, minced

6

tbsp

tapioca flour

4

cups

plant based milk, I used almond milk

1/4

tsp

dry mustard

1/4

tsp

kosher salt

1/4

tsp

black pepper

1/4

tsp

cayenne pepper, I used more because I like it spicy

1/2

cup

nutritional yeast flakes

4

cups

shredded or grated vegan cheese
Instructions
Cook the macaroni according to the package directions

In a sauce pan over medium heat, melt the margarine and cook the onion and garlic for 3 minutes

Add the tapioca flour and whisk vigorously until well combined and cook for 2 minutes more, stirring occasionally, add the plant based milk and whisk until well blended

Whisk in the dry mustard, salt, pepper, cayenne pepper and nutritional yeast, cook until thickens for 3 minutes

Stir in the vegan cheese and stir occasionally until melted and whisk until the sauce is well blended and gooey for 4 more minutes

Mix in the cooked and drained macaroni until well coated and serve right away