These cranberry pistachio shortbread crackers are a tasty bite for the autumn season. Since cranberries are a quintessential fruit during the autumn season. Even though these crackers have a sweetness from them they have a beautiful smoky flavor. The smoked gouda cheese and paprika adds umami flavor. In fact while baking them in the oven my entire house smelt of bacon. Furthermore, there isn't any bacon in this recipe so vegetarians can celebrate. I almost forgot to mention the cranberries and pistachios in this recipe. Adding the sweetness and crunch in these crackers is such a treat. You will love the ease of making these cranberry pistachio shortbread crackers. After making the dough, chill and slice just like cookie dough.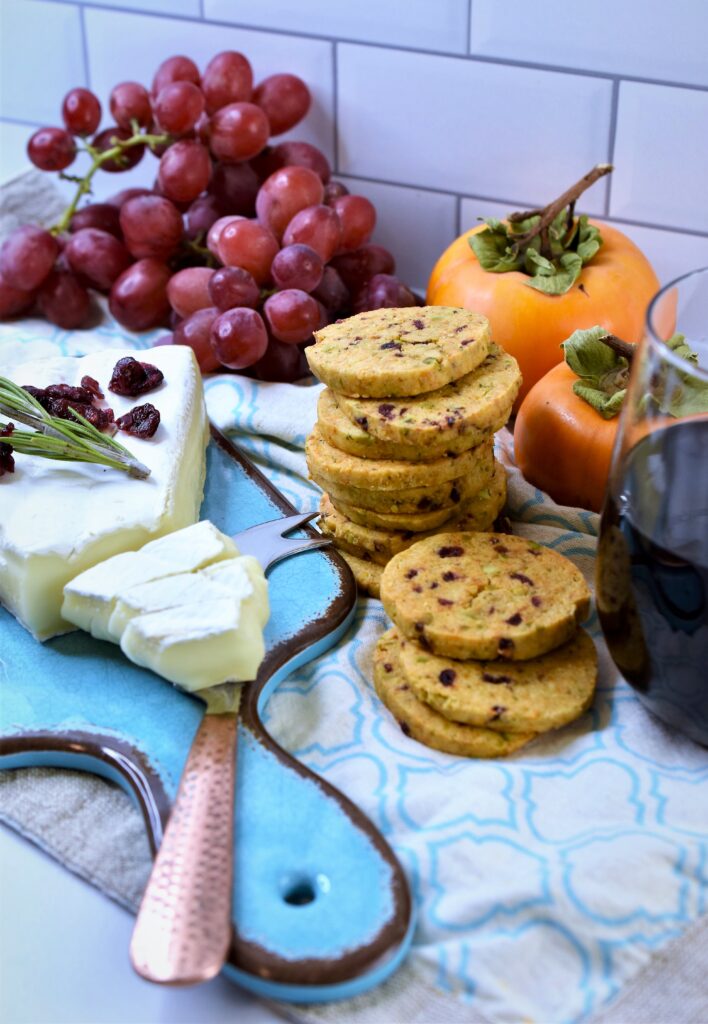 How to serve these cranberry pistachio shortbread crackers
Most of us think we have to spread something on crackers since they are a background to spreads and cheeses. Think again because these cranberry pistachio shortbread crackers are an appetizer all on their own. You can certainly add them to your cheese display as a separate offering or spread something on them. Before adding a cheese or a spread on them, please taste them first. In fact the flavor profile is so beautiful that adding anything to them might just muddle the flavor of them. Pairing these crackers with a crisp white wine like chardonnay or a pinot grigio can bring out the smokiness. Moreover a red wine could also be a possibility to your cheese party celebrations. I don't drink so I poured a glass of cherry juice while eating these cranberry pistachio shortbread crackers and it was equally satisfying.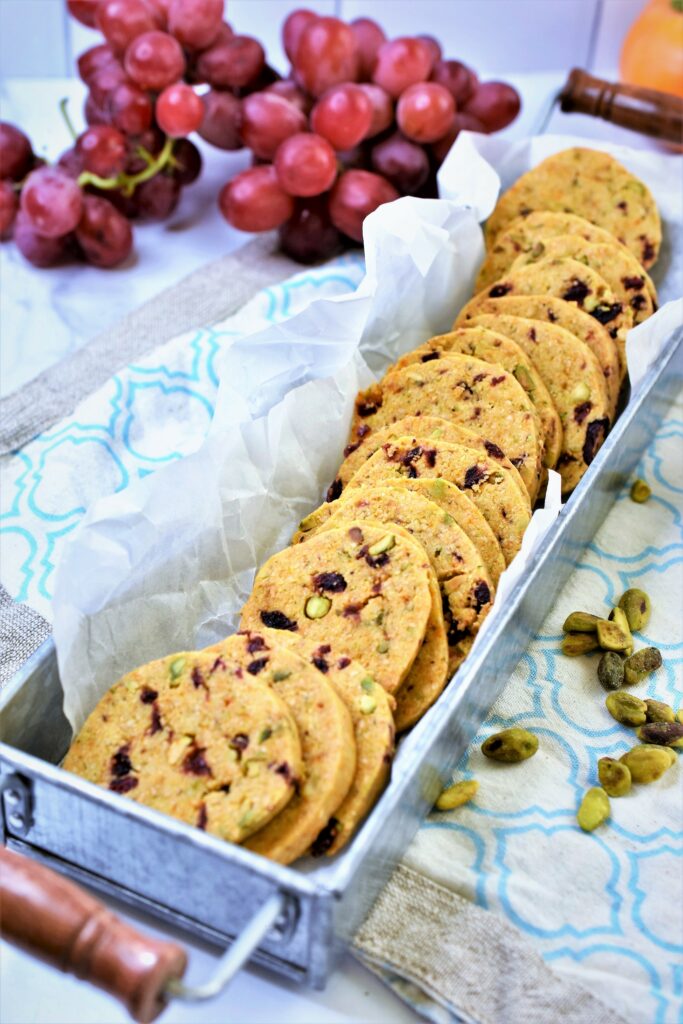 Why make my own crackers?
When it comes to snacking what is the first thing that comes to mind? Of course crackers always come to mind because they are crunchy, flavorful and so convenient. So why make your own? because homemade crackers taste better and you can take advantage of seasonal ingredients. In any event I'm not suggesting you should make your own crackers all the time but these cranberry pistachio shortbread crackers are special. I'm sure you have seen artisanal crackers on the shelf at the grocery store these days and they are expensive. Specifically these crackers are not only delicious but they are economical to make when compared to store bought. All in all just think how satisfying you will feel when your party guests ask you where you got these crackers from. I always feel proud of myself for making something homemade and delicious from my own kitchen.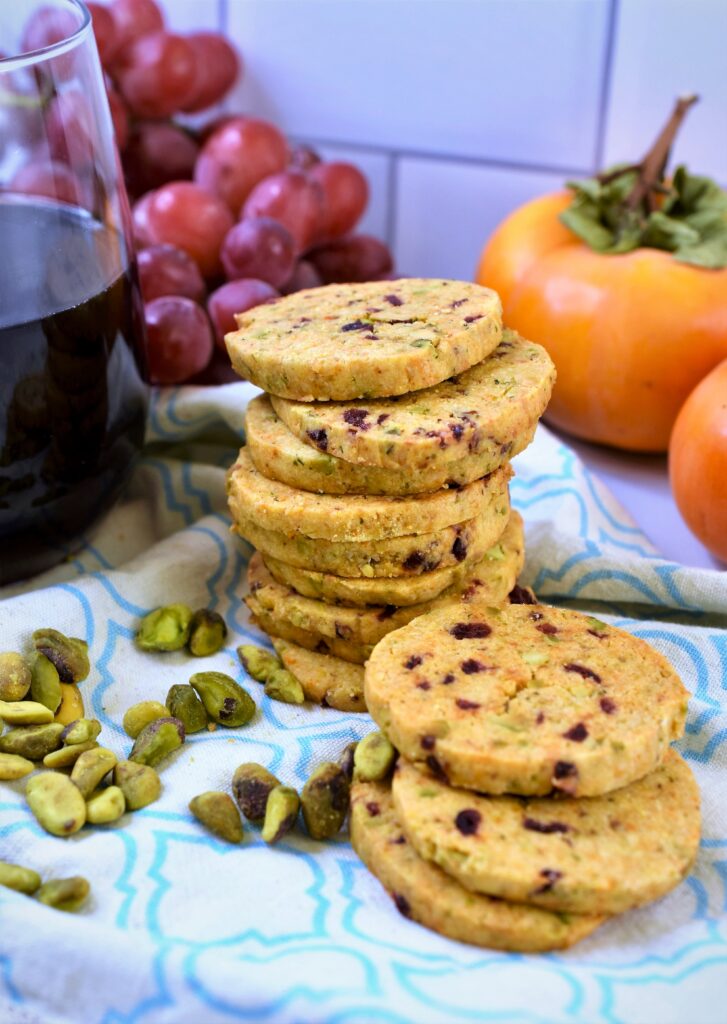 Gather your ingredients
all-purpose flour, you could use all-purpose gluten free flour in this
cornmeal, for added crunch you can use polenta
corn starch
kosher salt or sea salt would be good
coarse ground black pepper
smoked paprika
cayenne pepper give these crackers a bit of spice
smoked gouda cheese or smoked cheddar would be fabulous as well
chopped chives
butter, if using unsalted just increase the salt by a smidge
pistachios, put them in a plastic bag and pound away with a rolling pin
dried cranberries or dried cherries or golden raisins would be good too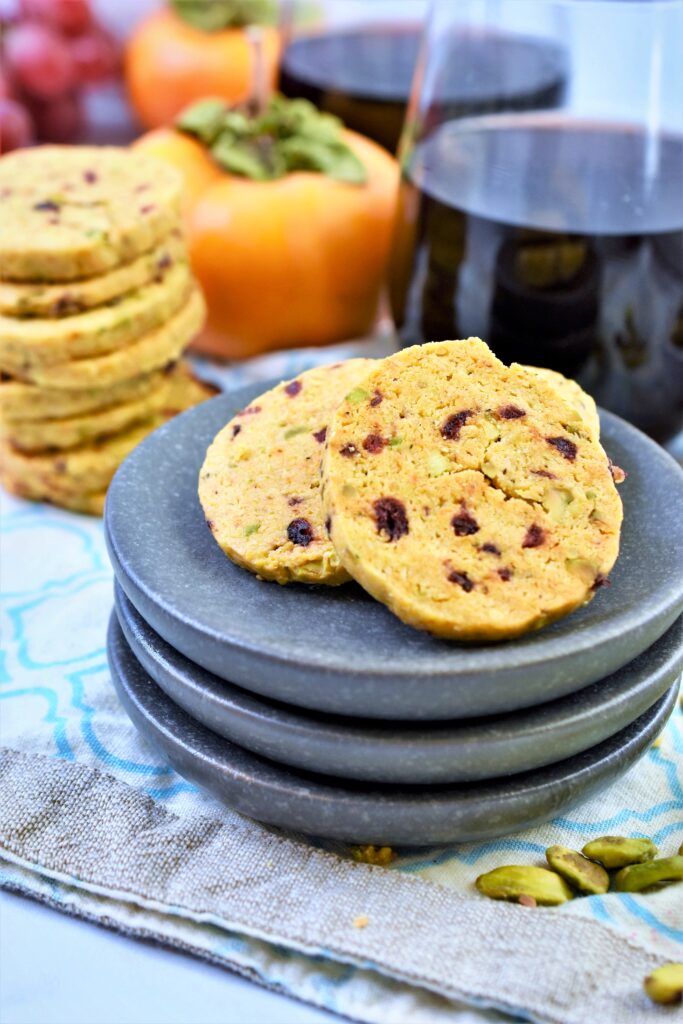 Liking these cranberry, pistachio shortbread crackers? Try these snack recipes…YUM!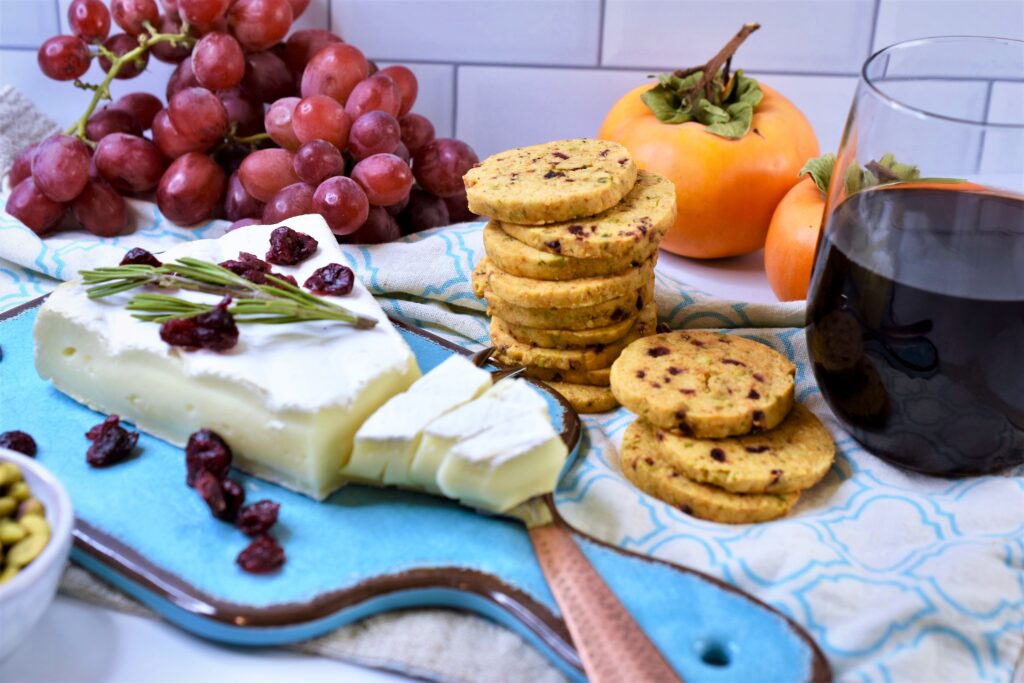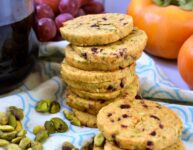 Cranberry Pistachio Shortbread Crackers
These crackers have it all…buttery, sweet, crunchy and a rich smokiness from smoked Gouda cheese will give you another reason to celebrate snack time.
Ingredients
1 1/2

cups

all-purpose flour

1/2

cup

cornmeal

1

tbsp

corn starch

1/2

tsp

kosher salt

1/4

tsp

coarse black pepper

1

tsp

smoked paprika

1/2

tsp

cayenne pepper

2 1/2

cups

shredded smoked Gouda cheese

2

tbsp

chopped chives

3/4

cup

cold butter cut into small cubes

3

tbsp

ice water

1/2

cup

crushed pistachios

1/2

cup

dried cranberries
Instructions
In a work bowl of a food processor add the flour, cornmeal, corn starch, salt, pepper, paprika and cayenne pepper and "sift" the ingredients together by pulsing it a few times.

Add the cheese, chives and butter and mix until it resembles a coarse sand

Add the ice water, pistachios and cranberries and pulse a few times until the dough comes together, again like damp coarse sand

Dump the dough out onto a lightly floured work surface and bringing together the dough into one ball.

Divide the dough in half and roll into two logs about 6 inches long and about 1 3/4 to 2 inches in diameter. Wrap the logs in plastic wrap and refrigerate for at least 2 hours and up to a couple of days. I let it sit in the fridge overnight so the flavors really can mingle.

Preheat oven to 350 degrees and line two sheet pans with parchment paper. Slice the dough into 1/8 to 1/4 inch thick slices and place them on the sheet pans 1/2 inch apart.

Bake them in the preheated oven for 15 minutes or until golden brown around the edges. If baking two sheet pans at once, rotate them halfway through baking to ensure even baking.

Let cool for 5 minutes before transferring to a wire rack to cool for an additional 20 minutes before serving. Makes approximately 55 crackers

Leftover crackers (never heard of such a thing) can be frozen in an airtight container plus these make great holiday gifts by stacking them in cupcake liners in pretty tins.