Making my recipe for this baked Mexican spinach dip today has me reminiscing helping my mom make spinach dip. In the late 70's and 80's my sister Katie and I helped mom with her catering business. In between homework we helped mom prep recipes and sometimes helped her at the events. Of course we didn't mind helping because that's how we learned to cook and it was a lot of fun. The classic cold spinach dip with that famous dry soup mix was all the rage back then and it's still a good recipe today. In fact she served it at many parties scooped into a large carved out round sourdough loaf. In addition she served it fancy with the lid off to the side with an abundant of veggies and crackers. My recipe for baked Mexican spinach dip just might be the new trend, you never know!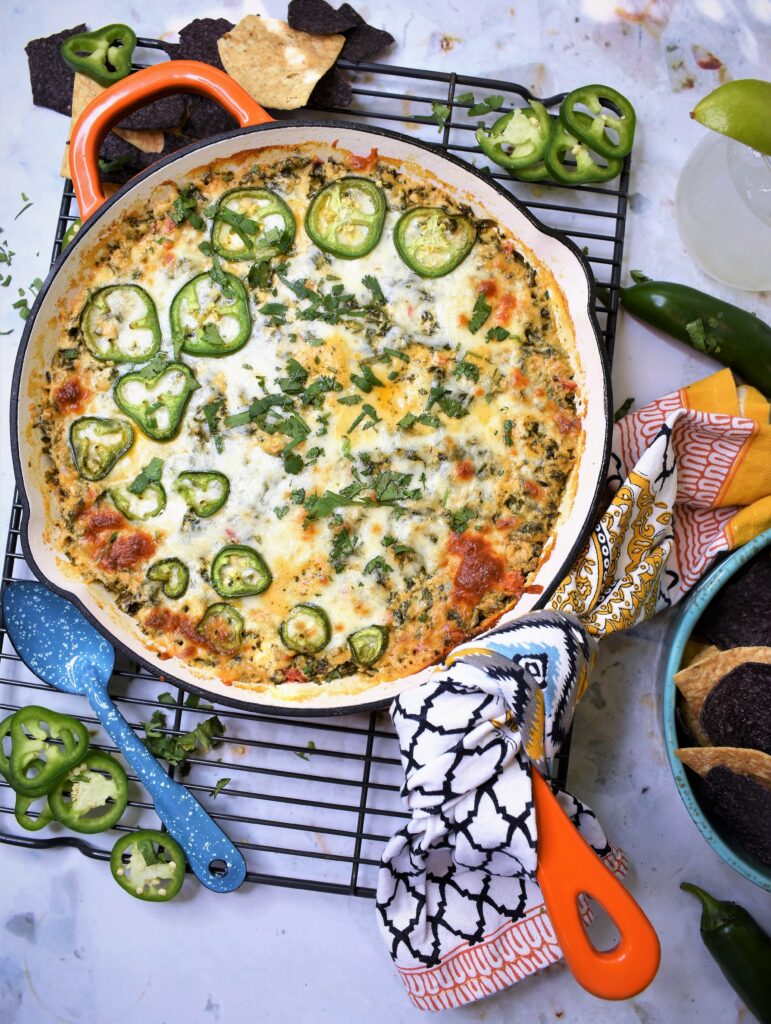 Dip, Dip…Hooray!
I'm forever grateful for all the cooking I learned as a kid from my mom. She helped me grow into a creative person and teaching me to be brave in the kitchen was so important. As I set up buffets at parties I cater, I always think to myself, what would mom do? Her innovative and beautiful ways to present food to party guests is amazing. I also served the classic cold spinach dip during my catering career and variations of baked spinach dip as well.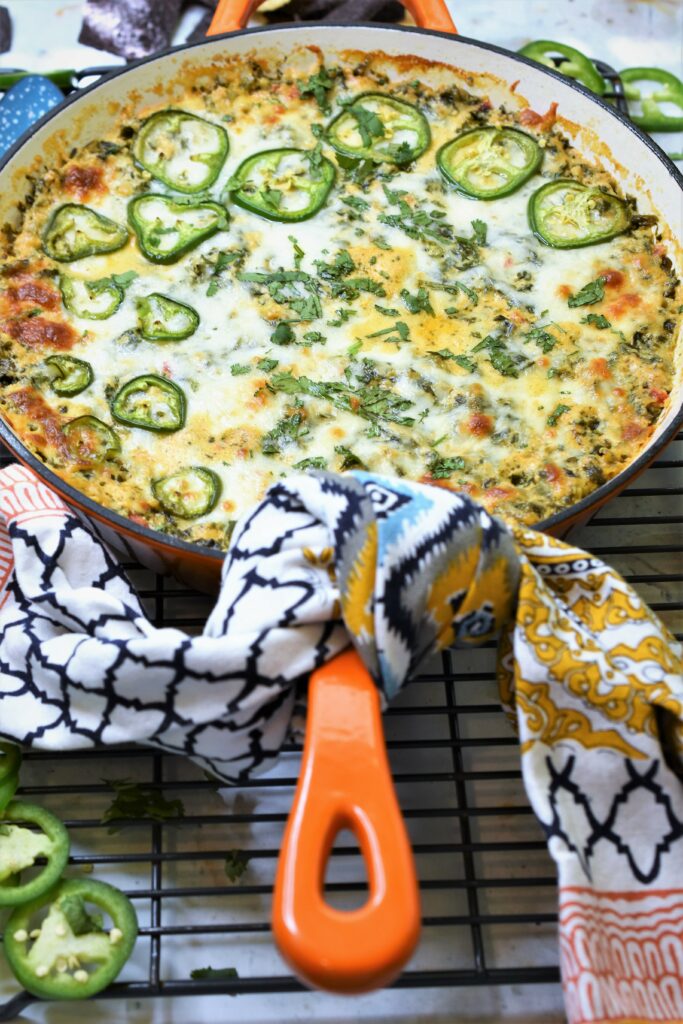 Furthermore I did display spinach dip in hollowed out bread like mom but also pumpkins and squash during fall to name a few. Notably there is nothing better than a cold or hot dip to scoop your dippers into. In particular I like tortilla chips scooped into this baked Mexican spinach dip. In general anything from cut vegetables to crackers would be great to dip in this. With all this in mind one thing to remember when serving dip…think outside the box because beautiful is just as important as taste.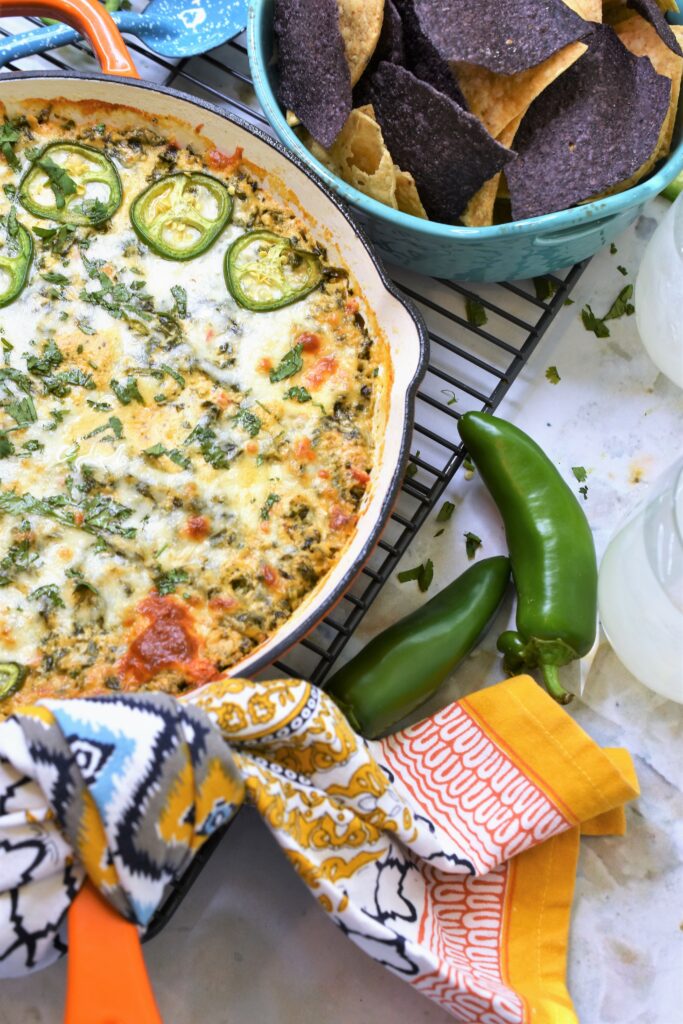 Want more party dips like this Baked Mexican Spinach Dip…see below!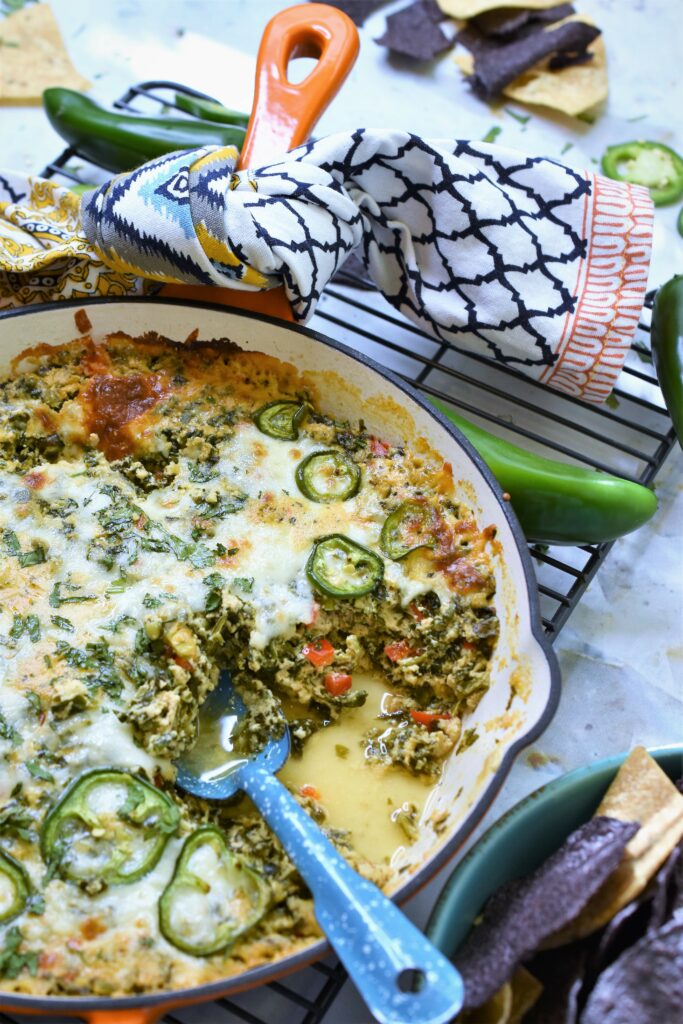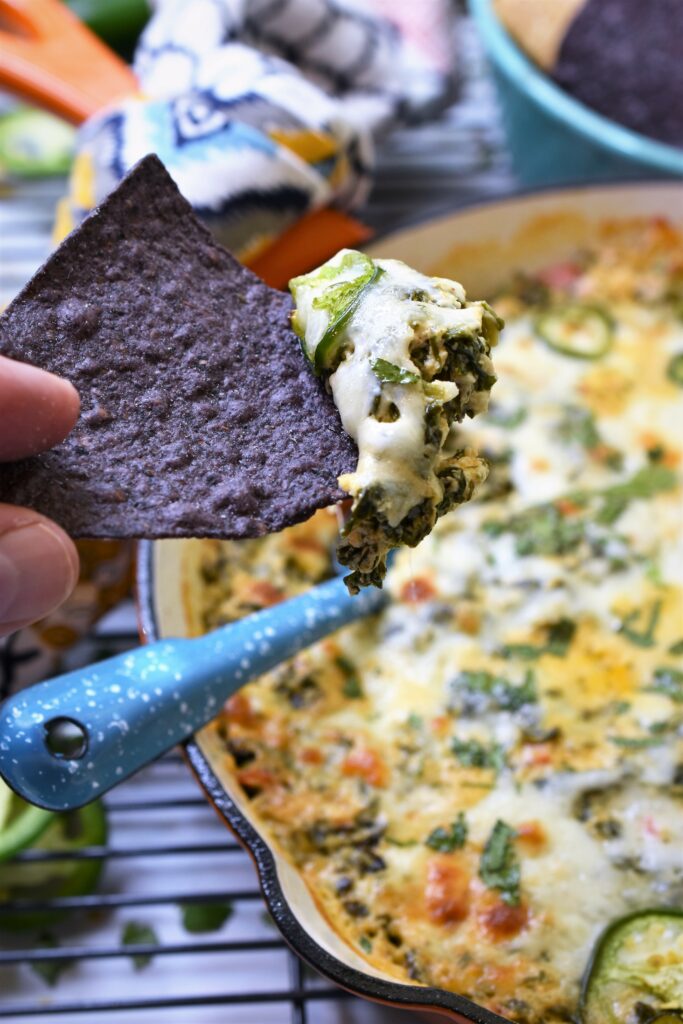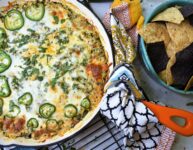 Baked Mexican Spinach Dip
This baked spinach dip has a Mexican twist with fresh chopped jalapenos, cumin, chili powder and cotija cheese and is perfect served with crunchy tortilla chips, I love the blue ones myself
Ingredients
1 1/2

cups

plain yogurt

8

oz

softened cream cheese

3

cups

jack cheese, shredded, reserve 1 cup for topping

2

cups

Cotija cheese, grated

1

tsp

garlic, chopped

1

tsp

cumin

2

tsp

chili powder

1/2

tsp

coarse ground black pepper

1/2

tsp

kosher salt

3

green onions, thinly sliced

1/2

cup

jalapenos, seeded and chopped

16

oz

frozen chopped spinach, thawed and squeezed dry

3

mini sweet red pepper or 1 red bell pepper, minced

2

jalapenos, sliced for the top

1

tbsp

fresh cilantro, chopped for the top
Instructions
Preheat oven to 375 degrees

In a mixing bowl, mix together the yogurt, cream cheese, 2 cups jack cheese, cotija cheese and garlic

Add the cumin, chili powder, salt, pepper, green onions and mix well

Mix in the jalapenos, spinach and chopped red peppers

Pour into a greased or sprayed casserole dish or a 10 inch oven safe skillet

Sprinkle the remaining 1 cup of jack cheese, cilantro and sliced jalapenos

Place in the oven and bake until golden brown and bubbly for 25 to 40 minutes

Serve with tortilla chips, crackers or toasts for a crowd pleasing appetizer