Swiss cheese, Bacon & Jalapeno Dip-Joseph Sciascia
Dip, dip hooray! A party just doesn't seem like a party if there isn't a good dip around. You will love my recipe for Swiss cheese, bacon & jalapeno dip, not spicy at all since there are pickled jalapeno slices in it, gives it a mellow flavor.  Slather this delicious spread on toasted baguette slices, crackers or veggies and dance the night away because this will satisfy your party food cravings.
Ingredients
6 slices of bacon, cooked, drained on paper towels and chopped
1 cup of mayonnaise
4 ounces of softened cream cheese
10 slices of bottled jalapenos (nacho slices), chopped
2 tablespoons of jalapeno brine, from the bottled jalapeno slices
¼ teaspoon of black pepper
1 4 oz. jar of drained chopped pimentos
3 tablespoon chopped chives
2 ½ cups finely shredded Swiss cheese (about 11 ounces)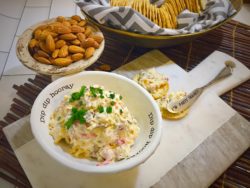 Directions
In a medium bowl mix mayonnaise, softened cream cheese, chopped jalapenos, jalapeno brine, black pepper together until well incorporated
Mix in the chopped pimentos, chopped chives and the Swiss cheese
Refrigerate for 2 hours before serving, can be made a couple of days in advance…it is really good the day after, if you can wait, the bacon flavor really comes out.
Serve with crackers