Making my latest pumpkin white bean dip today reminded me of joyous past Thanksgiving celebrations. Family sitting at the dining table stretched out to the limits with many people you haven't seen in years. Coupled with many pot luck dishes brought to the table, some good and some not so good. Laughing at jokes that aren't funny and crying tears of joy with others. In contrast we all may be celebrating much differently this year. As much as I long to be with lots friends and family this year, I'll be having a small celebration for two. Be that as it may, that doesn't mean that we can't have a delicious meal. My new recipe for this creamy pumpkin white bean dip with herbs will be one of our appetizers.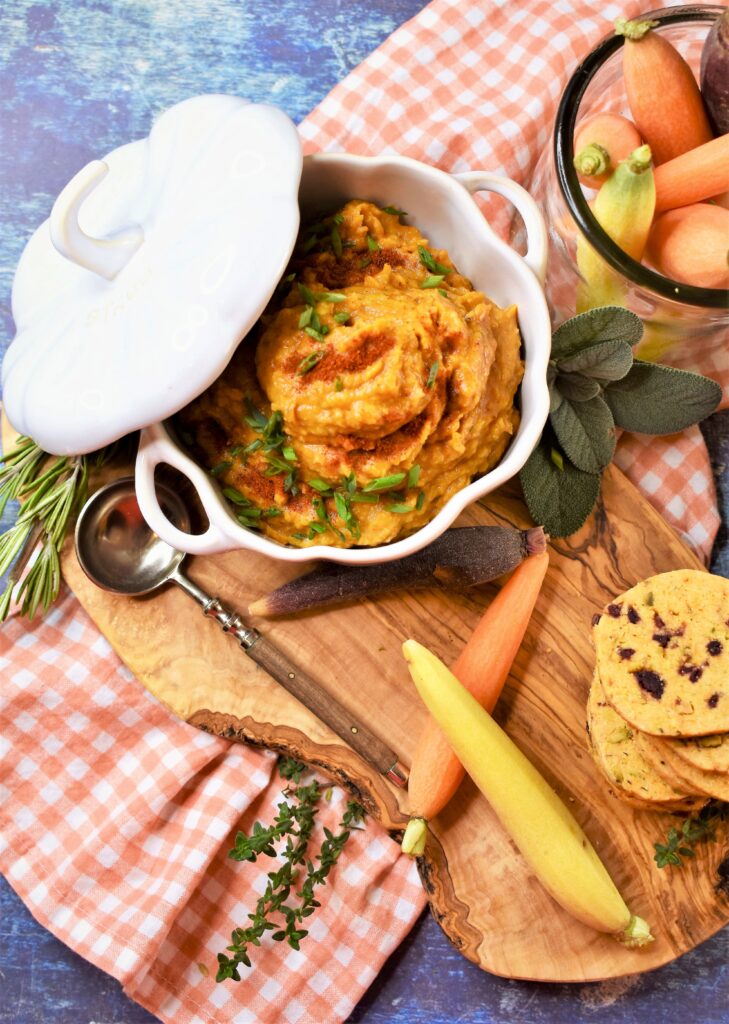 This delicious pumpkin white bean dip is healthy and tasty!
We all get caught up in the hedonistic behavior when it comes to holiday eating. Of course that's okay because food comforts us but don't sit there with the entire platter of Hatch chile queso dip and chips in your lap. In the first place, people may be watching you but if you are home alone; go for it. When serving this creamy pumpkin white bean dip you have many options for dipping. To say nothing of potato chips and crunchy veggies you might want to try my recipe for these cranberry pistachio shortbread crackers. Furthermore, you can see these fabulous autumnal crackers pictured in these photos with this pumpkin white bean dip. Additionally this dip is low-fat plus it's full of plant based protein and it's vegan!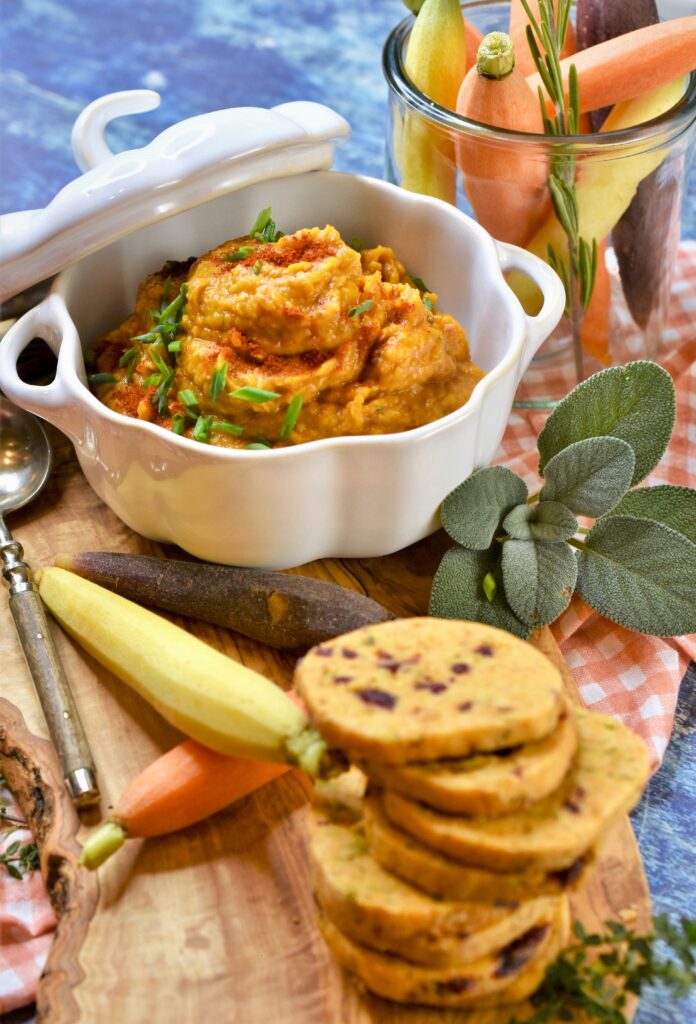 What are your favorite holiday dips?
What are your favorite dips to serve during the holidays? Of course we can't forget to serve the French onion dip or the layered Mexican dip because those are party standards. Equally important are family recipes because nothing comforts us more than memorable food. After all, food brings us together and the fun memories that go with it are priceless. Furthermore tasting my pumpkin white bean dip brought up memories of my family's holiday foods. Particularly craving my mom's queso dip that she always served at the holidays or her salmon mousse in the shape of a fish. I guess growing up with a mom that was a caterer had its advantages. In conclusion no matter how small your celebrations will be this year, surrounding yourself with the ones you love is most important.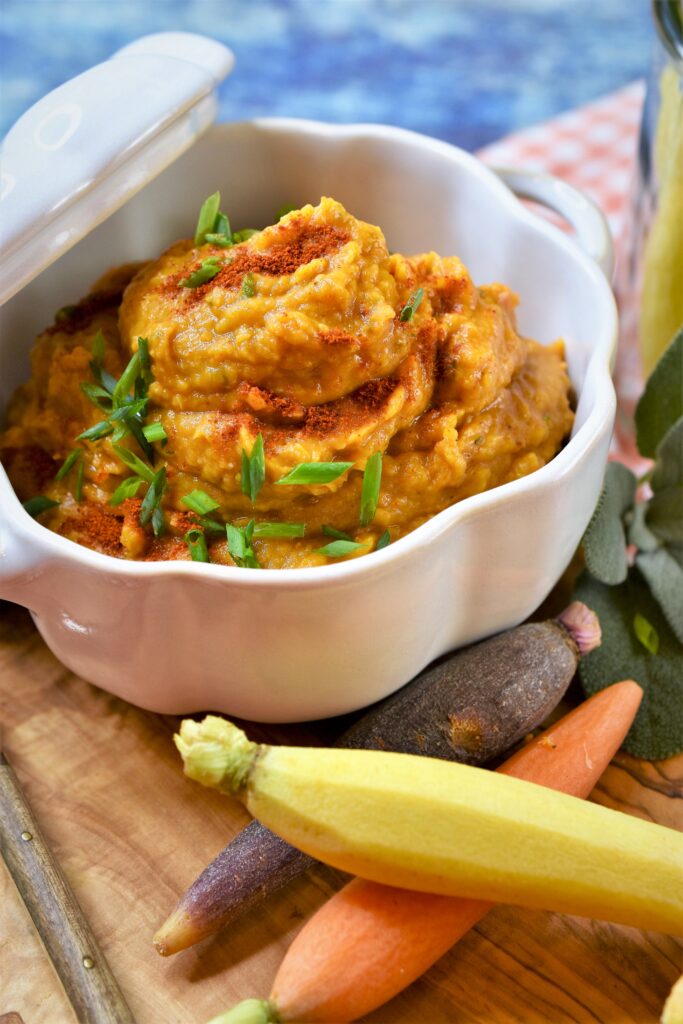 More dip craving recipes for you!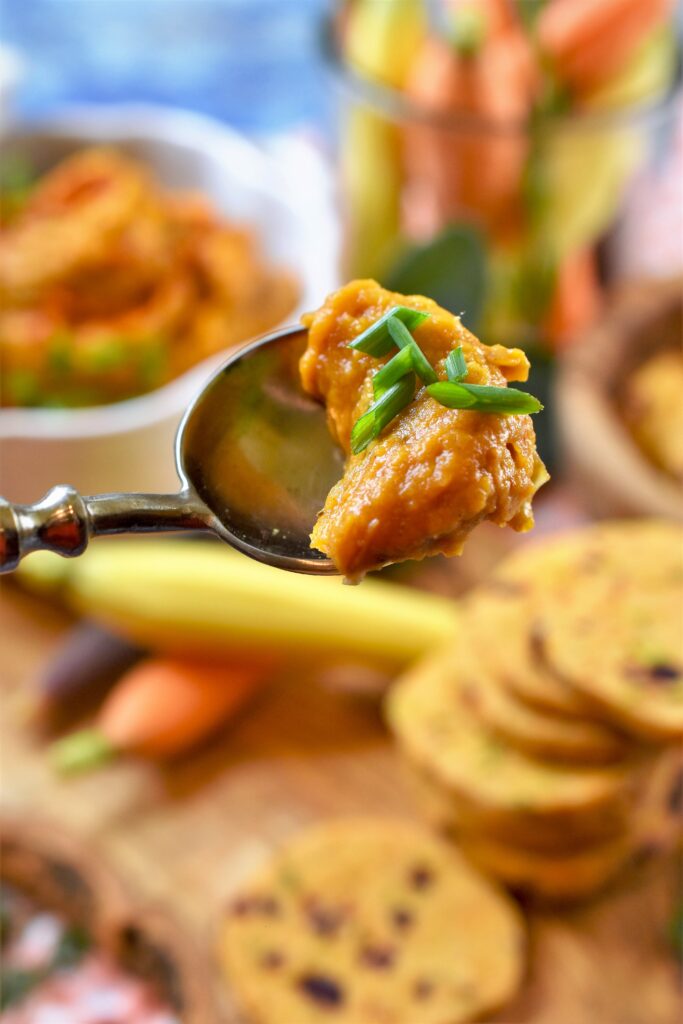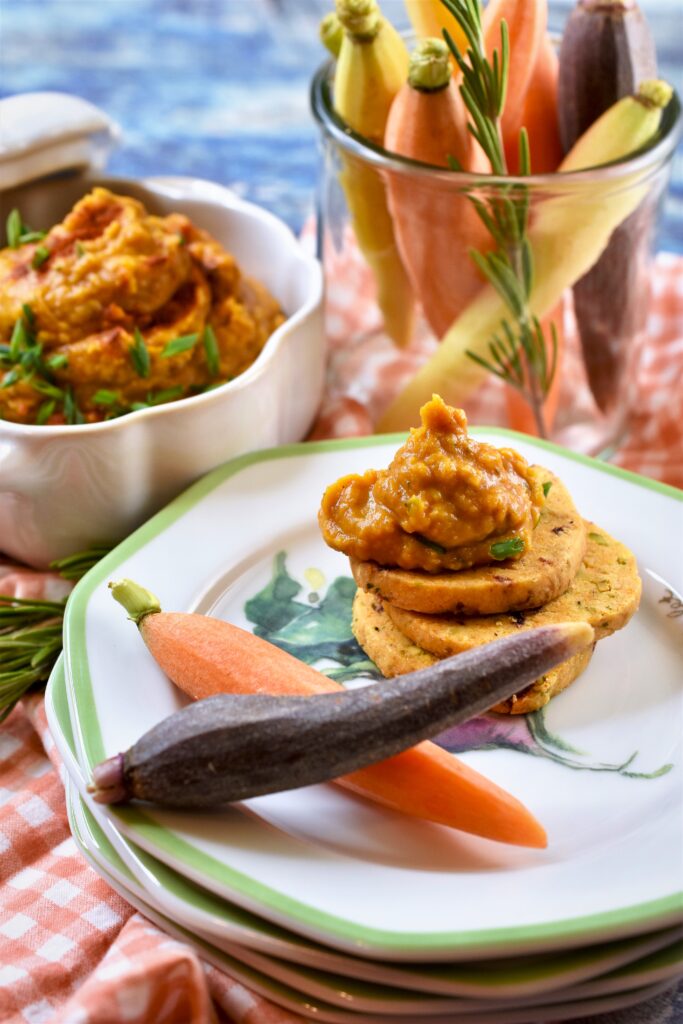 Pumpkin White Bean Dip with Herbs
This creamy fall inspired dip is low fat and is bursting with flavors of pumpkin and fresh herbs. This dip is perfect for your holiday table
Ingredients
1

tbsp

olive oil

1/2

cup

shallots, chopped

2

tsp

garlic, chopped

1

tsp

kosher salt

1/2

tsp

black pepper

1

tbsp

rosemary removed from stems and minced

1/2

tsp

fresh thyme, minced

1

tbsp

fresh sage, chopped

15

oz

can pumpkin puree

2 – 15

oz

cans white beans, like cannellini, rinsed and drained

2

tsp

chili powder

1/4

tsp

cayenne pepper

2

tsp

chives, chopped for garnish (optional)

1/2

tsp

paprika for garnish (optional)
Instructions
Heat the olive oil in a small saucepan over medium heat and add the shallots, garlic, salt, pepper, rosemary, thyme and sage and sauté for 5 to 8 minutes, stirring occasionally until golden and onions are translucent

While shallot mixer is cooking add the pumpkin, white beans, chili powder and cayenne in a food processor and add the shallot mixture and blend until smooth. Stopping midway to scrape sides and blend again. Taste and adjust salt and pepper

Pour into a covered container and chill for at least two hours before serving and when serving, let it come room temperature. This dip can be made one day before serving.

When serving, pour into a dip bowl and garnish with cut chives and paprika if you wish. Serve with potato chips, vegetable chips, pita, crackers and/or fresh veggies…the sky is the limit here