I love snack time and happy hour should be 24 hours a day. Make my new recipe for this olive sun-dried tomato cheese spread and you will know why. The combination of these Mediterranean flavors makes for an addicting snack. Furthermore, what makes this cream cheese spread special is that I used Castelvetrano olives along with black ones. These mild green olives are my favorite because they are mild. Unlike most they aren't salty or mushy and almost fruit like. Once you taste these delightful olives you'll be hooked. Not to mention what makes these olives special is that they are from Castelvetrano Sicily. My Sicilian heritage celebrates these olives as the ultimate snack food.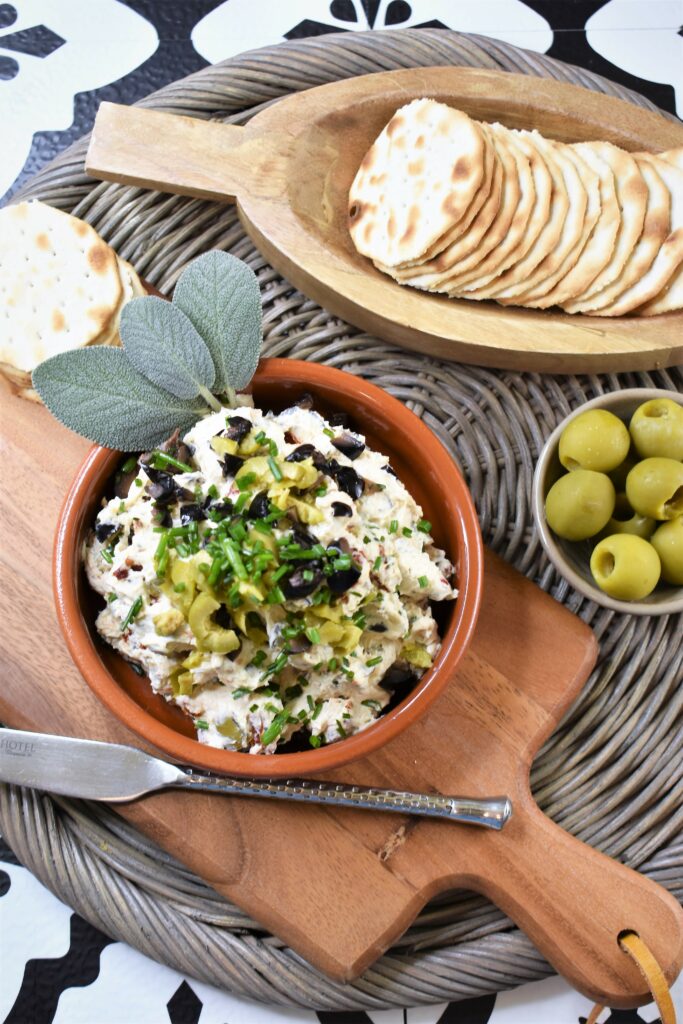 Olive Sun-dried Tomato Cheese Spread Is The Best I've Ever Made!
I've made dozens of cheese spreads and dips over the years and this is the best I've ever made. In particular I used herbs from my garden adding fresh flavor. Using fresh herbs whenever possible in recipes really makes a big difference. Adding to the Mediterranean flavors of this appetizer. The combination of olives and sweet sun-dried tomatoes with the cheese makes for a truly happier, happy hour.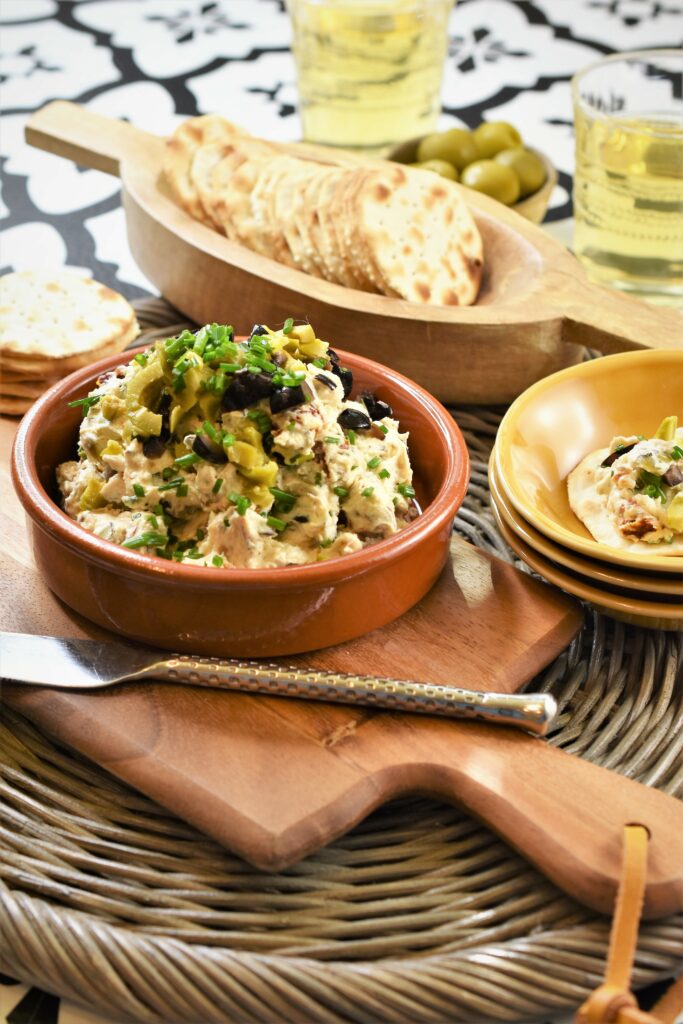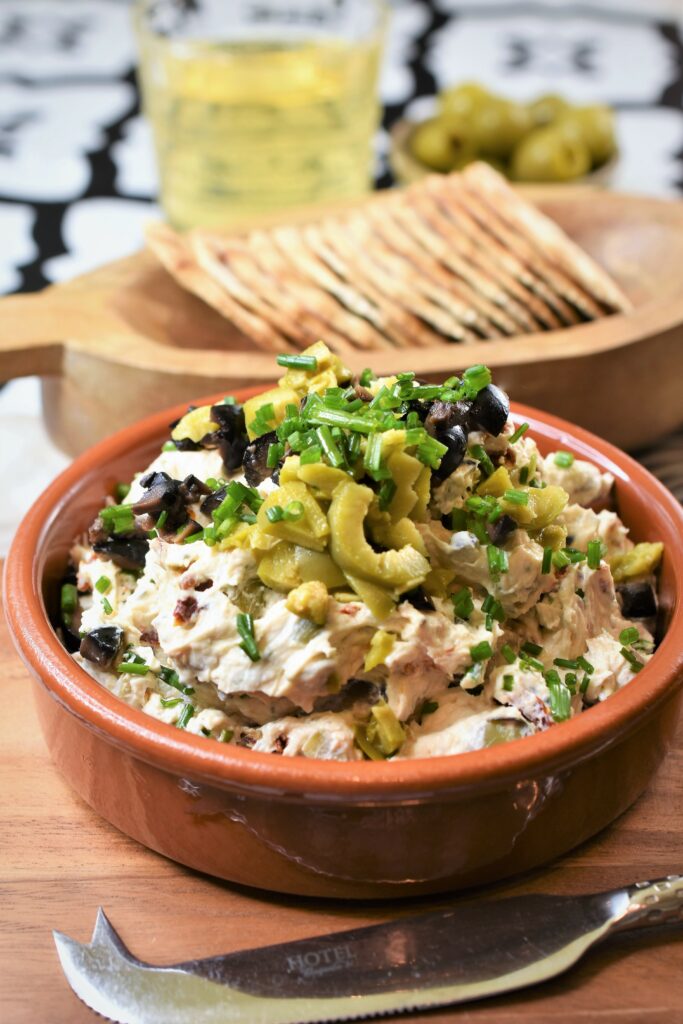 More Italian Inspired Appetizer Recipes:
What are your favorite appetizer recipes? A party just isn't a party without them. Below are some of my Italian inspired appetizer recipes that you and your family will enjoy.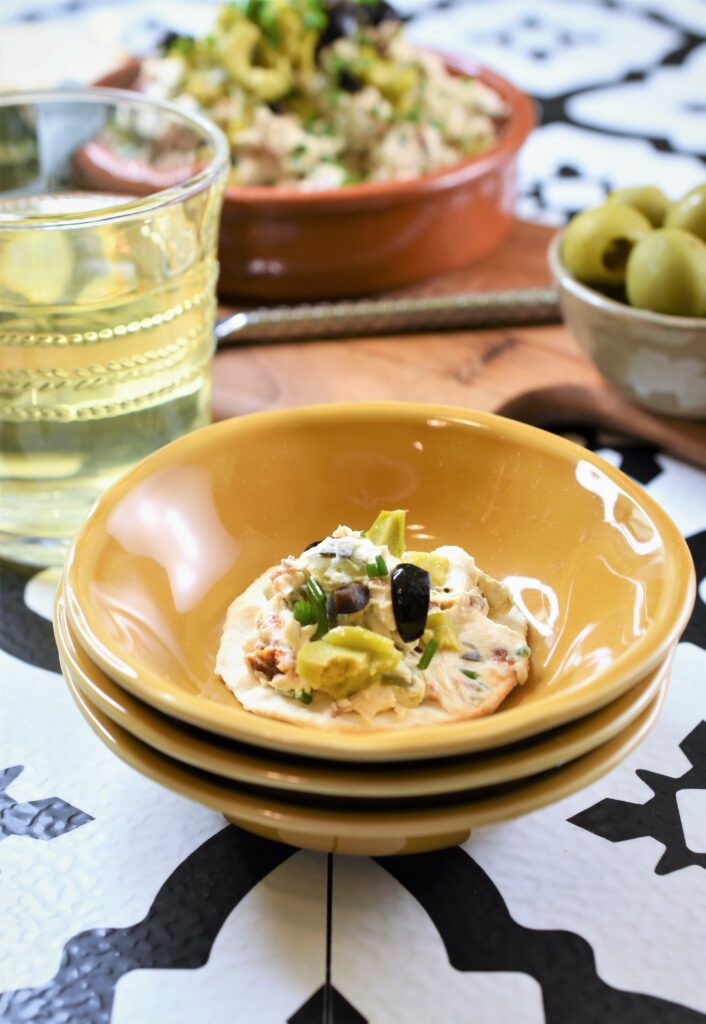 What else could I use this recipe for?
In addition to serving this as an appetizer try this olive sun-dried tomato cheese spread in these exciting ways!
Wake up those boring tea parties by adding cucumber and arugula because impressing those ladies is a must.
This makes an easy and great filling for Aram sandwiches.
Make dinner time fabulous and use is as a stuffing for chicken breasts.
In addition roll it in puff pastry for savory palmiers or pinwheels.
Lastly stuff some cherry tomatoes with this for that perfect and fresh little party bite.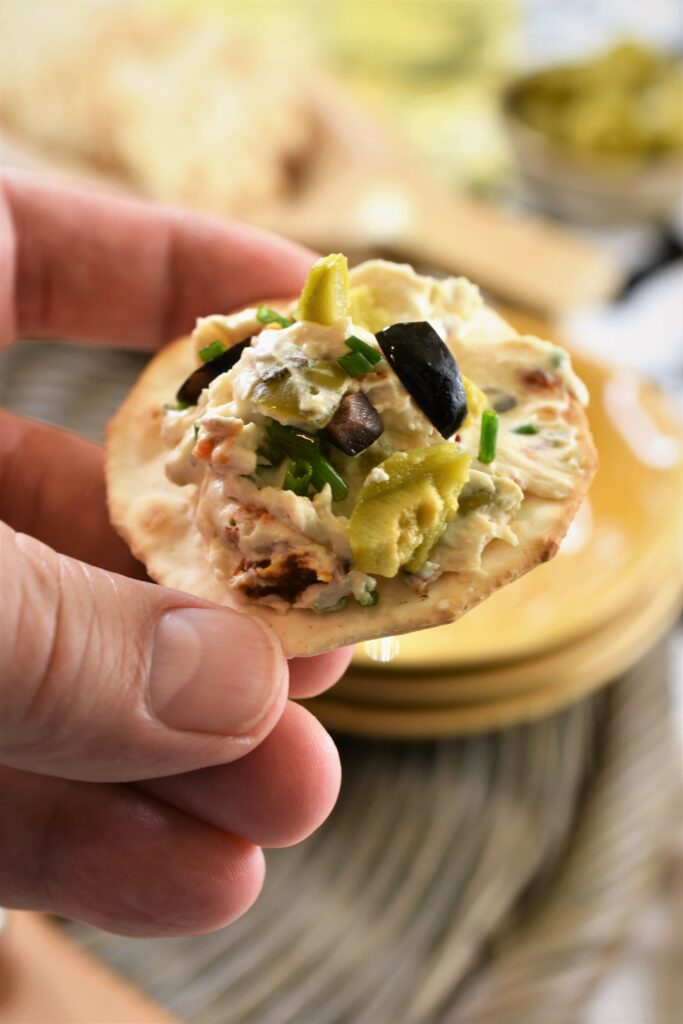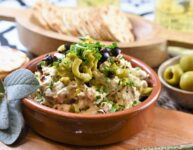 Olive Sun-dried Tomato Cheese Spread
This creamy cream cheese spread is loaded with the earthy flavors of olives, sun-dried tomatoes and fresh garden herbs, making this cracker spreader a delicious happy hour snack.
Ingredients
16

oz

cream cheese, regular or low-fat at room temperature

1/2

cup

parmesan cheese, grated

1/2

tsp

red chili flakes

1

tbsp

fresh sage, chopped

1

tbsp

fresh oregano, chopped

3/4

cup

Castelvetrano olives, chopped (reserve 1/4 cup for garnish)

3/4

cup

black olives, rinsed, drained, chopped (reserve 1/4 cup for garnish)

1/2

cup

sun-dried tomatoes in oil, drained and chopped

3

tbsp

chives, minced (reserve 1 tbsp for garnish)
Instructions
Stir together the softened cream cheese, parmesan cheese and chili pepper flakes, if you don't have time for it to reach room temperature, microwave the cheese for a minute or so to get it really soft

stir in the sage and oregano and mix in the olives, sun-dried tomatoes and chives

cover and refrigerate for at least two hours

when ready to serve, let it come to room temperature, garnish the top with the remaining olives and chives. This spread really tastes best not ice cold and spreads better on crackers and toasts

Makes 2 3/4 cups and serves up to 12 as an appetizer
Recipe Notes
This recipe could easily be halved