Celebrate fall with my latest recipe for these quick vegan pumpkin cookies. There is something special about pumpkin and autumn, it's like they are best friends. This recipe is super quick because it is made with cake mix. Since I always have a box of cake mix on hand it's easy to satisfy my sweet tooth. There are so many recipes out there that you can make with a box of cake mix. So I decided to add to that menagerie of recipes by making these delightful cookies. In detail I added vanilla, canned pumpkin and pecans giving these cookies the flavor of autumn.
The pillow soft texture in these cookies are almost biscuit and scone like. In addition to the pecans to give it some crunch I rolled them in Turbinado sugar for added texture and caramel flavor before baking them. While these quick vegan pumpkin cookies baked in the oven my entire kitchen smelled of pumpkin pie spice.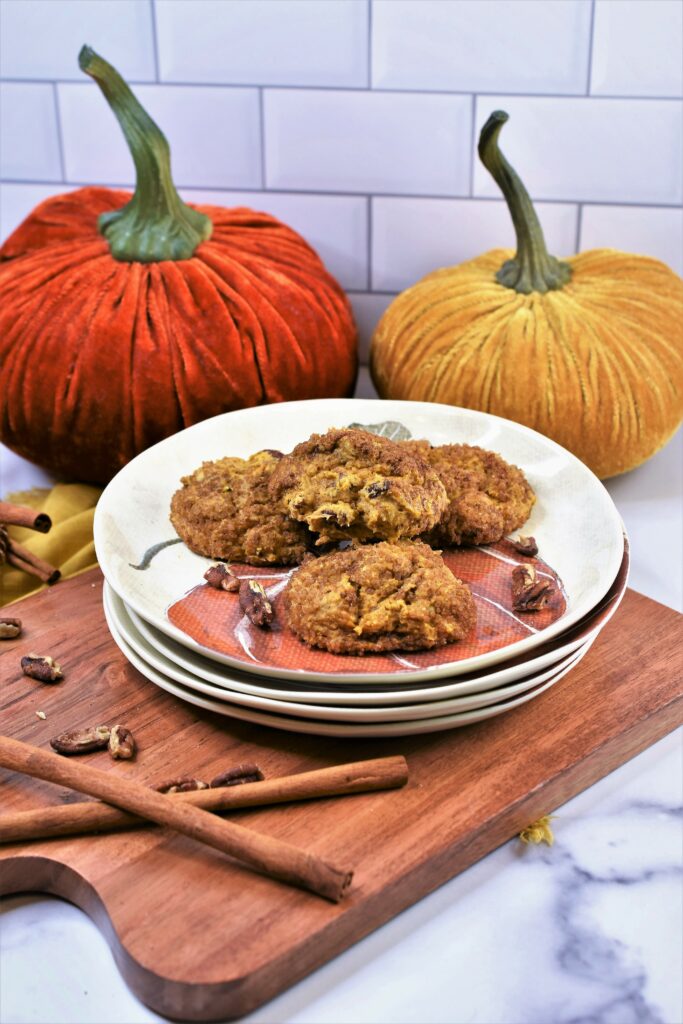 Childhood Memories While Baking These Quick Vegan Pumpkin Cookies
Fond memories of trick or treating as a kid with my sister Katie came to mind while baking these vegan pumpkin cookies. I wore a homemade dragon costume and she was dressed as a gypsy. We would be out for hours collecting sweet treats. Plus when we we got home we would categorize and count our candies. Additionally my mom simmered orange peels, cinnamon and pumpkin pie spice on the stove to give our home a celebratory feel. Since autumn is my favorite season of the year, bringing back fond memories with these pumpkin cookies made it for a great day.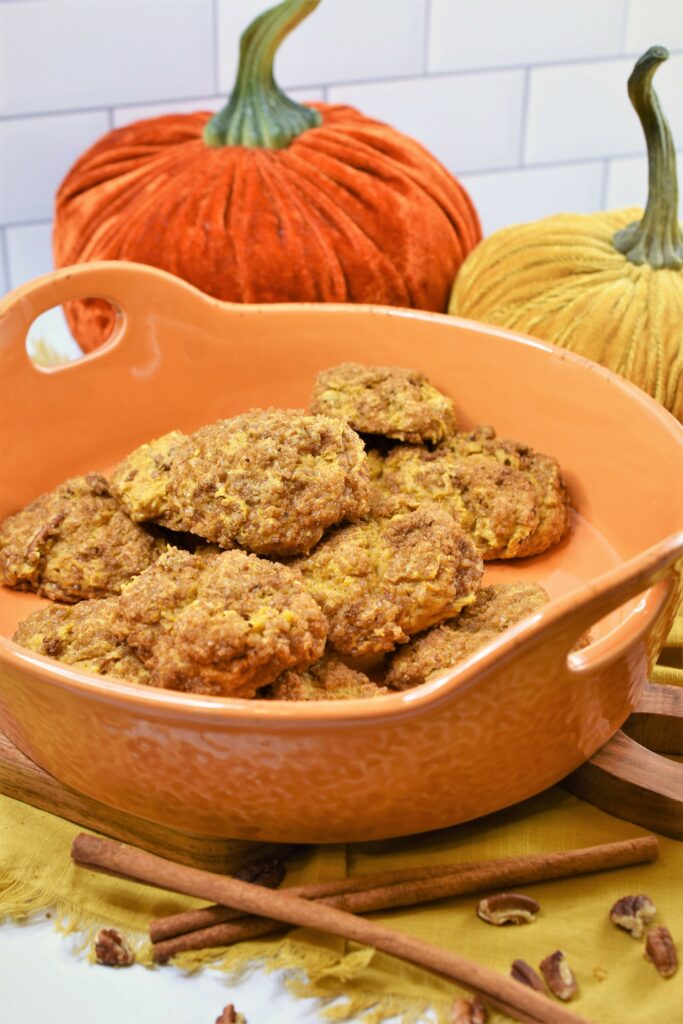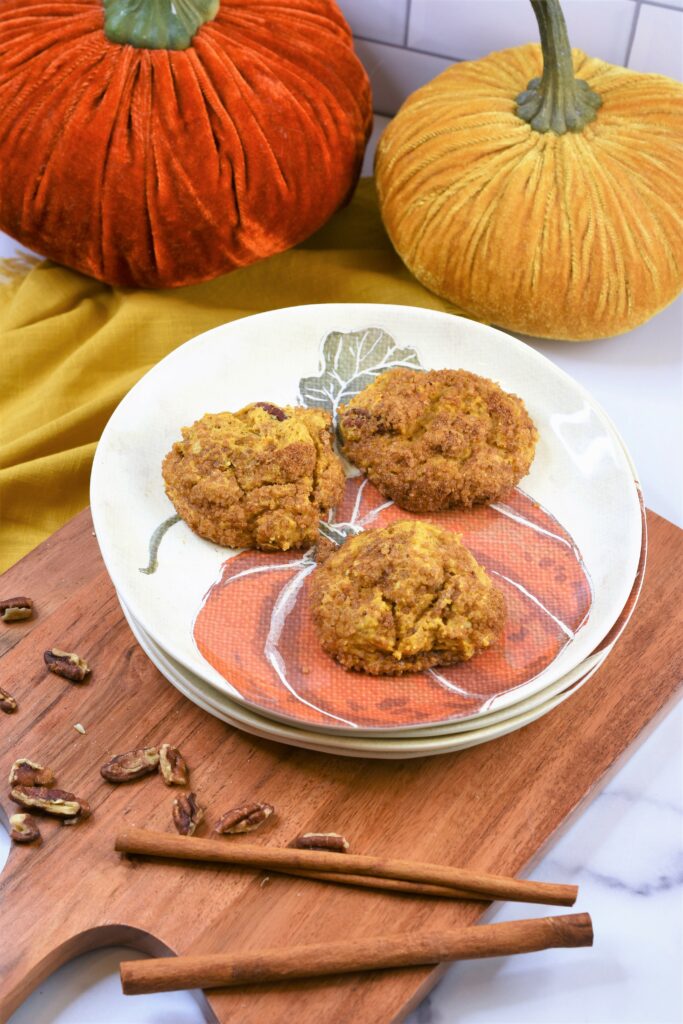 Try these other autumn inspired recipes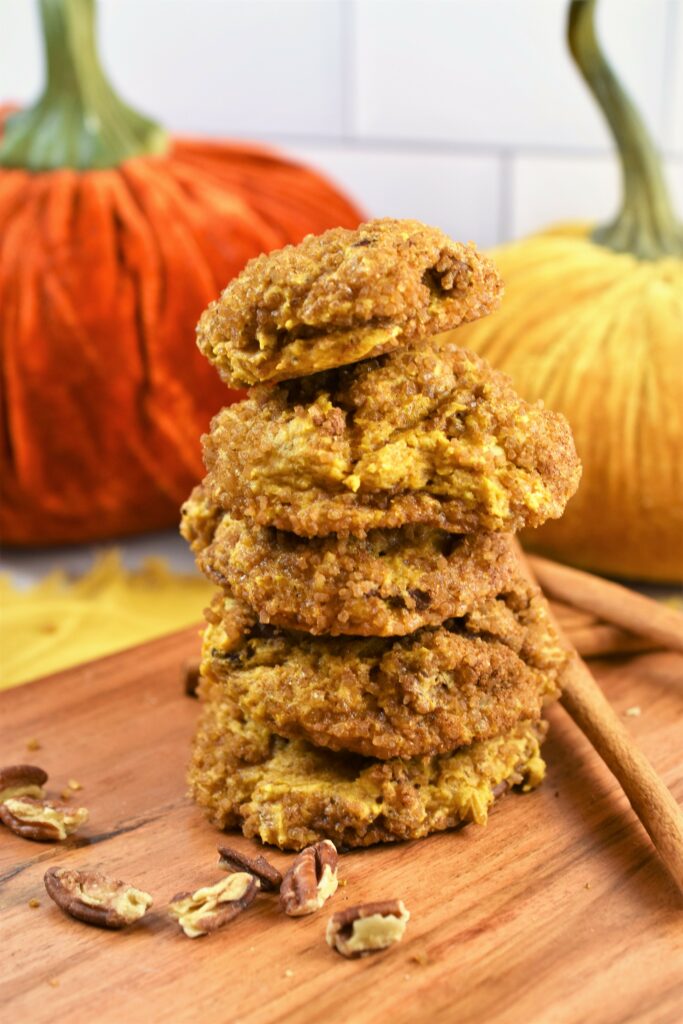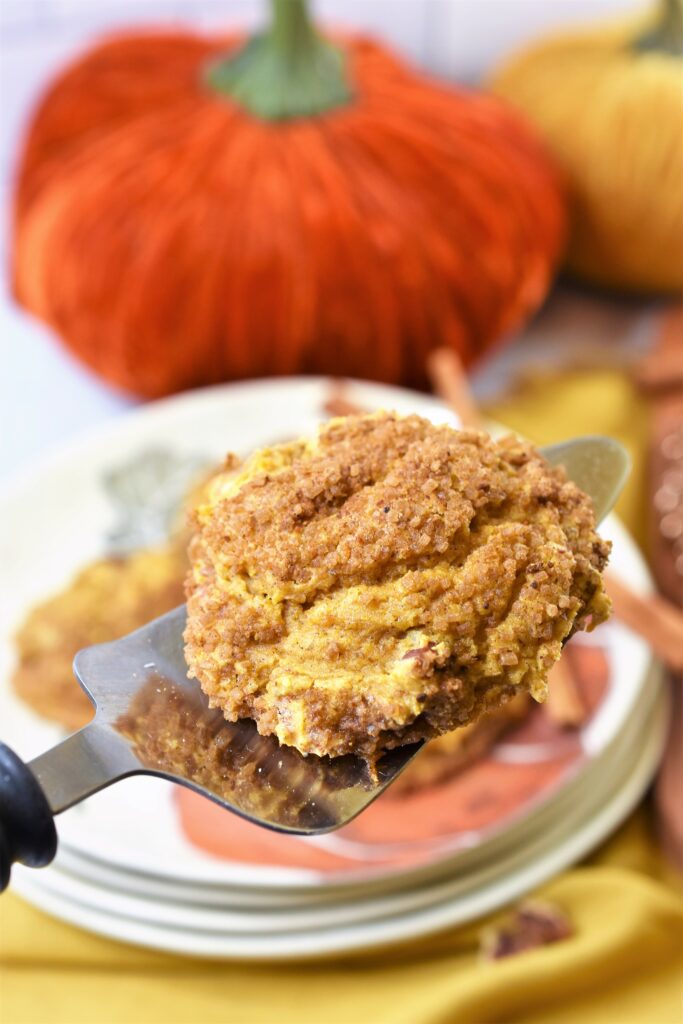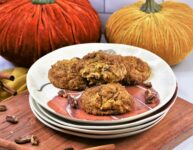 Quick Vegan Pumpkin Cookies
These quick vegan pumpkin cookies are a fast way to satisfy your craving for fall baking
Ingredients
1/4

cup

melted vegan butter

2

tbsp

ground flax seed

1

box

box yellow cake mix (many are vegan)

1

tsp

baking powder

1/2

tsp

cinnamon

3

tsp

pumpkin pie spice, reserve 2 tsp for coating

1

tsp

vanilla

1

cup

canned pumpkin puree

1/2

cup

turbinado sugar for coating

1

cup

roasted pecans, chopped
Instructions
In a small bowl whisk together the ground flax seed and melted vegan butter and set aside for 10 minutes

In a mixing bowl whisk together the cake mix, baking powder, cinnamon and 1 tsp pumpkin pie spice

Stir in the vegan butter and flax seed mixture, vanilla and pumpkin puree and mix well

Add the pecans and mix well

Let cookie dough rest in the refrigerator for 1/2 and hour

Preheat oven to 350 degrees

In a small bowl mix together the remaining pumpkin pie spice and the tubernado sugar

With a cookie scoop or tablespoon drop into the tuberando sugar and roll until coated (batter will be soft so be gentle)

Drop each sugar coated cookie ball onto a parchment or cooking sprayed sheet pan and bake in the oven for 10 to 12 minutes until firm to touch and cool for 15 minutes on rack. Makes 26 cookies
There are many popular brands of cake mix that happen to be vegan so you can play in the kitchen and find which ones work for you. In fact there are 31 vegan Betty Crocker mixes and frostings you have to try.