I'm celebrating apple harvest season by making my recipe for brown sugar spiced applesauce. This applesauce combines all the flavors of fall with with pumpkin pie spice to give it that rich flavor. Once you taste it it's hard not to think of apple pie. The vanilla and touch of apple cider vinegar only brings out the sweetness of the fruit. Not only is this sauce great on its own but fabulous spooned over pork chops, stirred in yogurt or warmed up over ice cream.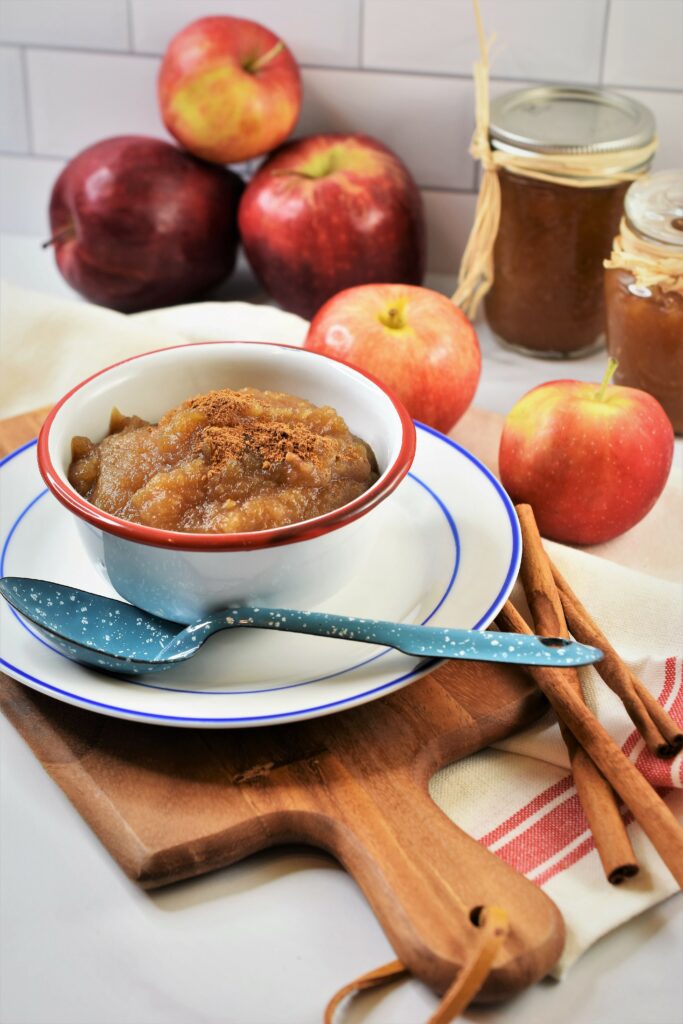 If you plan on making a lot of applesauce I would invest in an apple peeler/corer. There are hand crank ones out there but I used my new attachment for my stand mixer and loved it. It's my new toy now, so I see a lot of brown sugar spiced applesauce, apple butter and apple pie in my future.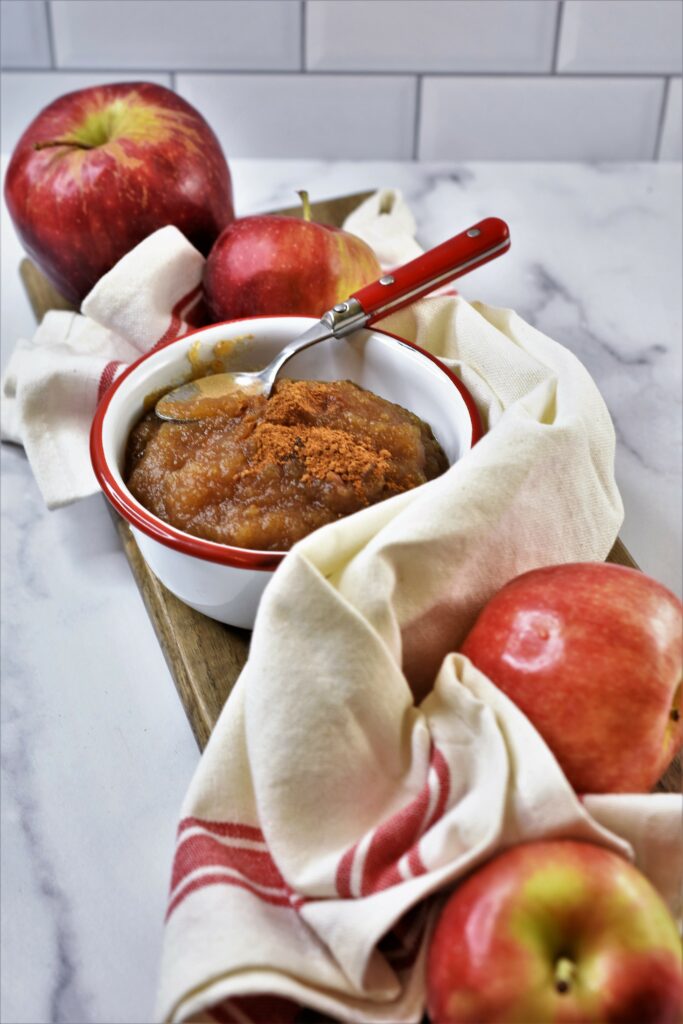 Flavors of Fall Harvest
When I create recipes I enjoy different and unique layers of flavors. This brown sugar spiced applesauce has ingredients that elevate any ordinary apple sauce out there. I love plain applesauce from time to time but wanted to try something rich with warm flavors that remind me of fall. While eating this applesauce I was reminiscing of apple picking, raking leaves, making apple pie and roasting a turkey. Now that I'm exhausted from thinking of all these chores, I'm going to take a nap.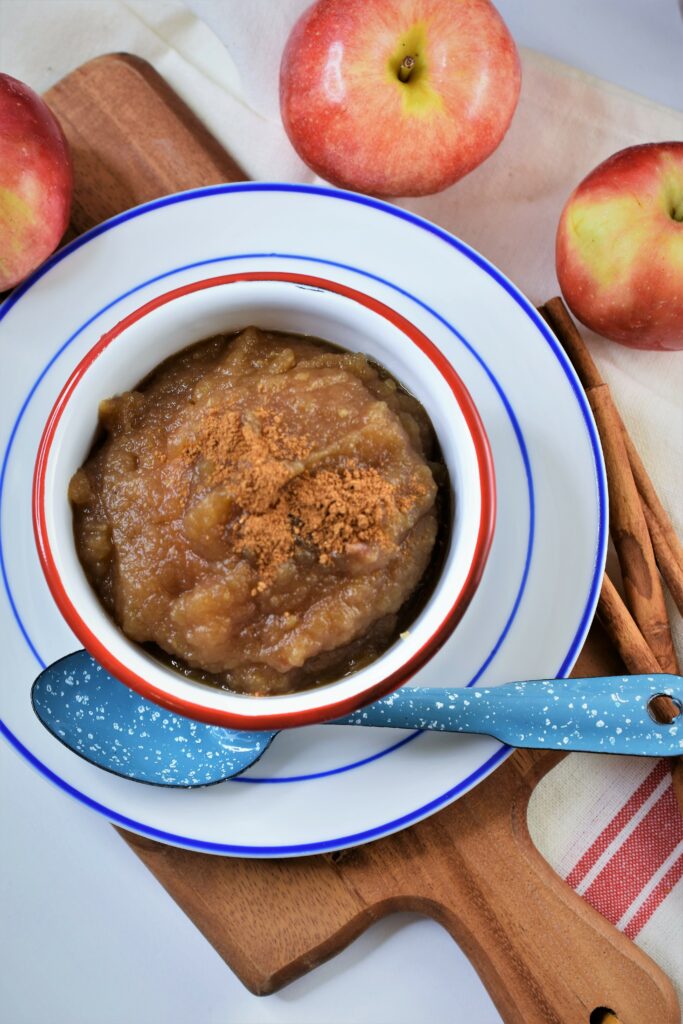 Ingredients Needed To Make This Brown Sugar Spiced Applesauce
Use the freshest apples, I used McIntosh
Adding maple syrup gives this applesauce a wonderful depth. You don't need much but make sure it's 100% pure and good quality.
Using brown sugar adds that rich molasses flavor compared to regular sugar.
I used apple cider vinegar instead of lemon juice giving this apple sauce the much needed acidic flavor.
Plus a touch of kosher salt to counterbalance the sweetness.
Adding a bit of pumpkin pie spice worked well adding that warm autumnal flavor. The one I used has a combination of cinnamon, cloves, ginger, nutmeg and lemon peel.
Lastly adding vanilla extract adding to the richness and depth.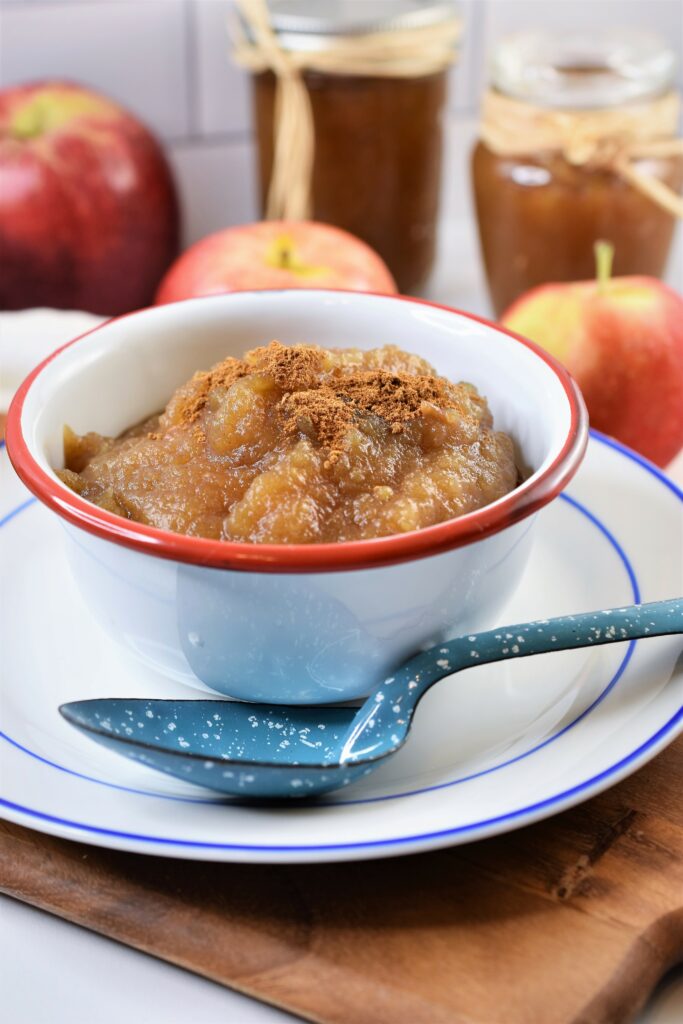 More Apple Recipes You Might Enjoy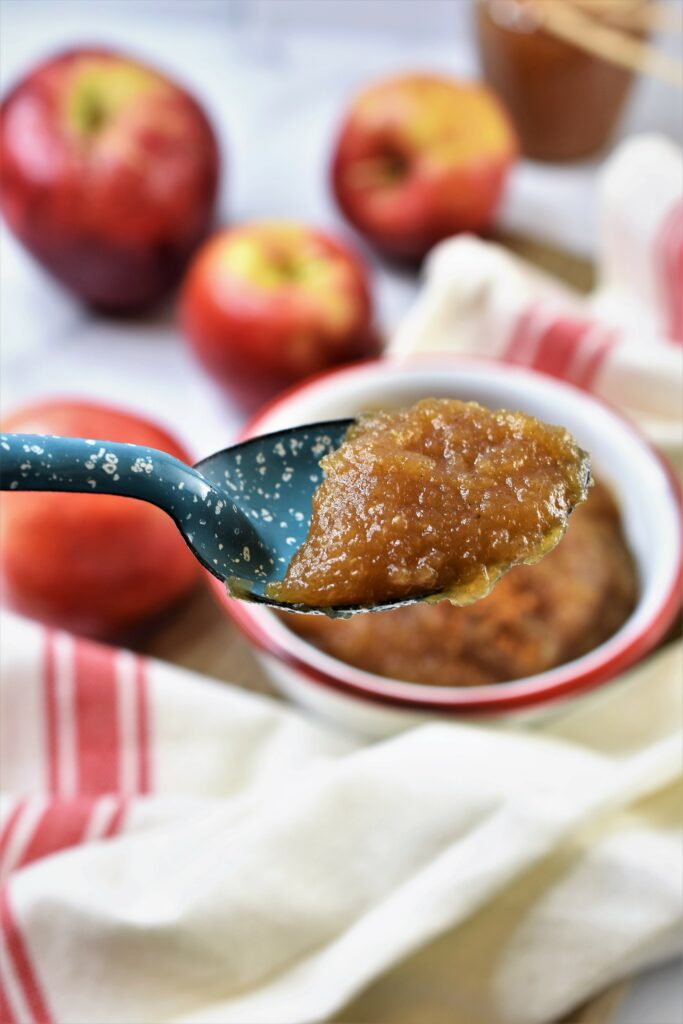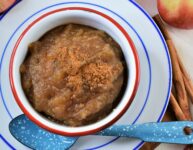 Brown Sugar Spiced Applesauce
This brown sugar spiced apple sauce with pumpkin pie spice, vanilla and maple syrup is like tasting fall in every spoonful
Ingredients
8

apples, peeled, cored & quartered. I used McIntosh apples but other apples would be fine

1/2

cup

water

1/2

tsp

salt

1/2

cup

brown sugar

1/4

cup

maple syrup, preferably 100% pure

1 1/2

tsp

pumpkin pie spice

1

tsp

vanilla extract

3

tsp

apple cider vinegar
Instructions
Add the apples, water, salt, sugar maple syrup and pumpkin pie spice into a 6 quart heavy pot over medium/high heat and stir well and cover. Cook for 10 minutes, stirring occasionally

Take the lid off and turn down to medium and cook for another 15 minutes or until apples are really soft

Add the vanilla and apple cider vinegar and stir well

Use a potato masher and mash the apple sauce if you want it chunky, I used an immersion blender and pureed mine until smooth. Alternatively you can use a food processor and process in batches until smooth.

Let cool and transfer to a storage container with lid and refrigerate for up to two weeks. This could also be stored in the freezer for up to 3 months. If canning, make sure to use proper canning directions.