I love when I create a recipe within minutes of frantically looking around in my pantry and refrigerator wondering what to make for dinner that isn't the old standby; we need variety in life!  My recipe for braised cinnamon & hard apple cider chicken is far from standby, it turned out to be one of the best chicken dishes I had ever made.  The flavors of the sweet apple and cider contrasted perfectly with the touch of smokiness of the paprika and the heat of the cayenne with the slight cinnamon flavor coming through.  I knew I needed something besides just cinnamon and apple in this recipe because I didn't want this chicken dinner to taste like apple pie, maybe that wouldn't be a bad thing since apple pie is such an amazing thing but we will keep that for dessert. Update…I ate a chicken leg while standing over the kitchen sink this morning at 4 am…yes, this is kitchen sink munch food, that's how good it is.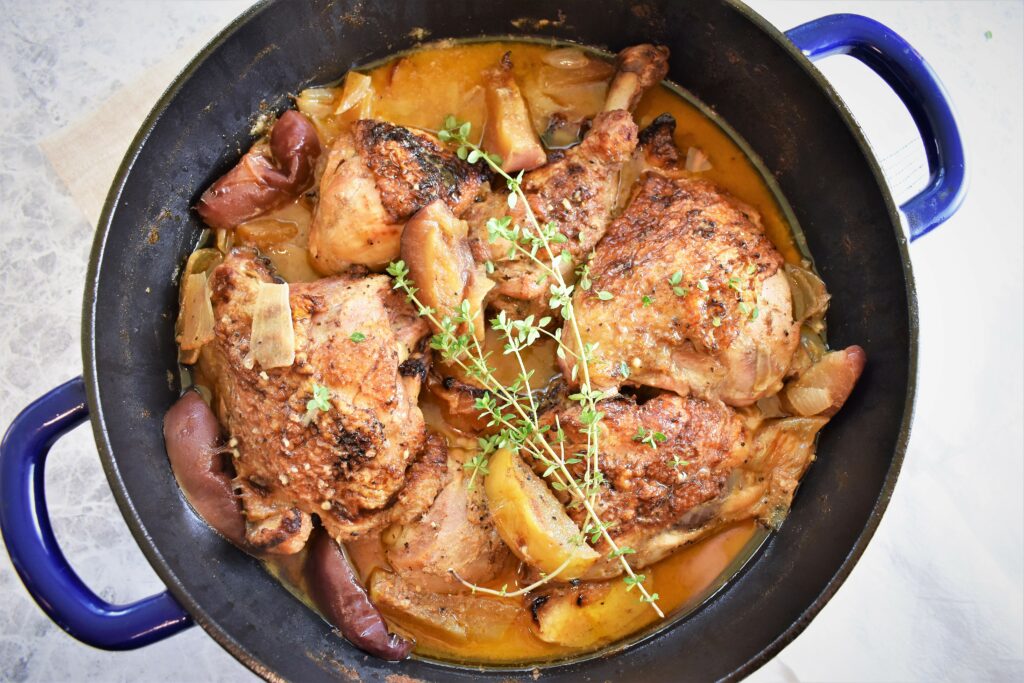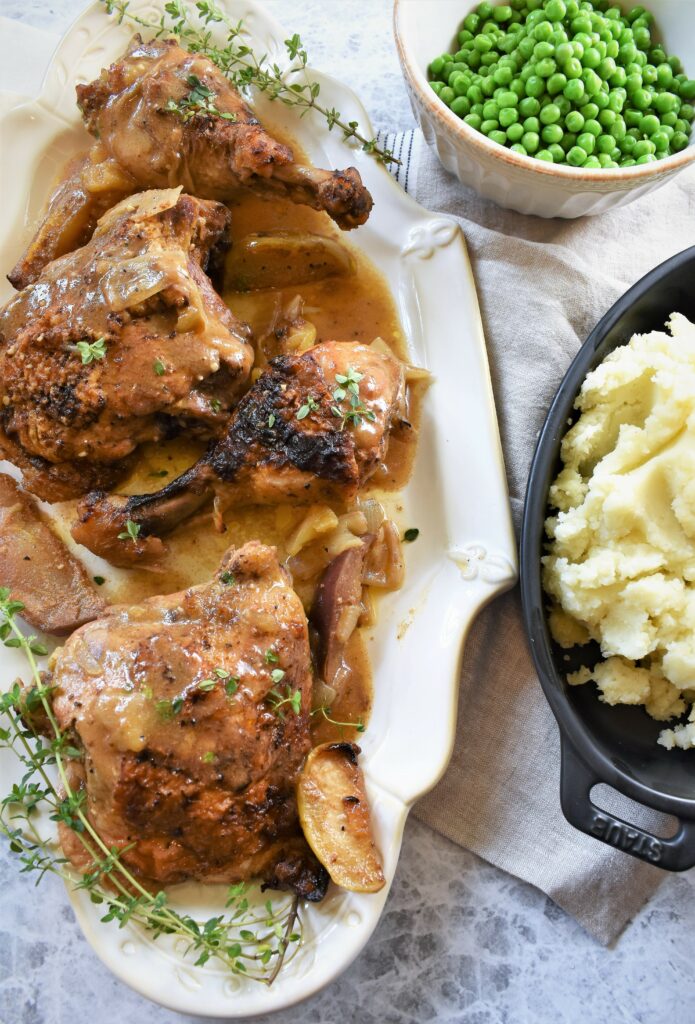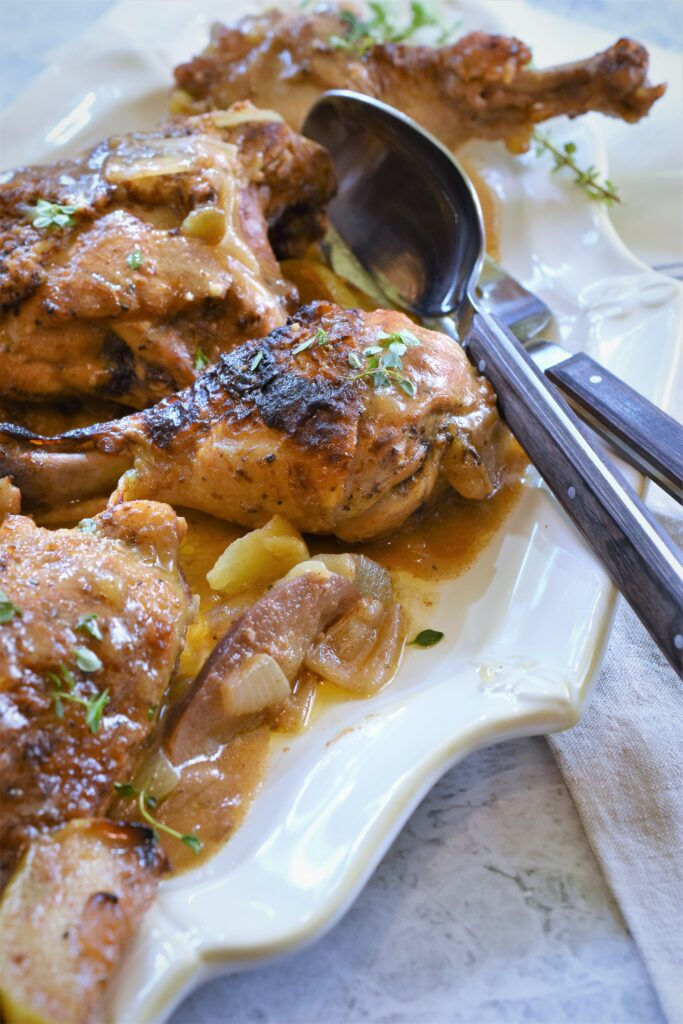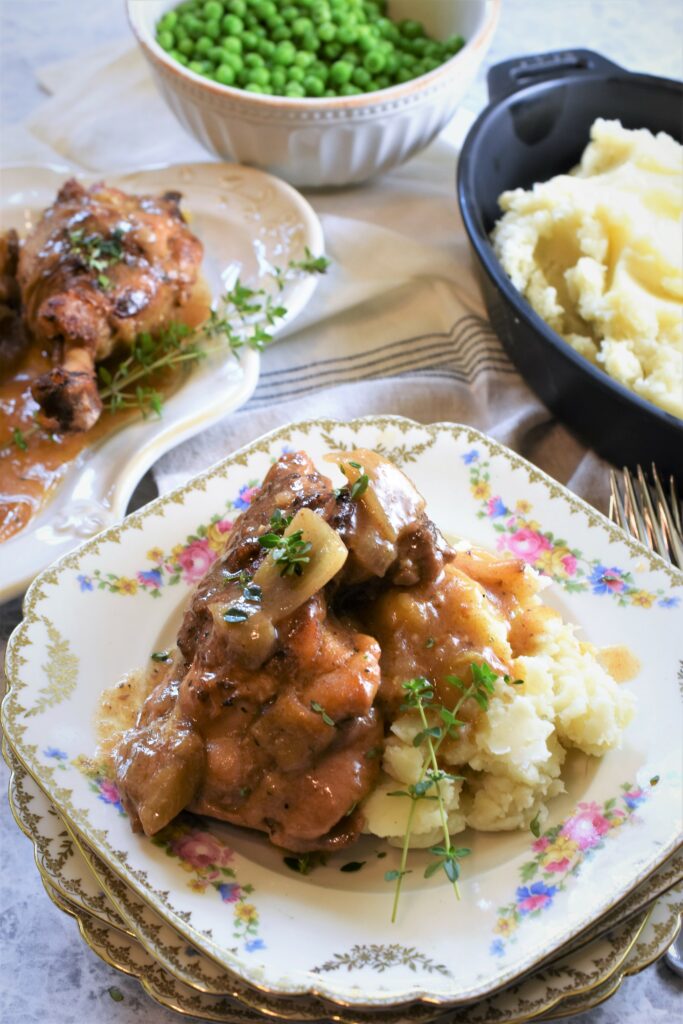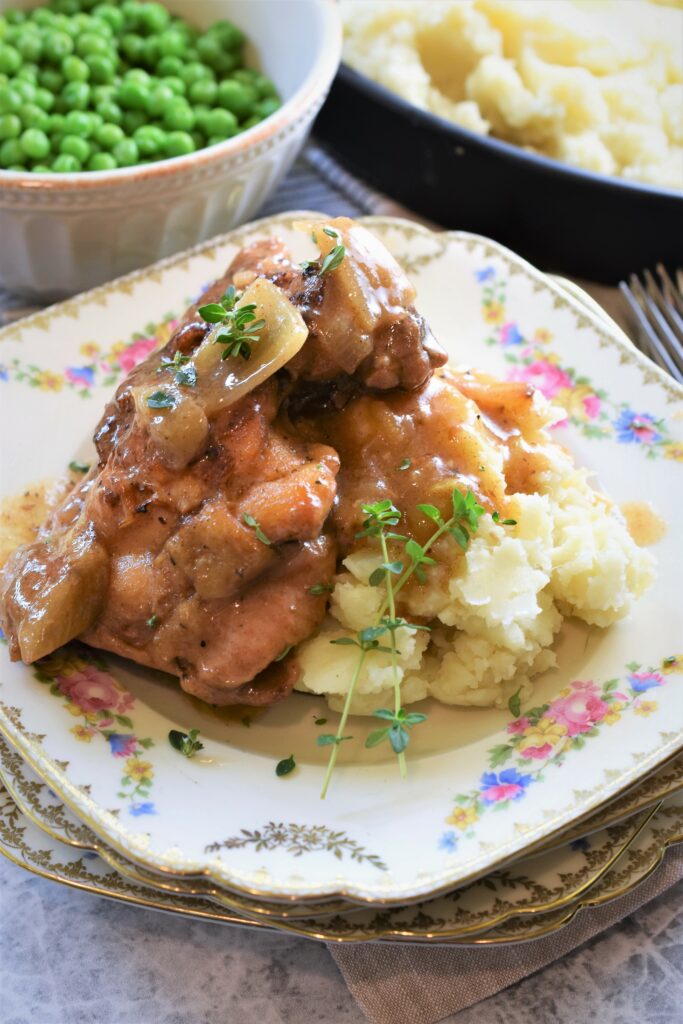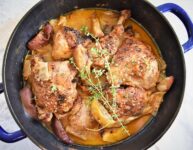 Braised Chicken with Cinnamon & Hard Apple Cider
This tangy, sweet and savory chicken with a touch of spice combines the best of apples and chicken in one easy and most of all tender chicken dinner you can serve your family all year round.
Ingredients
1

tsp

cinnamon

1

tsp

minced garlic

2

tbsp

Dijon mustard

1

tsp

kosher salt

1

tsp

coarse ground pepper

2

12 oz

bottles of hard apple cider

4

bone in, skin on chicken thighs

4

chicken legs

3

tbsp

olive oil

3

large apples cored and quartered and sliced again

1

large yellow or white onion, large chop

6

sprigs

Thyme, tied into a bundle

1 1/2

tbsp

corn starch dissolved in 1/4 cup cold water
Instructions
In a medium bowl whisk together the cinnamon, garlic, Dijon mustard, 1/2 tsp. salt, 1/2 tsp. pepper, smoked paprika, cayenne pepper and hard apple cider and set aside

Pat chicken dry and season both sides with 1/2 tsp salt and 1/2 tsp pepper

Preheat oven to 450 degrees

Add oil to the braising pan over medium/high heat and let heat up for a couple of minutes, add the thighs skin side down and cook until deep golden brown, about 4 minutes per side, transfer to a plat and brown the chicken legs 4 minutes per side, leave the chicken legs in the pan and the heat on

Add half the onions and apples between the legs along with the thyme bundle and lay the thighs on top of that and add the remaining apples and onions

Ladle the seasoned hard apple cider over the chicken and cook for 4 to 5 minutes on the stove top or just until it starts to bubble around the edges of the plan

Place in the preheated oven uncovered for 40 to 45 minutes until cooked through, if your braiser or Dutch oven is on the small side, halfway through roasting, move the chicken pieces around with tongs so they cook evenly, I used a 5 quart braiser so my pan was a bit full

Remove chicken from the oven, take the chicken out with tongs and place on a serving platter reserving the braising liquid and with a slotted spoon, strain some apple and onion pieces and place on platter with the chicken and cover platter with foil

Return pan to the stovetop on medium high heat and add the cornstarch/water mixture and whisk constantly for about 3 minutes or until the braising liquid has thickened to a nice sauce, spoon sauce over chicken and serve. Serves 4 to 6 people

This dish is fabulous served over mashed potatoes, rice or pasta to soak up all that beautiful sauce…liquid gold
Recipe Notes
I used 4 thighs and 4 legs since that's what I had on hand, you can use whatever chicken part you like but make sure it's bone in and skin on
Special Equipment: 6 quart heavy cast iron braiser, Dutch oven or deep cast iron skillet