Squash…isn't just for autumn or winter anymore, I find it at the supermarket all year round. My recipe for beyond Italian style stuffed acorn squash with quinoa is not only healthy but it's very satisfying.  Going "Beyond" regular stuffed squash recipes, I used the plant based meat Beyond Burger in this recipe to give it a meaty flavor and texture in this vegan recipe; you could certainly substitute with any other brand that you like.   I'm not vegan but I like to lighten up my "meat" dishes from time to time but still want that satisfying flavor and it's perfect in this beyond stuffed acorn squash recipe.  The ingredients I used replicate Italian sausage and my recipe will fool most meat lovers into thinking they are enjoying a meaty meal…but really, don't worry you need not fool anyone with this delicious dish because good flavor doesn't fool anyone!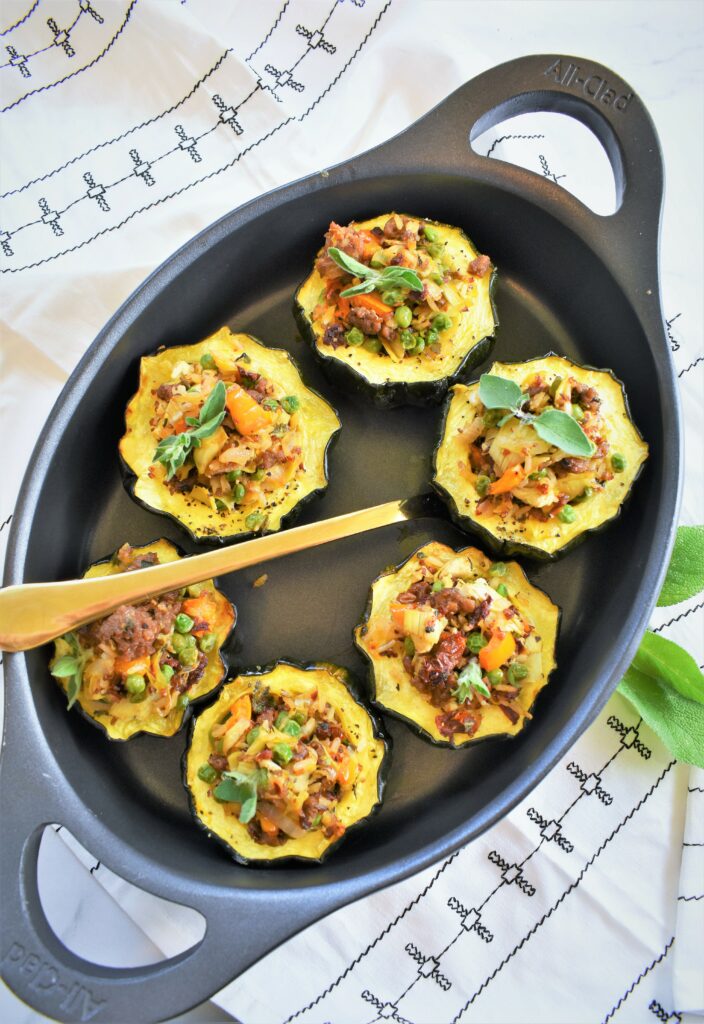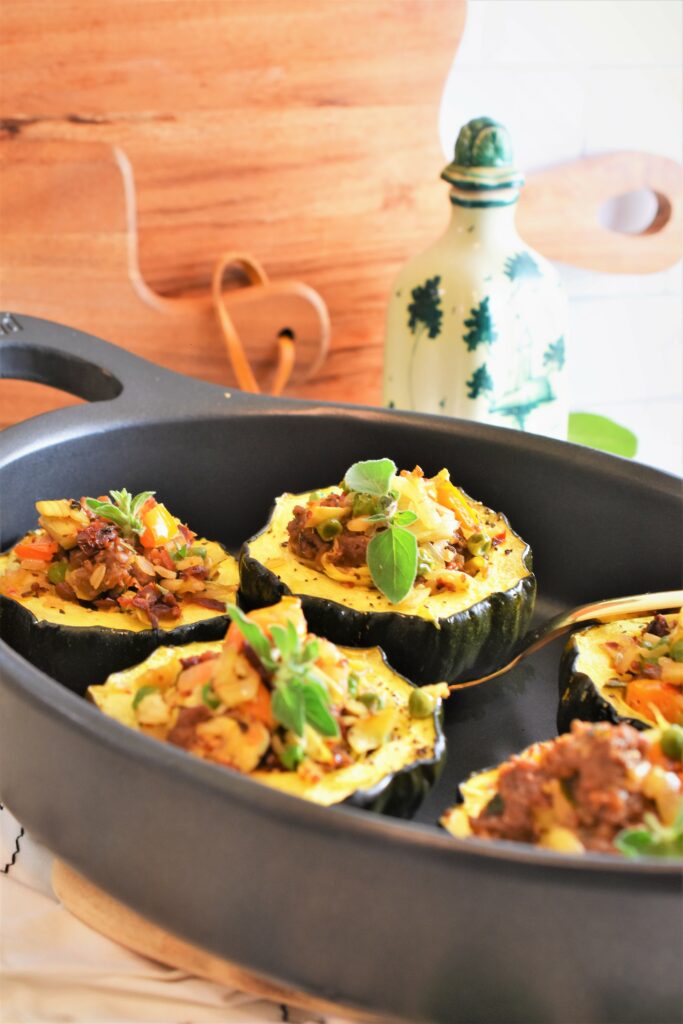 These mini beyond stuffed acorn squash make a perfect side dish or a main dish. Make these the night before for easy prepping and bake them when coming home for work.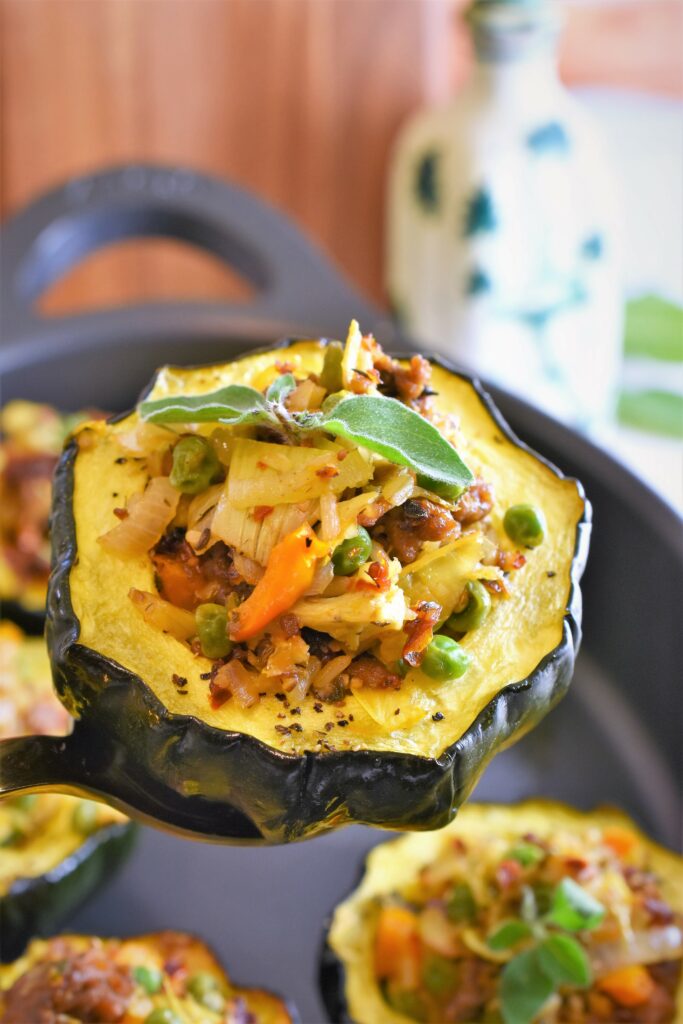 Serving this Beyond Stuffed Acorn Squash
I bought small acorn squash so this could be served as a side dish
I have served this as a main course along with a vegetable side and a salad
Rushed for time on a weekday, prepare these the night before and bake them in the oven the next day
This makes a great Holiday offering so serve them at Thanksgiving or Christmas as a side dish or a main dish for that vegan holiday
Serve alongside mashed sweet potatoes for an autumnal feast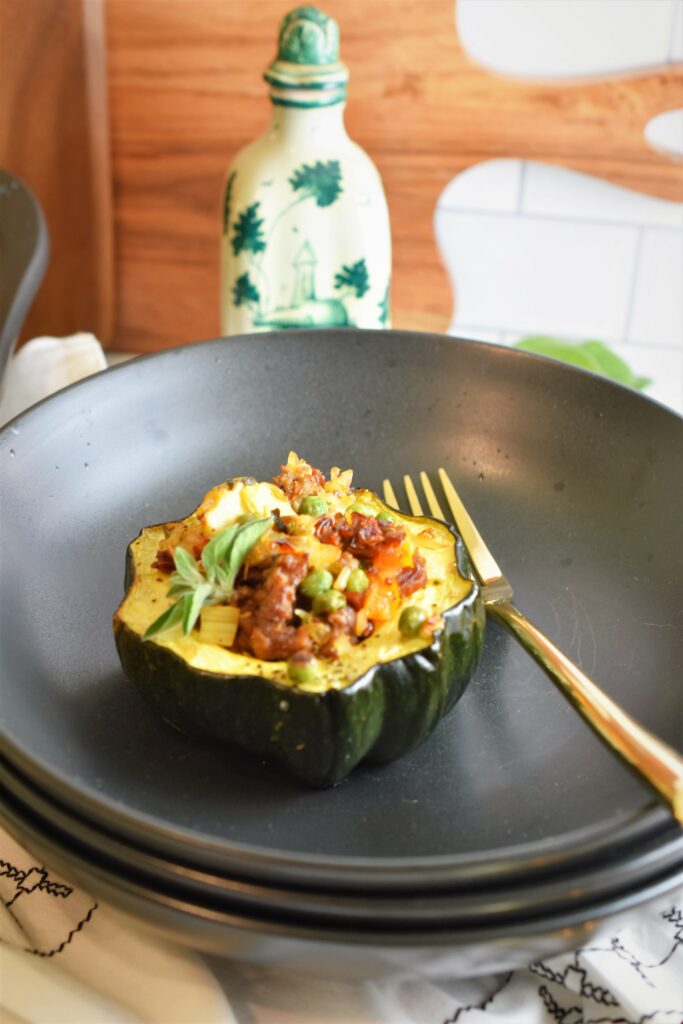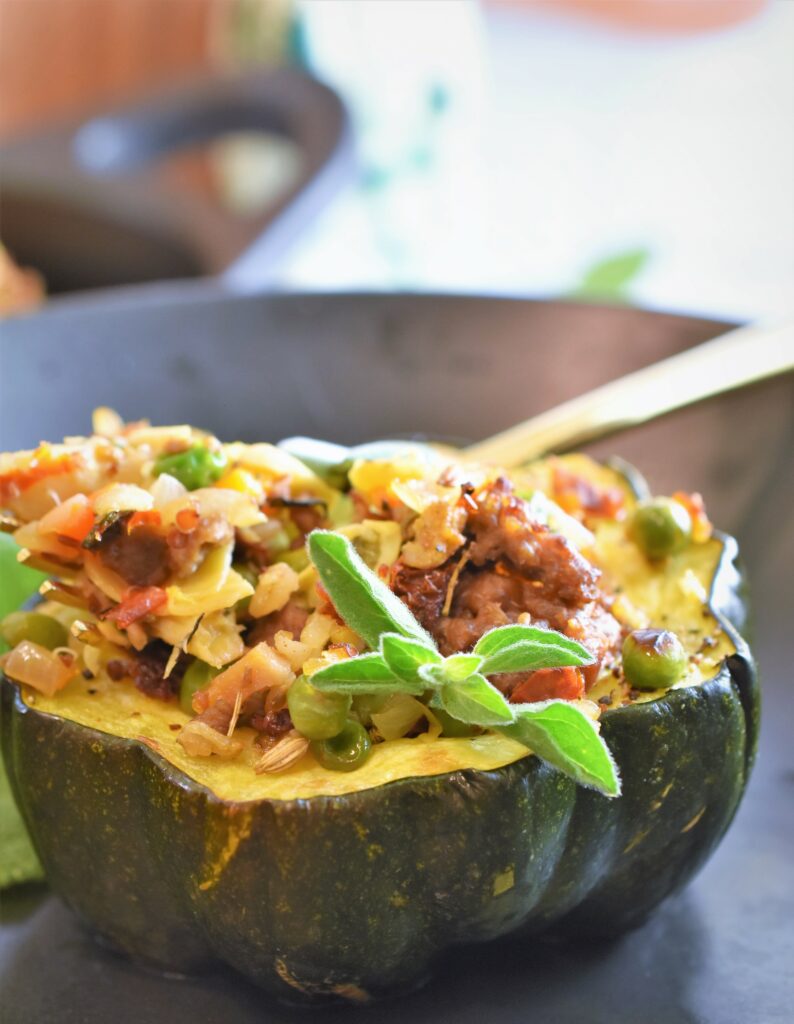 I used fresh oregano and sage from my garden in this Italian stuffed acorn squash . When available, I always try to use fresh herbs.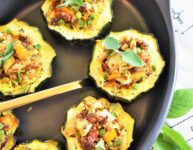 Beyond Italian Style Stuffed Acorn Squash with Quinoa
These delectable mini stuffed acorn squash has fabulous Italian flavor and are perfect as a side dish or a main course. I would suggest two of these on your plate with a veg or a salad…
Ingredients
6

small acorn squash, about the size of a large orange

3

tbsp

olive oil

3/4

tsp

kosher salt, divided

1/2

tsp

coarse ground pepper

8

oz

Beyond meat patties or ground (I used 2 patties)

1

cup

chopped onion (1/2 medium yellow onion)

1/2

bell pepper, chopped (I used an orange one)

2

tsp

minced garlic

1/2

tsp

red chili flakes

1

tsp

fennel seeds

1

tsp

Italian seasoning

1

tbsp

fresh oregano, minced

2

tbsp

fresh sage, minced

1/3

cup

dry white wine or you can substitute vegetable stock

3

tbsp

sun-dried tomatoes packed in oil, drained and chopped

1

can artichoke hearts, drained and chopped

1

cup

cooked quinoa (make it easy, I had frozen quinoa/brown rice blend, so I used that)

1

cup

frozen petite peas, thawed
Instructions
Preheat oven to 400 degrees

Slice a little bit off each end of the squash and cut in half and remove the seeds. Place them on a sheet pan and brush the tops and inside with 1 1/2 tbsp olive oil and season with 1/4 tsp salt and 1/4 tsp pepper and roast in the oven until tender for 30 to 40 minutes, mine were done in 30 minutes

Meanwhile add the remaining olive oil to a skillet over medium/high heat on the stove and add the Beyond meat patties, chopped onion, bell pepper and garlic and saute for 5 minutes, breaking up the plant based meat with a spatula into mince and stir occasionally.

Add the pepper flakes, fennel seed, Italian seasoning, oregano, sage white wine, sun-dried tomatoes, artichoke hears and quinoa and stir to mix in and saute for 8 minutes, stirring occasionally

Stir in the petite peas, cover and turn off heat

take the squash out of the oven

divide the filling into all the squash and return to oven to heat up for 8 to 10 minutes more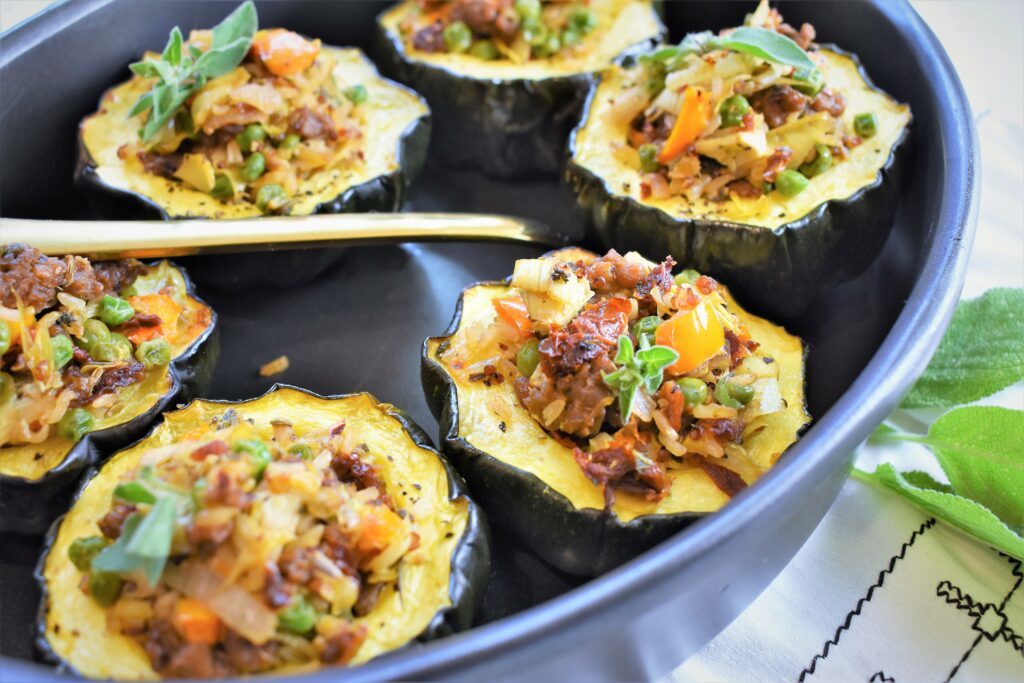 For that "meat" flavor and texture that is full of great plant based protein try my favorite vegan brand Beyond Meat, it's at most grocery stores now.