These delicious Chinese turkey endive bites make an easy appetizer and will satisfy your craving for Chinese food. Notably this dish is similar to Chinese chicken in lettuce leaves, it tastes just like restaurant made. In fact while writing this today I'm scooping the turkey into endive leaves like potato chips. Furthermore hang up the phone for take out because these Chinese turkey endive bites are scrumptious. Because you'll be tasting the rich flavors of hoisin and chili garlic sauce. Not to mention the turkey has a unique contrast with the mild bitter endive. As well as the fresh ginger, green onions and peanuts. Unlike lettuce leaves, the endive is less messy and perfect for scooping. Therefore making these Chinese turkey endive bites the perfect appetizer.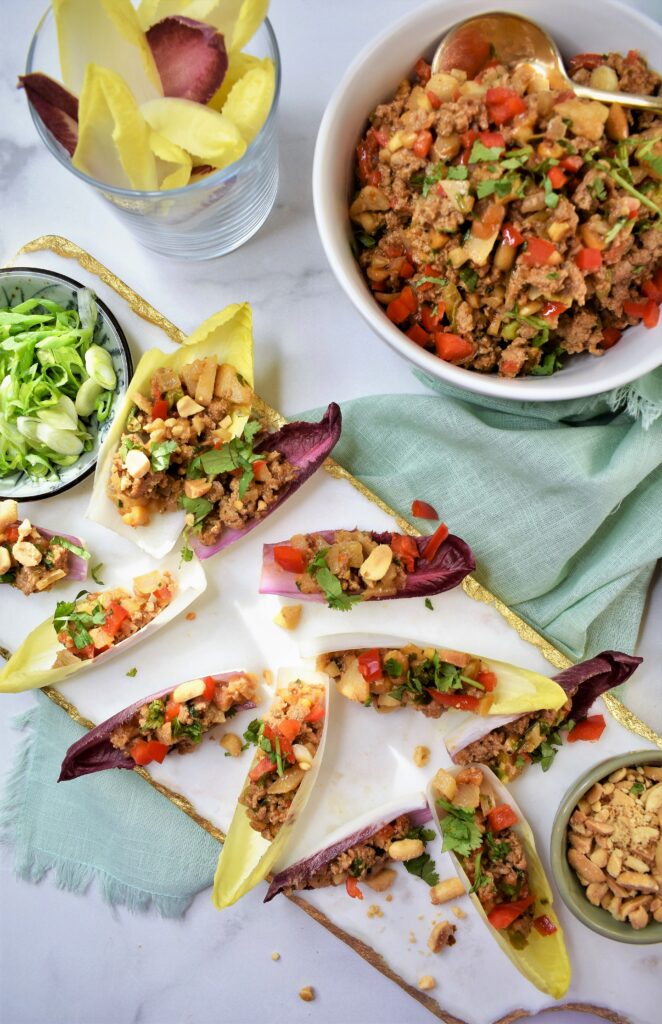 Chinese turkey endive bites are perfect for the holidays
Thanksgiving is approaching and these Chinese turkey endive bites are a perfect appetizer solution. Since the endive leaves are small and convenient they make the perfect party tid bit. I don't know about you but I can't get enough turkey on Thanksgiving so don't think this is overboard because the flavors truly aren't your typical Thanksgiving fare. Furthermore, add some dried cranberries to these Chinese turkey endive bites furthering the holiday theme. Plus is you have nut allergies in your household feel free to leave out the peanut butter and the crushed peanuts. Just add another tablespoon of hoisin in its place.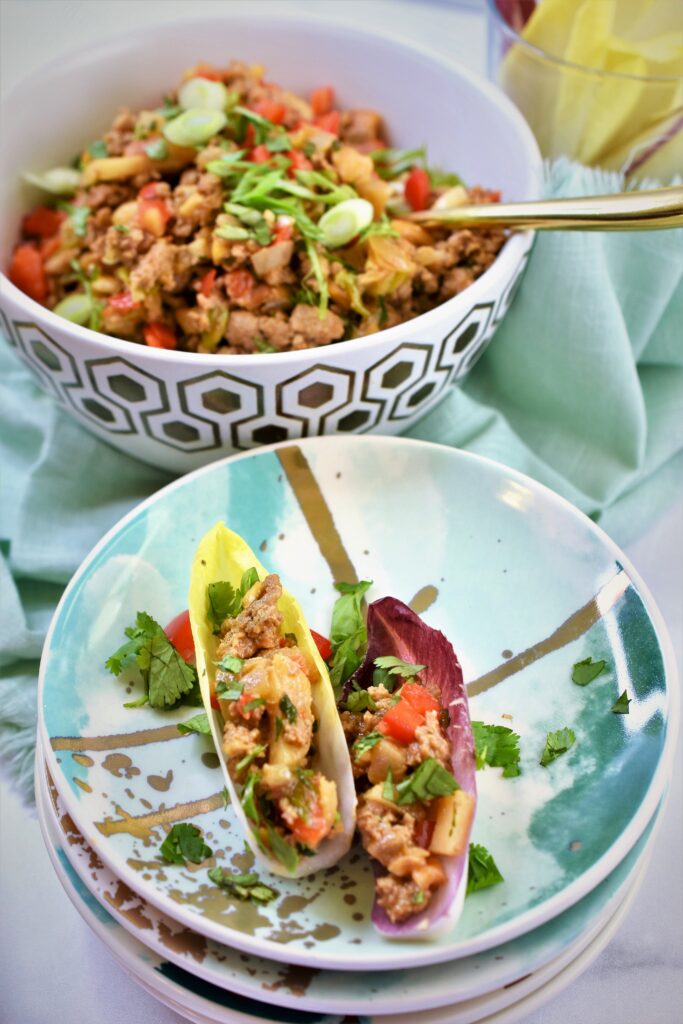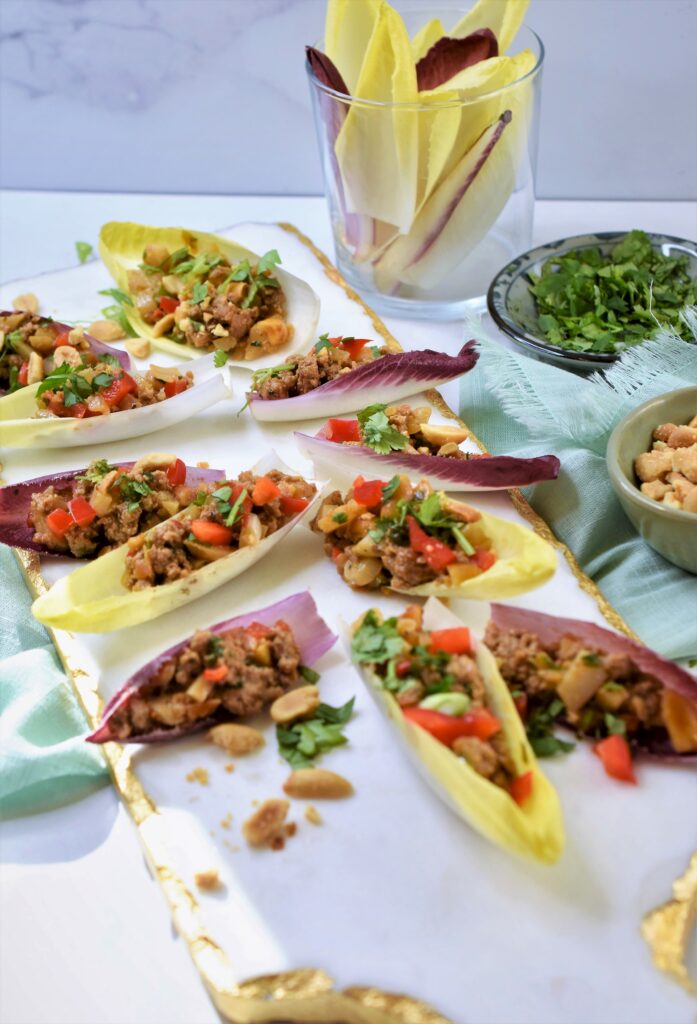 More ideas for serving this dish!
Make this turkey appetizer an entrée by serving this over rice with a vegetable side and this recipe would serve four
Don't like Endive? Serve it in lettuce cups just like Chinese chicken in lettuce leaves
Make it a

stir-fry

by adding broccoli and green beans and serve with your favorite rice or quinoa
Serve it cold as a salad over chopped romaine, cucumbers, shredded carrots and a dash more rice vinegar with fried won ton chips on top for a yummy Chinese salad.
This would be a unique sandwich filling inside pita pockets plus serve it with bags of shrimp chips or Chinese rice crackers for that Asian fusion picnic party!
Lastly use this as a filling for egg rolls or won tons and serve it with your favorite sauce on the side.
Make this vegan by replacing the Turkey with your favorite vegan ground plant based meat, Trader Joe's has a vegan turkey style patty and it's really good.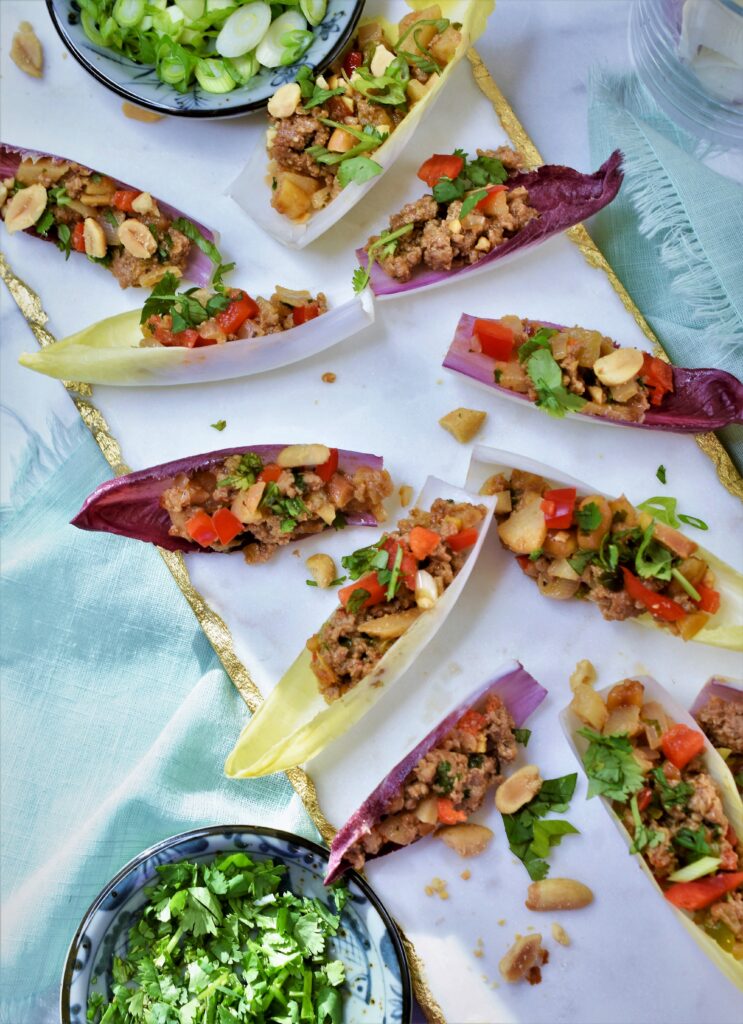 Related Recipes…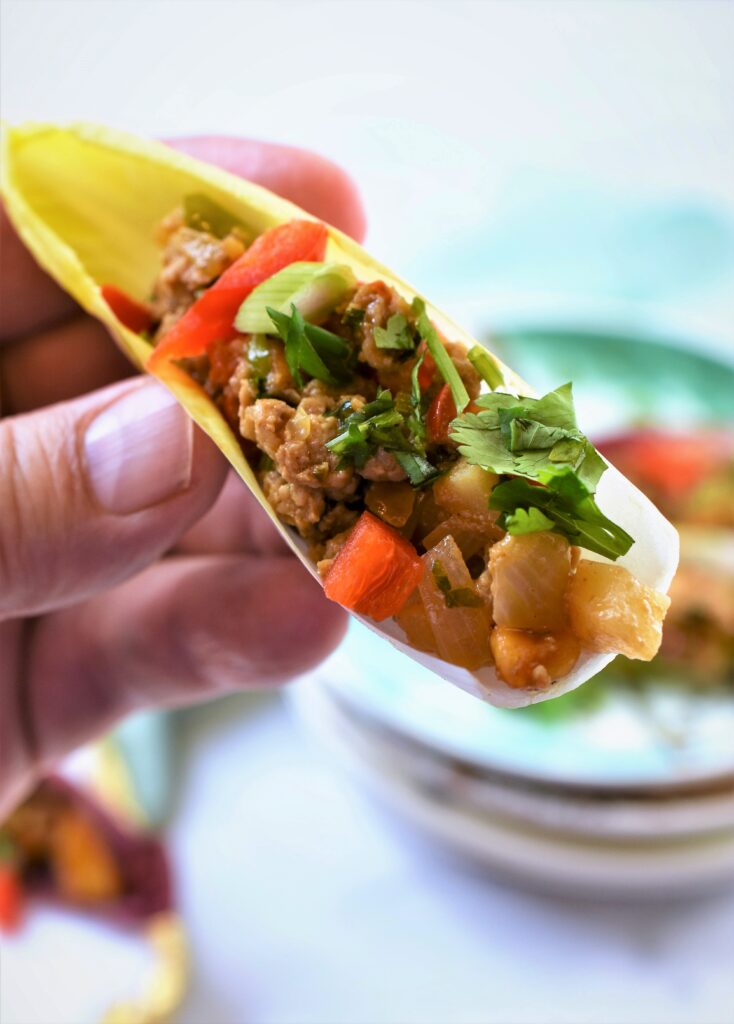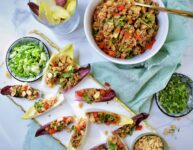 Chinese Turkey Endive Bites
This delicious Asian style turkey appetizer is fresh, healthy and perfect for any party especially the holidays like Thanksgiving and Christmas!
Ingredients
1

tbsp

sesame oil

1

small yellow or white onion, chopped

1

inch

peeled and minced ginger

1

lb

ground turkey

3

tbsp

Hoisin sauce

1

tbsp

Asian style chili garlic sauce

2

tbsp

smooth peanut butter

2

tbsp

rice wine vinegar

1

medium red bell pepper, chopped

8

oz

can sliced water chestnuts, drained and chopped

3

tbsp

cilantro, chopped (reserve 1 tbsp. for garnish)

1

cup

crushed peanuts (reserve 1/2 cup for garnish)

3

green onions, thinly sliced (reserve half for garnish)

5

heads of baby Belgian endive, trimmed and separated
Instructions
Heat the sesame oil over medium/high heat in a large skillet

Add the yellow onion, ginger and turkey. Stirring occasionally and breaking up into small mince and brown for 5 minutes

Add the hoisin, chili garlic sauce, peanut butter and vinegar and stir well until combined, cooking for 5 minutes more.

Add the bell pepper, water chestnuts, 2 tablespoons cilantro, 1/2 cup of crushed peanuts and half of the sliced green onions and sauté for another 3 minutes stirring occasionally

Pour into a bowl along side a platter with endive leaves and small bowls of garnishes of the cilantro, crushed peanuts and green onions and fill endive leaves as needed

Serves 8 as an appetizer and 4 as an entrée