There are many variations on a "slider" in the world and that's a good thing, I've made so many different kinds.  Sliders fit right in any party menu and these Asian style chicken sliders are so good and one of my favorites.  I got the recipe idea for the chicken filling from the chefs I used to work with in a restaurant when I was a food server…let's say, many years ago.  They had called them "gingered cilantro chicken cakes" and they served them as a special every now and then with a side of mashed potatoes and steamed vegetables, I had asked them what was in them and there really were only a few ingredients.  This is my version that I turned into a slider and it's so good…brings back memories for me when I used to work there.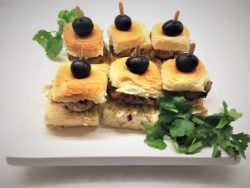 Ingredients
1 ½ pounds of ground chicken thigh meat
1 egg
1 tablespoon chopped ginger
4 cloves of garlic, chopped
½ cup chopped cilantro
¾ cups of plain bread crumbs
1 tablespoon Sriracha sauce
5 green onions, chopped
3 tablespoons of soy sauce
1 teaspoon coarse ground pepper
½ cup hoisin sauce
½ cup mayonnaise
2 tablespoons fresh lime juice
2 cups of cole slaw mix
¼ cup of Asian style salad dressing
12 soft dinner rolls or slider rolls
Pickles or olives with picks for garnish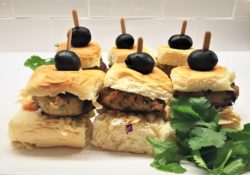 Instructions
In a mixing bowl, combine the chicken, egg, ginger, garlic, cilantro, bread crumbs, Sriracha, green onions, soy sauce and pepper, mix really well and place in the refrigerator for about an hour so the flavors can mingle.
In a small bowl, combine the hoisin sauce, mayo and lime juice, cover and refrigerate until ready to use
In another bowl combine the cole slaw mix and dressing, mix well and refrigerate until ready to use
Divide the chicken mixture into 12 evenly sized slider patties and cook on the stove in a grill pan or large frying pan, cook for 10 minutes or until done, turning once.
Cut the slider rolls in half, spread mayo on each bun, top with chicken burger and cole slaw, secure with a pickle or an olive on a pick and enjoy.