Nothing says comfort food like Shepherd's pie, especially on a cold winter night.  This stick to your ribs recipe that I developed will please all your taste buds.  This vegan version of this classic comfort food is perfect for everyone.  Even though this dish is meatless it does not lack flavor; you will enjoy the robust and layered flavors with the after note of chipotle chili lingering. Party perfect and family friendly, you will want to keep this recipe in your repertoire because I know you will be making it again and again.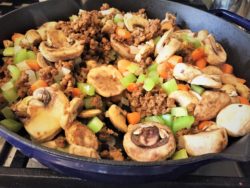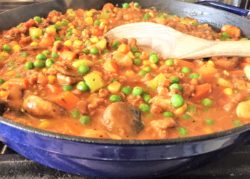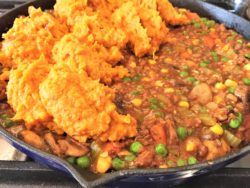 Ingredients
2 tablespoons Olive oil
12 ounces Vegan ground crumble meat substitute
1 cup of chopped onion
1 tablespoon chopped garlic
1 cup of chopped Carrots
3 Celery stalks, chopped
8 ounces of sliced mushrooms
1 teaspoon fennel seeds
1 teaspoon dried thyme
1 teaspoon Italian seasoning
½ teaspoon pepper
½ teaspoon kosher salt
3 tablespoons tomato paste
2 cups of vegetables stock
3 tablespoons corn starch
1 cup of frozen corn, thawed
2 cups of frozen peas, thawed
Comfort food and a work of art!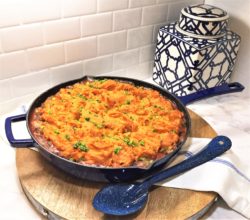 Mashed sweet potato topping
4 large sweet potatoes
1 tablespoon of finely chopped Chipotle chili in adobo
¼ cup of Bbq sauce
2 tablespoons Vegan butter or margarine
½ cup of plant based milk
¼ teaspoon kosher or sea salt
¼ teaspoon coarse ground black pepper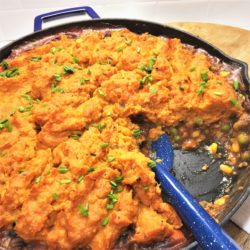 Directions
In a 3 to 4 quart pot with water, heat on high, peel potatoes, cut into quarters and add to water and simmer for 15 to 20 minutes until fork tender.
While potatoes are cooking heat a 12 inch cast iron skillet (or oven safe skillet) on medium high heat and add the olive oil, ground crumbles, onion, garlic, carrots, celery and mushrooms and sauté for about 10 minutes, stirring occasionally, add the fennel seeds, thyme, Italian seasoning, pepper and salt and stir well.
Combine the tomato paste and corn starch with the vegetable stock and mix well, add to the skillet and combine, stirring occasionally and cook until the mixture thickens well, about 5 minutes, stir in the peas and corn and turn off heat.
Preheat the oven to 375 degrees F
Drain the potatoes, pour into mixing bowl and add the chipotle chili, Bbq sauce, vegan butter, plant based milk, salt and pepper and mash well, making sure that everything is mixed together.
Spoon the mashed potatoes evenly on top of the skillet ingredients, place in oven, I put it on a sheet pan to collect anything that might boil over, but it didn't…
Bake for 25 to 30 minutes until heated through and golden brown on top
Serves 6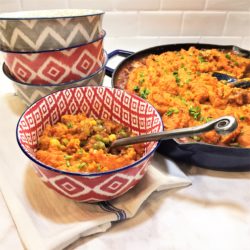 Open wide