What to have for dinner?  It's the question that always ponders many of us; I go through the same thing all the time.  Sometimes you have all the ingredients right under your nose, or should I say in my vegetable garden. I harvested a bunch of Japanese eggplant in my garden yesterday as I was relaxing on a perfect 70 degree Sunday afternoon, in August no less.  I knew I wanted to cook a healthy and light dinner tonight so I thought I would make a stir fry with my fresh eggplant.  I wanted to use hoisin sauce but did not have any and I did not want to go to the store.  The main part of what I do for a living is grocery shop at numerous stores every week and that was the last place I wanted to be today.  Necessity is the mother of invention they say right? So I looked at my ingredients and came up with a great stir fry sauce that isn't too sweet and has a bit of smokiness from some liquid smoke I had in the pantry and voila, a fabulous stir fry that you can serve over whatever grain you would like, I served mine over quinoa.  I'm having some while writing this and it hits the spot for a simple and healthy Monday night dinner.  So try my recipe and I hope you enjoy it.
I've waited all summer for my Japanese eggplant, thank God I didn't name them, since they will be tossed in a hot frying pan soon…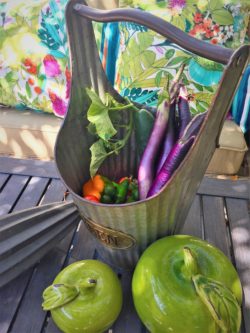 Healthy and delicious…this is a great option for those that are trying meatless Mondays.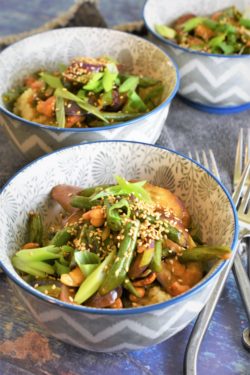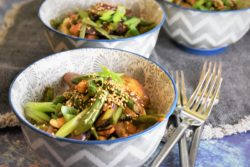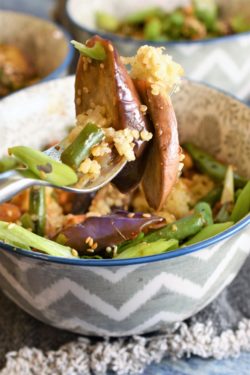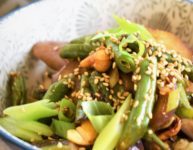 Smoked Stir Fry Japanese Eggplant & Green Beans with Cashews
This healthy stir fry not only can be a main dish, but a side dish or a starter to a heavier meal, I love mine over quinoa for a delicious vegan dinner
Ingredients
3

Japanese eggplants, (about 4 cups)

3

cups

green beans

1/4

cup

teriyaki sauce

3

tsp

liquid smoke

1

tbsp

garlic chili sauce

1

tbsp

sesame oil

3

tbsp

canola oil

2

tsp

ginger, chopped

3/4

cupl

green onions, separate the green parts for garnish

1

cup

roasted cashews

1

tbsp

sesame seeds
Instructions
Slice the eggplant into rounds on the diagonal about ½ inch thick. Place in a bowl and lightly salt it and let it sit for 15 minutes, rinse and drain in a colander and dry well with paper towels

Cut the green beans in a ½ in cut and set aside

In a small bowl combine the teriyaki sauce, liquid smoke, garlic chili sauce and sesame oil, mix well and set aside.

In a large skillet or stir fry pan, heat the oil to high heat and add the eggplant and green beans, stirring occasionally for 5 minutes or until the vegetables start showing a slight char

Add the ginger and the white part of the green onions, toss well and cook for another 2 minutes

Add the sauce and cashews and stir well, cooking for another 3 to 4 minutes or until most of the liquid has been cooked off but also making sure that the green beans are still crisp tender

Great on its own or serve over rice or quinoa and sprinkle sesame seeds and chopped green onions for garnish. Serves 4