Making recipes with seasonal ingredients is always exciting. Especially since "in season" fruits and vegetables are at their freshest. Because these persimmon ham and swiss puffs with pepper jelly proves using seasonal ingredients provides the best in taste. Plus some seasonal ingredients like persimmons have a really short season so get them fast. Not to mention how how versatile this sweet fruit is in recipes. I don't know about you but I really enjoy combining sweet and savory foods together. In the first place ham goes so well with sweet flavors plus adding persimmons is a no brainer. Second the Swiss cheese with hot pepper jelly provides a party in your mouth. Speaking of parties these persimmon ham and Swiss puffs are a perfect choice on your menu.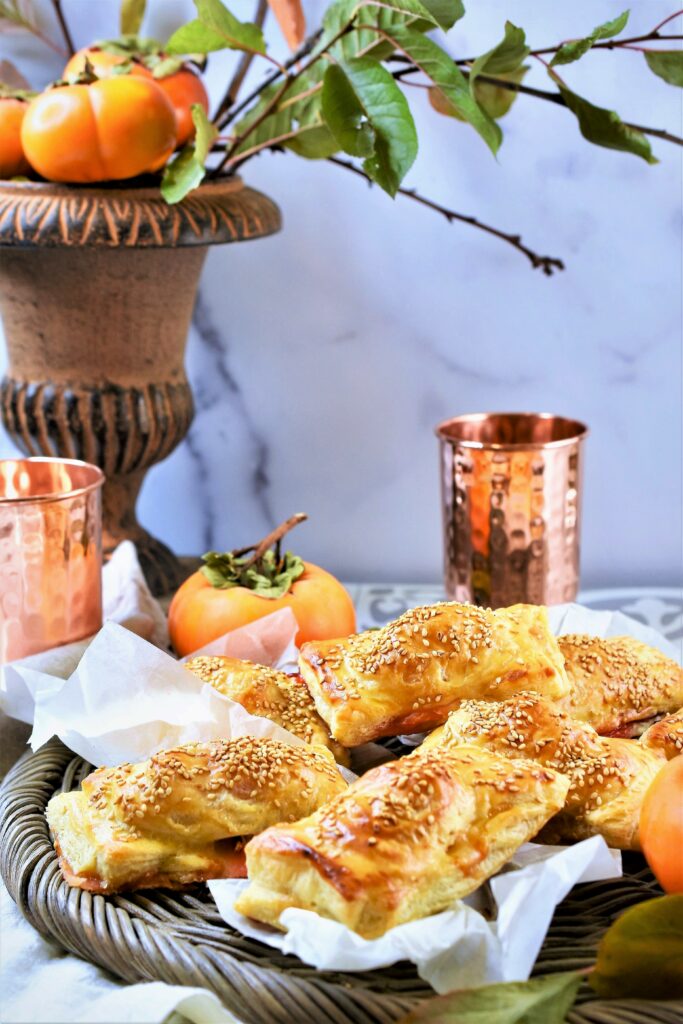 What kind of persimmons are used in these persimmon ham and swiss puffs?
The two most common varieties of persimmons is Fuyu and Hachiya. The Fuya persimmon is in this recipe because they are sweet and seedless. Compared to the Hachiya persimmon which can be on the bitter side unless really ripe or overripe. Furthermore I wanted the sweet and firm Fuyu persimmon in these persimmon ham and swiss puffs because I knew it would hold up well when baking. Plus the sweet flavor goes so well with smoked ham in this flaky, savory pastry. Adding a dash of hot pepper jelly only furthered the complexity of the sweet and savory flavors.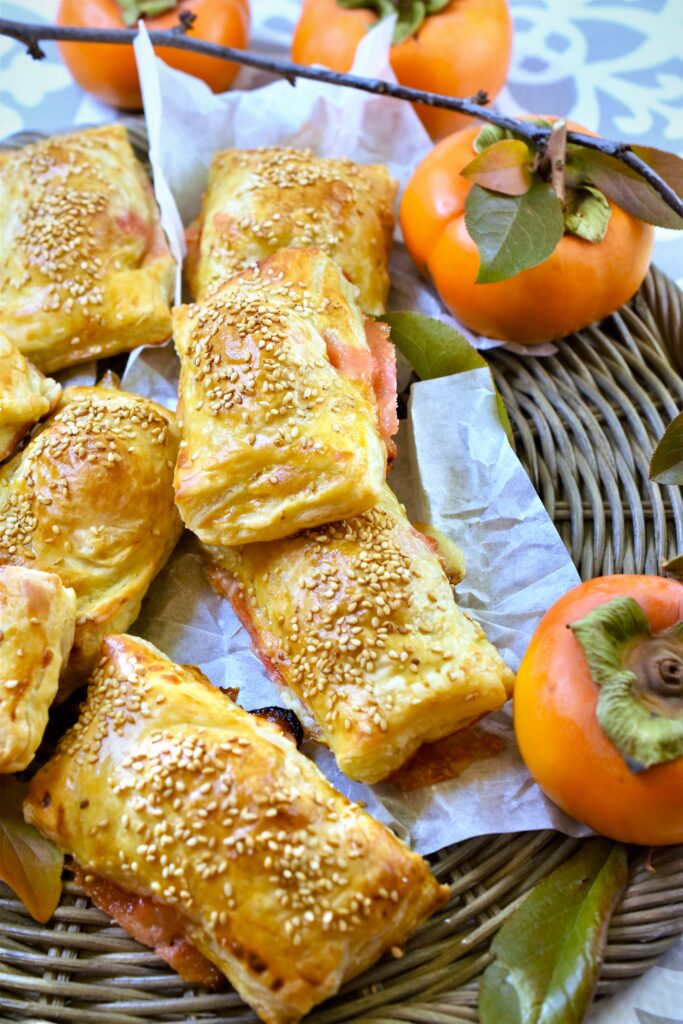 Additionally my sweet neighbor Marci gave me a bag of them sharing some that her friend gave her fresh from their persimmon tree. Plus I knew the minute I got my hands on this gorgeous fruit that I can make an amazing recipe with them. Of course Marci and her family better be hungry because they will be enjoying these soon. I'll be walking across the street soon with a platter of these flaky persimmon ham and Swiss puffs. Since I only ate a couple I need to share them and pay it forward.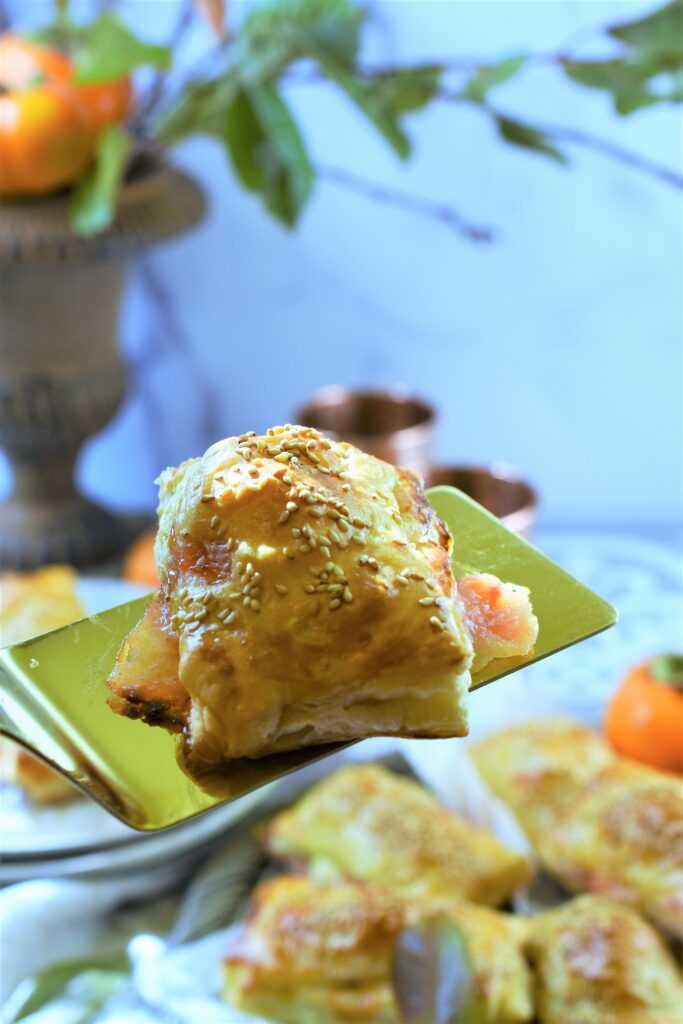 Only 7 ingredients in this awesome recipe!
Frozen ready made puff pastry, very convenient but make sure to thaw overnight in the refrigerator because thawing it on the counter will only deflate the pastry when baked and you want this to puff.
Smoked ham, I used a thick 1/4 inch ham steak but you could get deli ham, just ask the proprietor to slice it thick. You only need 6 ounces.
Fuyu persimmons, they are firm and honey sweet with a texture similar to apricot
Hot pepper jelly, at most grocery stores in the jam/jelly section, only a 1/2 a teaspoon per puff giving this recipe that unexpected flavor
Swiss cheese to add that creamy nutty flavor, use a good imported Swiss like Gruyere or Emmental, I used the latter in this recipe
Egg, used as a wash to glue the pastry together and to give the top shine
Roasted sesame seeds sprinkled on the top for that added texture and color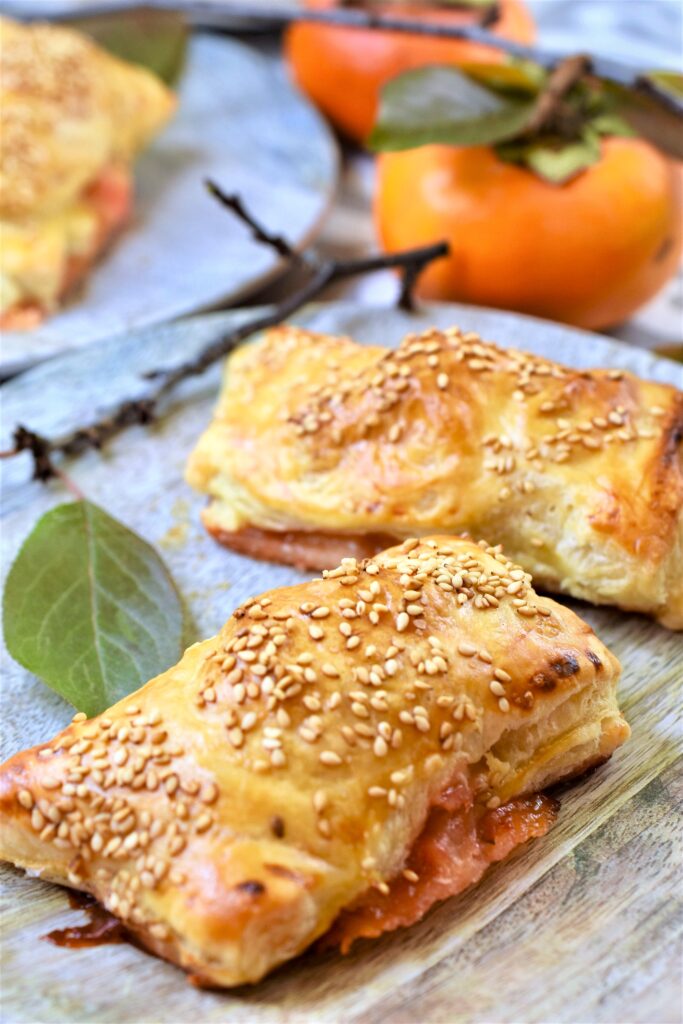 Craving more puff pastry recipes? Look here: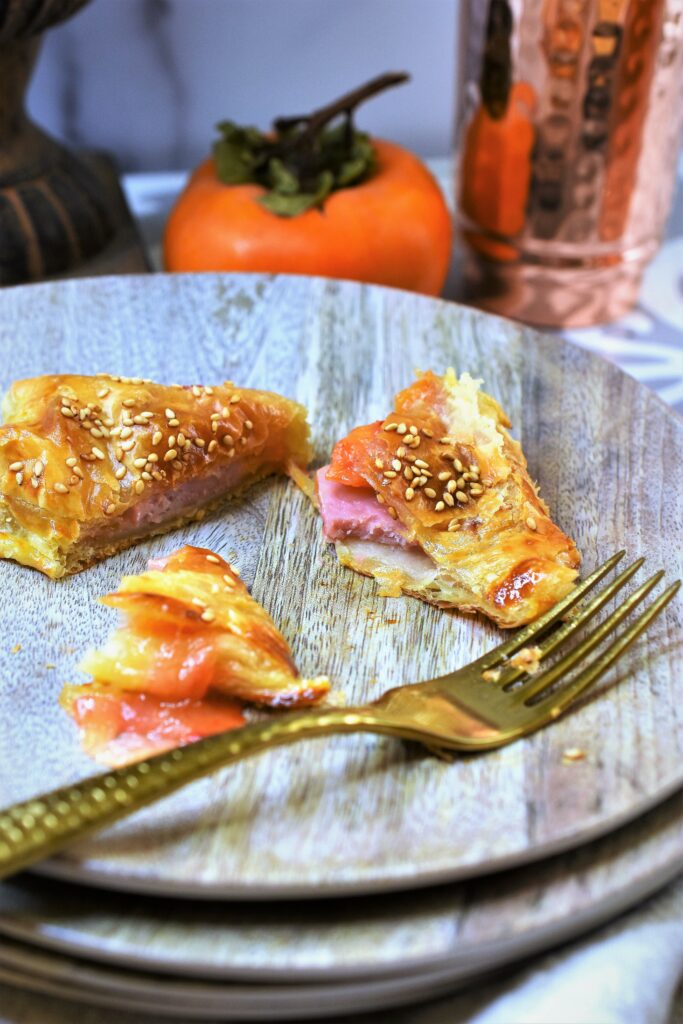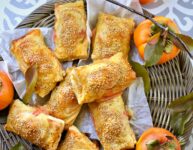 Persimmon, Ham and Swiss Puffs with Hot Pepper Jelly
These flaky and savory persimmon puffs are filled with smoked ham, swiss and just a touch of hot pepper jelly making this unique appetizer so party friendly.
Ingredients
1

17 oz package of frozen puff pastry (two sheets) thawed overnight in the refrigerator

6

oz

Ham steak or 1/4 inch thick slice. Cut into 12, 1X2 inch pieces

1/2

lb

Swiss cheese like Gruyere or Emmental cut into 12, 1X2 inch slices, I used Emmental

2

Fuyu persimmons, sliced into 1/4 inch wedges

6

tsp

hot pepper jelly

1

egg, beaten with 2 tsp water making an egg wash

1

tbsp

toasted sesame seeds
Instructions
Preheat oven to 400 degrees and line a 11X17 baking sheet with parchment paper

Take the puff pastry out of the fridge and unfold each sheet and cut along the seam lines for 3 equal strips per sheet. Cut each strip into 4 rectangles so you will have a total of 24. Roll out 12 of them just a bit bigger than the other 12.

Place the 12 smaller, unrolled puff pastry on top of the parchment lined sheet pan and brush the edges with egg wash.

Place a piece of ham on top of each piece of pastry, followed by 1 piece of cheese.

Place 1 slice of persimmon top of that followed by 1/2 a teaspoon of hot pepper jelly on the very top.

To with the remaining rolled out pastry rectangles on top and press to secure all the sides down to seal and with a fork press the edges down slightly.

Brush the top and edges with egg wash and sprinkle a 1/4 teaspoon of roasted sesame seeds on top.

Bake in the preheated oven for 20 minutes or until puffed and dark golden

Let rest for 5 minutes and serve warm. Makes 12 individual appetizer portions