Comfort food to me is really the connection of wonderful memories with good food and when I taste different comfort foods, especially from my childhood, it brings back the laughter, hugs and foods that warm my soul.
The inspiration for this recipe comes from a longtime family favorite comfort dish my mom used to cook all the time, it was a curried chicken & broccoli casserole with cheese and canned soup with crunchy croutons on top.  It was and is really good and me and my sister would always request it growing up; we just could not resist the creamy, cheesy and satisfying dish with the curry flavor, I really think that was when I discovered a love of curry.  I knew the minute she was making it, the whole house would smell so good and you know that magic smell, like when homemade bread is baking but with a hint of curry, cheese and chicken.   Maybe it was my mother's way of getting me and my sister to eat our broccoli but I'm sure it was because she knew that the whole family would be sitting at the tables holding their forks in anticipation.
My mom used to serve a version of her recipe in the late 70's early 80's as crepes and served it fancy to her clients when she had her own catering business and all "the ladies who lunched" always oohed and awed over it when they saw the crepes coming to the table. I asked her the other day what the origin of her recipe was and she said a friend of hers was making a recipe and accidentally put curry powder in her dish and it tasted so good that she changed her recipe to that.  She still makes the casserole and so does my sister.  I wanted to update her classic dish and use puff pastry and a simple béchamel sauce for the creaminess with a touch of sherry.  I'm sure now when they see this post and recipe that they will want me to cook up my version for them when I visit them next.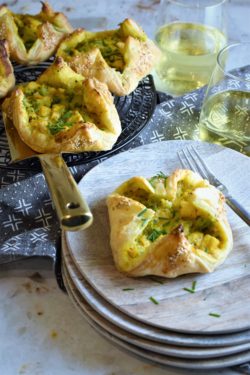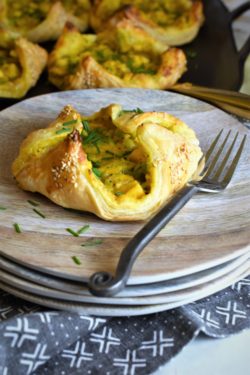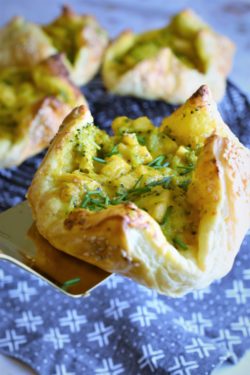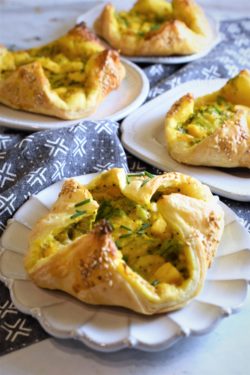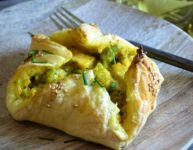 Curried Chicken, Cheddar & Broccoli Puffs
A delicious, creamy and flaky savory pastry and so versatile to serve at brunch, lunch or dinner!
Ingredients
11

oz

frozen puff pastry, 2 sheets, thawed overnight in the fridge

3

tbsp

unsalted butter

3

tbsp

shallots, minced

2

tbsp

all-purpose flour

1 1/2

cups

milk, warmed

1/4

tsp

kosher salt

1

tbsp

yellow curry powder

1/4

tsp

cayenne pepper

3

tbsp

cream sherry

1

cup

cheddar cheese, shredded

8

oz

cooked chicken, chopped

1 1/2

cups

broccoli, cooked & chopped

1

egg

1

tbsp

water

2

tsp

sesame seeds

2

tbsp

chives, chopped
Instructions
Roll out each thawed puff pastry sheet and cut each sheet into 4, 5 inch squares and place on two parchment lined sheet pans, you will have a total of 8 squares of pastry; set aside in the refrigerator

In a medium sauce pan, melt the butter over medium high heat and add the shallots, sautéing for 3 minutes

Whisk in the flour until well combined and then add the warm milk, whisking occasionally until it thickens, for 2 minutes

Add the salt, curry powder, cayenne pepper, cream sherry and cheese, stir until well combined and the cheese has melted, about 3 minutes

Stir in the chicken and broccoli until well mixed, take off heat and let cool thoroughly (this step can be done the day before and refrigerated)

Preheat the oven to 400 degrees

Whisk together the egg and water to make an egg wash in a small bowl and set aside

Take out the 2 sheet pans of chilled and prepared pastry squares

Scoop out a rounded ¼ cup of broccoli chicken mixture and place in the center of each pastry square, dab the corners of each square with a bit of egg wash and bring each corner over the top of the chicken mixture overlapping the corners in the center just a bit, repeat with all the squares.

Brush the top of each one with egg wash and sprinkle sesame seeds on top and place in the oven and bake for 20 to 25 minutes or until golden. Garnish with chopped chives. Serves 4