The magic of puff pastry is how I feel with this very versatile dough, sweet or savory, it has endless possibilities.  I always have a box in my freezer so it's available when I feel inspired for a recipe so I can take advantage of the airy and flakiness of this beautiful pastry.  Making your own puff pastry takes time and is a bit involved; I think the store bought kind is a very good product.   I made these turnovers for a cocktail party recently and they are the perfect blend of sweet and savory with gooeyness of Brie…goes perfect with a glass of wine and party conversations.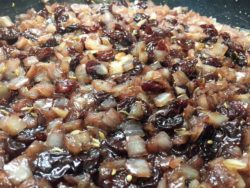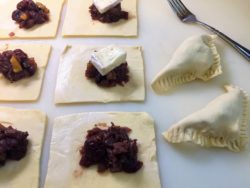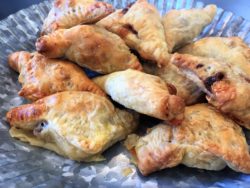 Ingredients
4 tablespoons butter
3 cups chopped onions
½ teaspoon kosher salt
¼ teaspoon coarse ground black pepper
1 teaspoon fennel seeds
¼ cup brown sugar
½ cup cherry juice
1 5oz package of dried cherries
½ cup chopped walnuts
8 oz. Brie
1 box of Puff pastry sheets, thawed (2 sheets) each sheet should measure 10"X15"
1 egg
2 tablespoons water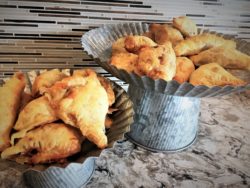 You know you want to take a bite of these gorgeous turnovers!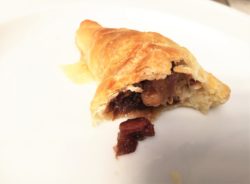 Directions
In a sauté pan over medium heat, melt the butter and add the onions, salt, pepper and fennel seeds and sauté for 15 minutes, stirring occasionally, turn heat down to low
Add the brown sugar, cherry juice and dried cherries and cook until all the liquid has cooked off and the onion mixture is caramelized and medium brown about 15 to 20 minutes more.
Mix in the chopped walnuts and set aside to cool completely, about 15 minutes
Preheat oven to 400 degrees F
Take one sheet of puff pastry and cut it into 12 equal squares and put 1 heaping tablespoon of onion mixture into the center of each pastry square, brush two sides with water and fold over and crimp with a fork, repeat with the rest of the pastry and filling and place on a parchment lined sheet pan
Scramble egg and water together and brush the top of each turnover with egg
Bake in the oven for 20 to 25 minutes until golden brown and puffy
Makes 24 small turnovers
Serves 8 to 12 as an appetizer