Comfort food comes in so many varieties, shapes and sizes.  I'm Sicilian and Irish and growing up there was always some kind of pasta on our dinner table at least twice a week, especially on Sundays.  I love Asian food and when you put that in the mix with pasta, wow, I'm in comfort heaven.   My recipe for this Asian Peanut Noodle Salad with Peanut Lime Sauce is so very good, you can serve at your table in a bowl or a fun way to be able to offer is at an appetizer or "small bites" parties is to serve it in little Chinese take-out boxes, I have chopsticks available for the guests to dig into their Asian noodles in an authentic way.  The Peanut Lime Sauce recipe is on a different posting since it can be used for so many different foods, it truly is very versatile.  I hope you enjoy this noodle salad as much as I do and many of the party guests that I have served this to.
Pictured below in mini Chinese take out containers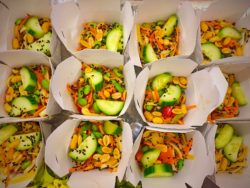 Center yourself with this delicious noodle salad…Namaste!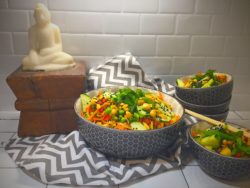 Ingredients
1 package of Linguine
1 package of frozen shelled edamame beans
2 cups of shredded carrots
1 Red bell pepper, chopped
1 Orange or yellow bell pepper, chopped
6 Green onions, white and green parts, chopped
1 small English cucumber, peeled with stripes and cut into half moons
1 cup of peanuts
2 tablespoons Black sesame seeds
1 recipe of Peanut Lime Sauce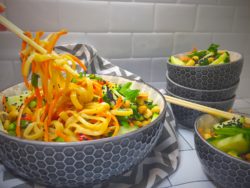 To make the Peanut Lime Sauce please click on below link for the recipe on a different posting
Peanut Lime Sauce https://recipeforaparty.com/1110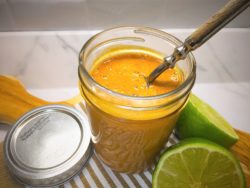 Directions
Boil the linguine according to the package directions, drain in strainer, rinsing with cold water…let drain well, set aside
Make the Peanut Lime Sauce
Pour linguine into large mixing bowl and pour dressing over the pasta and toss
Add the edamame beans, carrots, bell peppers, cucumber and peanuts. Garnish with some chopped green onions and black sesame seeds.  Chill for at least 2 hours before serving.
Serves 6 to 8