I created this dip with the blue cheese lover in mind.  There is no gray area when it comes to people liking any variety of blue cheese, they either love it or hate it, but if you are a fan of this wonderfully complex and rich tasting cheese you will love this dip.  I love many varieties of blue cheese but my favorite is Gorgonzola, a delicious variety produced for centuries in the town Gorgonzola in Milan Italy dating back to the 11th century.   This dip is great with pears, crackers and toasts, the crunch from the pecans and the sweet and tangy flavors from the caramelized red onion compliment the cheese very well.
Ingredients
1 tablespoon butter
1 small red onion, cut in half and sliced
Pinch of kosher salt and black pepper
1 teaspoon chopped garlic
1 tablespoon apple cider vinegar
2 teaspoons brown sugar
2 8 oz. containers of gorgonzola cheese crumbles
1 8 oz. brick of cream cheese, softened
¼ cup of milk
½ cup of chopped pecans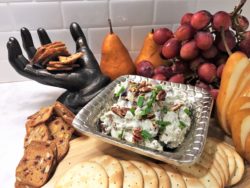 Directions
In a small pan over medium/low heat, melt the butter and add the onions, salt and pepper and sauté for 15 minutes, turn down the heat to simmer and add the garlic, apple cider and brown sugar and continue to sauté for another 15 minutes until all the moisture has been evaporated and the onions are nice and caramelized, set aside.
While the onions are cooking place the gorgonzola cheese, cream cheese and milk in a food processor and blend until smooth, add the onions and pulse a few times, stir in the chopped pecans.  Place in a beautiful dip bowl and garnish with more chopped pecans and chopped chives.
Delicious as a dip on its own with crackers and fruit but also well presented with an assortment of other artisanal cheeses as well.   A good aged red wine pairs well with this cheese.