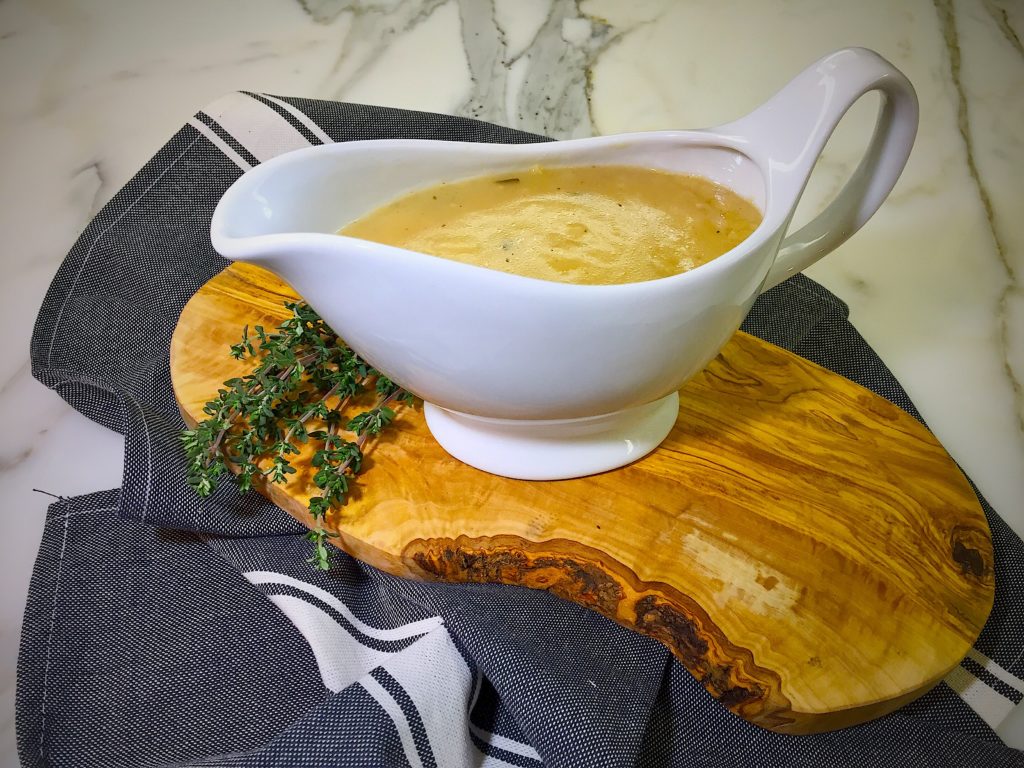 November 14, 2017 7:53 am
1 Comment
I developed this recipe to ease the rush of having to make pan gravy once your chicken or turkey is done.  You all understand the scenario when you are cooking and so much is going around you in the kitchen at one time, people laughing and drinking and in your way and you're pulling what's left of your hair out and you are on the verge of taking the turkey out of the oven and throwing it at the guests! Ha, ha, okay it's not that bad but what makes this recipe great is that you can prepare this a couple of days ahead and just add the pan juices the day of roasting for a delicious stress free gravy that you will want to pour over everything…just not your pumpkin pie.
Yield: 8 servings
Ingredients
½ cup butter
½ cup chopped onion
2 garlic cloves, minced
2 teaspoons of fresh minced rosemary
1 teaspoon fresh thyme
½ teaspoon poultry seasoning
¾ cup all-purpose flour
4 cups of chicken stock or turkey stock
1 cup of Chardonnay wine
½ teaspoon ground black pepper
½ teaspoon kosher salt
2 tablespoons apple cider vinegar
¾ to 1 cup of juice drippings of pan roasted chicken or oven roasted chicken,
best when using a gravy fat separator
Instructions
Melt the butter in a medium sized saucepan over medium heat and add the chopped onion, garlic, rosemary and thyme, sauté for about 5 minutes
Add the poultry seasoning and the flour stirring well until everything is combined and vigorously whisk in the chicken stock to avoid lumps and whisk until smooth turning down heat to simmer
Add pepper, salt, vinegar and the pan drippings and stir until well blended, taste and adjust salt and pepper. If too thick, add a bit more stock but remember, you are adding pan juices.
Note: this recipe can be made up to two days ahead of roasting your chicken or turkey, just make it up to the point without the pan drippings, the day of roasting, have your gravy on simmer just before the chicken or turkey is done, add the pan drippings, stir and voila, you have delicious gravy that you did not have to slave over once the feast was done.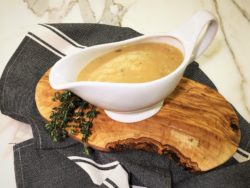 More Recipes:
---
---
Tags: chicken gravy, easy make ahead gravy, pan gravy, turkey gravy


Categorised in: sauces, Thanksgiving, Uncategorized

This post was written by Joseph Sciascia