Menu selection at any party can be overwhelming and my clients' tend to choose a lot of comfort foods and dishes that may be too heavy, it's understandable since many people don't entertain that often so they tend to want everything!  I help people choose menus and guide them with foods that are lighter than some, different textures and flavors to combine a menu that everyone will enjoy, especially "small bites" menus where there are numerous selections to choose.  Healthy menu items do not have to be boring, these vegetable kabobs are colorful, flavorful and refreshing…remember your mom telling you that you can't have dessert unless you eat all your vegetables? Grilling the skewers bring out the sweetness in these vegetables and when paired with my beautiful Romesco sauce, it truly is a Recipe for a Party!  Enjoy these any time of year, but I like to serve these during the warmer months when people like to entertain outdoors and when vegetables are at their peak of freshness.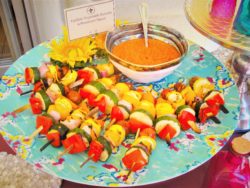 These little guys are ready for the buffet and are about to get devoured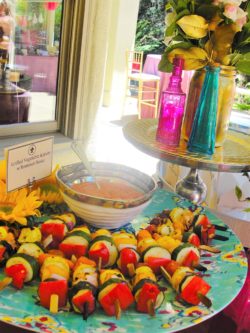 Ingredients
¼ cup olive oil
¼ teaspoon coarse black pepper
¼ teaspoon kosher salt
2 Yellow Squash, sliced in ½ inch slices
2 Zucchini, sliced in ½ inch slices
1 large Red onion, cut into ½ inch pieces
1 Red bell peppers cut into ½ inch squares
1 yellow bell pepper cut into ¼ inch squares
1 pint Cherry tomatoes
24 bamboo skewers, 4 to 5 inch soaked in hot water for at least 30 minutes
Vegetables can be sophisticated as they are presented here at a ladies bridal shower
Directions
Mix the olive oil, salt and pepper in a small bowl and set aside
Thread the one piece of each vegetable on each skewer, brush them with the olive oil
Preheat stovetop grill or Bbq to medium heat
Grill vegetables, turning a couple of times, just until you start seeing a little char on them, you don't want to overcook them, they will get mushy on you and might fall off the skewer or get burnt, they will have some transfer cooking to them once you take them off the grill
Place them on a platter and serve with the romesco sauce on the side so guests can decide how much sauce they want, please do not skip the romesco sauce, it's so full of flavor and is wonderful with these skewers.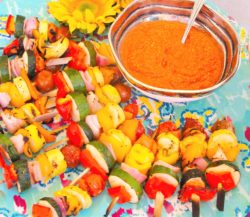 Romesco Sauce is on this other posting, click here for that recipe http://recipeforaparty.com/403