I'm not working this week and today was the perfect day for testing a recipe; it's very cloudy and dark with a big winter storm coming tonight. Stuck inside with lots of paperwork, well…I don't want to do that, how boring is that. I had the house to myself and listening to soft jazz and feeling good, so I got in the kitchen and pulled from the freezer, pantry and the fridge of what I had on hand and developed this tasty party bite. I love cherries and brie together and with the added kick of the pepper jelly…superb! I did not have fresh cherries, it's February and hard to find, I had frozen ones in the freezer and it worked. This 2 bite appetizer is perfect for casual or formal soirees and goes so well with a glass of wine.
Almost ready for the oven, a friend of mine told me that they looked like candy!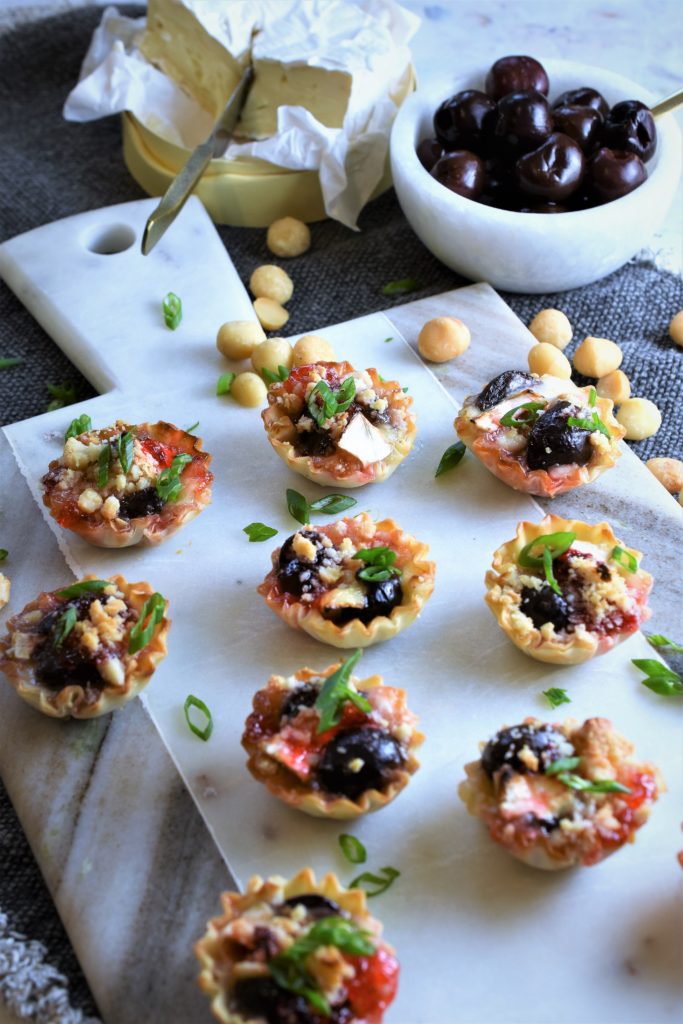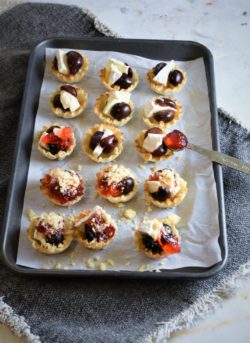 This recipe is a quick appetizer that can be put together in 10 minutes and baked in another 10 to 15 and includes only 6 ingredients (one is a garnish).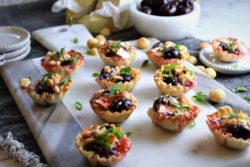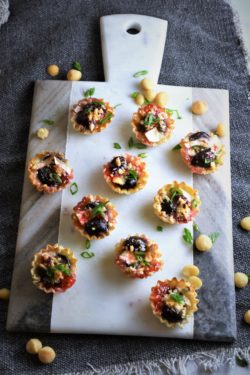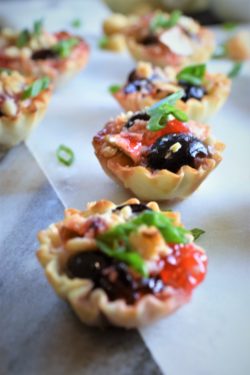 I love the crunch of the rich Macadamia nuts, they shake hands very well with the cherries and the Brie…Hey, wait a minute, I think they're having their own party!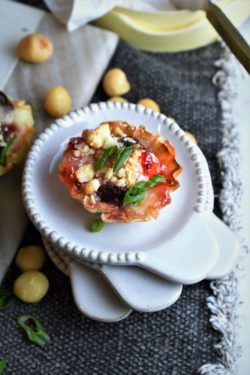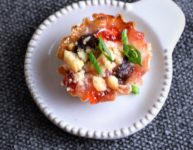 Cherry, Brie & Pepper Jelly Bites with Macadamia Nuts
This quick to put together appetizer recipe is crunchy, sweet and creamy with a bit of spice …YUM!
Ingredients
30

frozen mini phyllo pastry shells (2 boxes)

4

oz

brie

30

pited cherries, cut in half, I used frozen, thawed and drained

5

tbsp

red pepper jelly

1/3

cups

Macadamia nuts, crushed

2

green onions, slice thin for garnish
Instructions
Preheat oven to 350 F

Place pastry shells onto a parchment lined baking sheet

Sandwich the two cherry halves with the brie in the middle and place into each pastry shell

Spoon ½ teaspoon jelly on top and sprinkle with macadamia nuts on top of that

Bake in preheated oven until cheese melts, 12 to 15 minutes

Let cool for 5 minutes and serve to hungry party guests, makes 30 small appetizers tarts, enough for a tasty bite for 12