One of my favorite types of smoked fish is salmon and there is nothing more satisfying for breakfast then on a bagel with a schmear of cream cheese.  A close friend of mine who is Jewish is so passionate about it that she whispered in my ear to me that it's "the food of her people" ha, ha…of course it is because it's great.  Smoked salmon is great served at brunch on a bagel, in a quiche, dip or pizza but sometimes it's also wonderful served as a simple canape on a cucumber slice at a cocktail party.  My recipe for this smoked salmon on cucumber with dill, chive & lemon goat cheese is a perfect cocktail bite, especially when you are craving this brunch classic.  I like the tangy flavor of the goat cheese and it balances out the smokiness of the fish and served cold on a crisp slice of cucumber goes so well with a glass of champagne or a vodka martini.  Try serving this as a "brunch" bite as well so guests have something to snack on while they wait for those waffles.  Whether you serve this dish in the morning or night, your guests will be glad you did.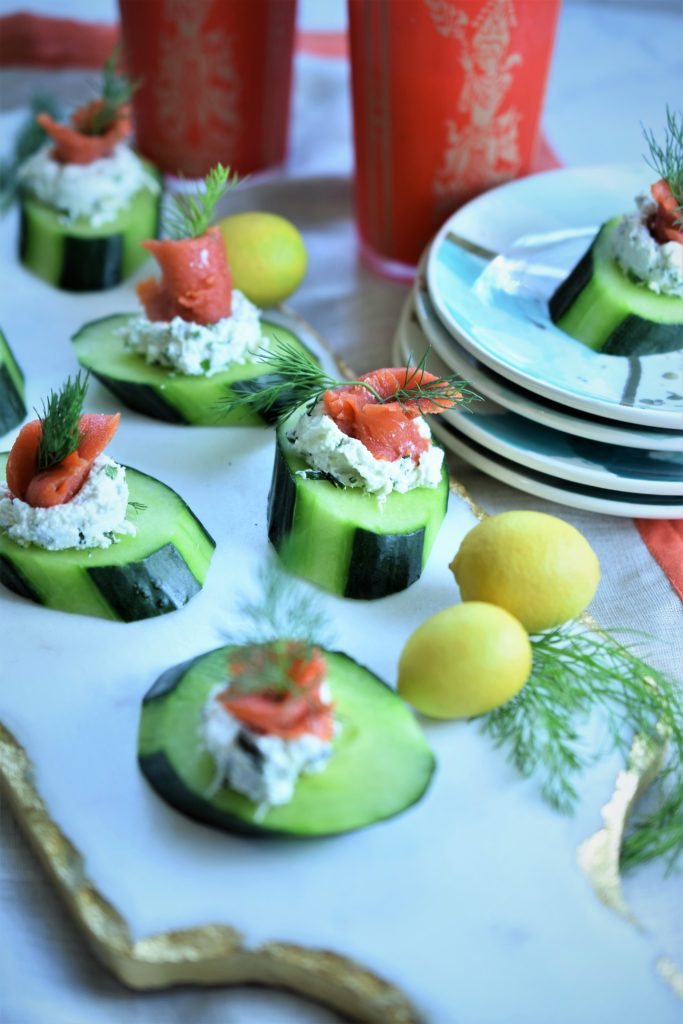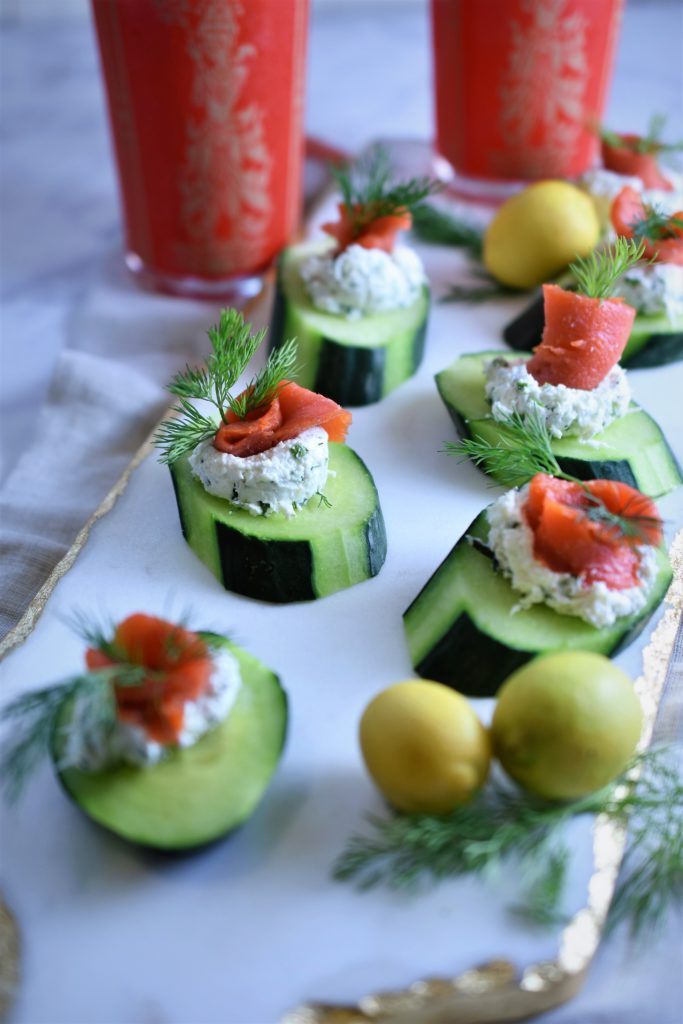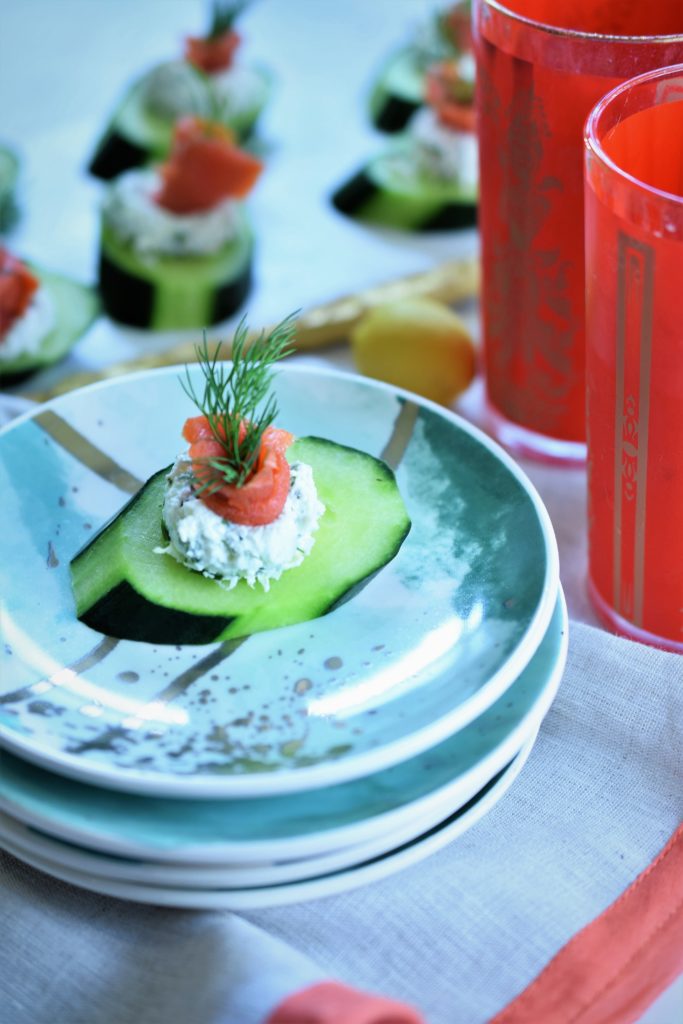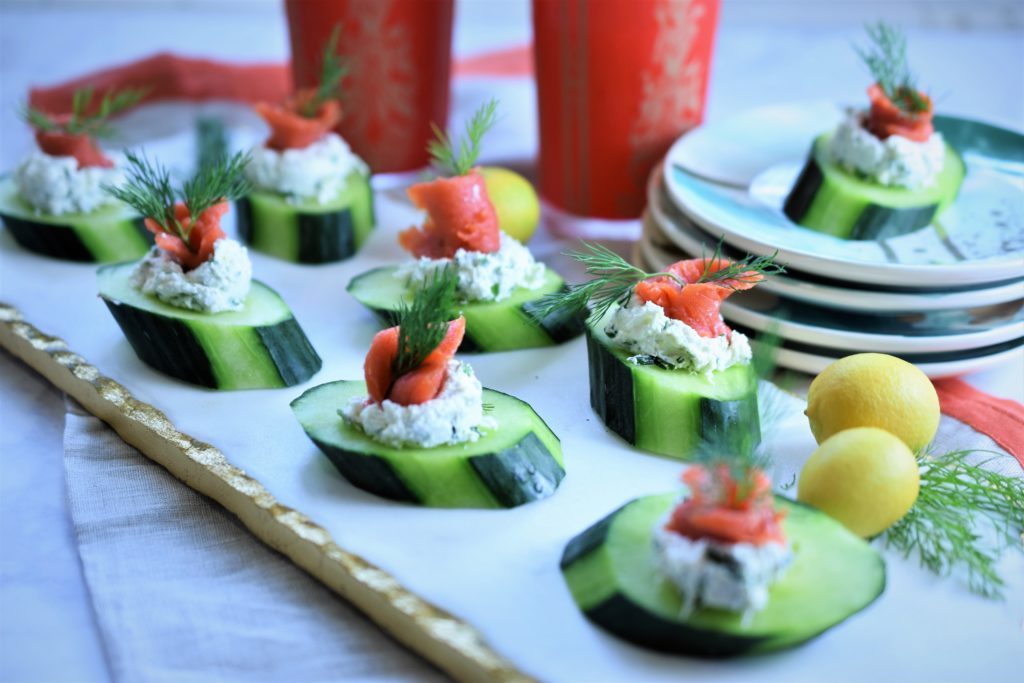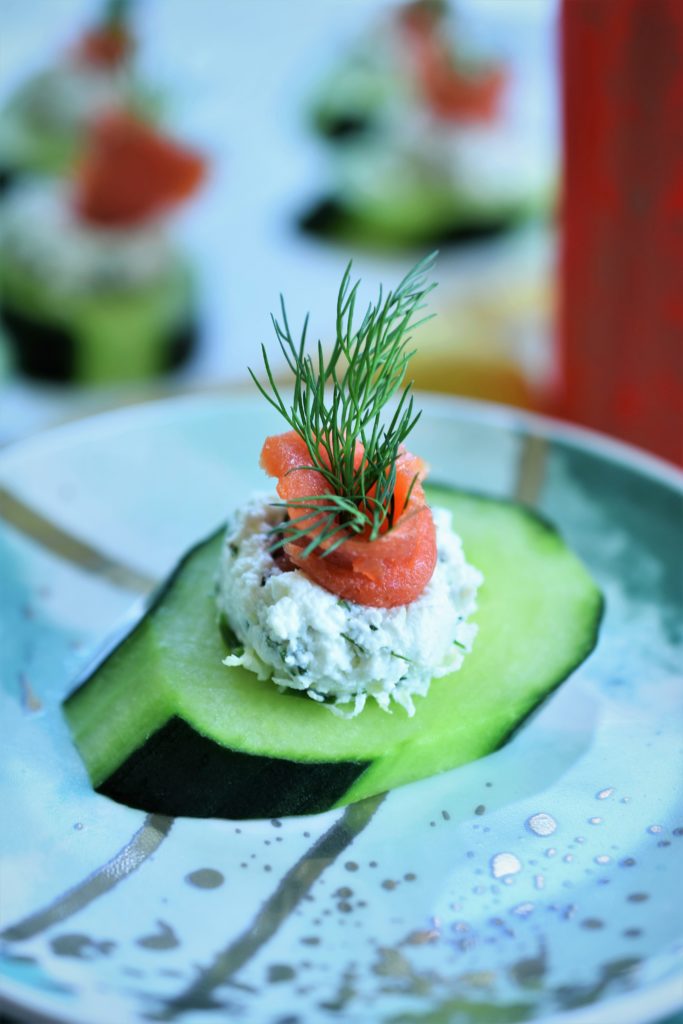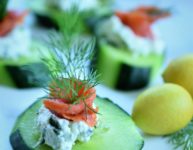 Smoked Salmon on Cucumber with Dill, Chive & Lemon Goat Cheese
Smoked salmon, not just for brunch anymore. Try this tangy canape at your next cocktail party, don't forget to serve one to the DJ to keep that music spinning all night long!
Ingredients
1

large English cucumber

6

oz

goat cheese, softened at room temperature

1/4

tsp

coarse black pepper

2

tbsp

chives, chopped

1

tbsp

dill, chopped

1

lemon, zested

1/2

lemon, juiced

6

oz

cold smoked salmon

a few sprigs of dill for garnish
Instructions
Cut the ends off of the cucumber and with a vegetable peeler, peel long stripes from end to end, slice on a diagonal and place the slices on top of a paper towel lined dish in layers as to keep them dry. I was able to get 16 slices out of one cucumber.

In a small bowl, combine the softened goat cheese with the pepper, chives, dill, lemon zest and juice and mix well.

Place a teaspoon of the goat cheese mixture in the middle on top of each slice.

Cut the smoked salmon in small strips and roll each strip and place it in the center of the cheese

Garnish with a small sprig of dill in the center and put back in the refrigerator to chill for at least 20 minutes. Serve chilled

Makes 16 canapes, enough for 8 as a small bite.