I developed this recipe for a brunch party and thought, wouldn't be fun to serve individual frittatas; it is so convenient and the presentation is so cute, especially since everything else being served was in small bites.   I enjoy being able to serve traditional recipes in "small bites", it takes the ordinary party food and elevates it into the extraordinary.  The amazing flavor in the recipe combines tarragon with eggs (a marriage made in heaven) and other delicious items, such as artichoke hearts and peas.  Your brunch parties will never be the same with this sophisticated tasting frittata…move over scrambled eggs, there's a new menu item in town!
Ingredients
8 large eggs
Pinch of salt and pepper
1 cup of crumbled goat cheese
2 tablespoons butter
1 tablespoon olive oil
2 leeks, white parts, sliced, soaked in water, drained & dried on paper towel
1 14 ounce can of large artichoke hearts, drained and roughly chopped
1 1/2 cups of thawed frozen petite peas
¼ teaspoon salt
½ teaspoon pepper
2 teaspoons dried tarragon or 2 tablespoons chopped fresh tarragon
1 cup of crumbled goat cheese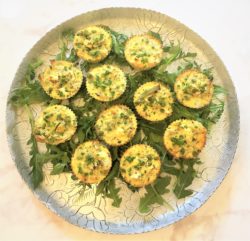 Directions
In a medium mixing bowl, scramble the eggs with a pinch of salt and pepper, stir in goat cheese and set aside
Preheat oven to 400 degrees F
In a 12 inch ovenproof nonstick frying pan or well-seasoned cast iron skillet, melt the butter and olive oil over medium heat. Add the leeks and cook for 3 minutes, stirring occasionally, add the artichoke hearts, peas, salt, pepper, tarragon and cook for about 3 minutes more or until liquid evaporates.
Add the eggs and cook for 6 to 8 minutes, lifting the edges with a spatula allowing more egg to the bottom of the pan, transfer pan to the oven
Bake until golden brown, puffy and set, about 10 to 15 minutes.  Remove and let cool for about 3 minutes and serve.
Individual Mini Serving Variation:
This recipe can be baked in well-greased muffin cups at 350 degrees F for about 20 to 24 minutes or until just set, cool on rack for about 5 minutes and remove from the cups, for a much easier transition, I used silicone baking cups; makes about 18 muffin cups