I love when I get the opportunity to design my own menu for a client's party it always gives me a chance to be challenged with new inspirations, so I came up with peach bourbon jalapeno BBQ pork tenderloin sliders with pimento cheese aioli as one of 8 small bite appetizers to be served. I met with my client a couple of weeks ago to discuss a baby shower that she was planning for her younger sister and after discussing many party details we sat down and I wanted to discuss the menu with her and I asked her what she had decided on; she replied that everything looked great and was overwhelmed with the decision and that I can make what I wanted. Being able to make the party menu that I want is always a dream come true; I have a few clients that let me do that and I always challenge myself with the decisions that I come up with because I usually want to make something new or something that I haven't done in a while. The secret to designing a good party menu is to keep it seasonal and fresh but making sure that it would have appeal to many party guests since this particular party is for 50. Even though that it's the end of August, it's still summer, still warm and there are juicy and sweet peaches abound.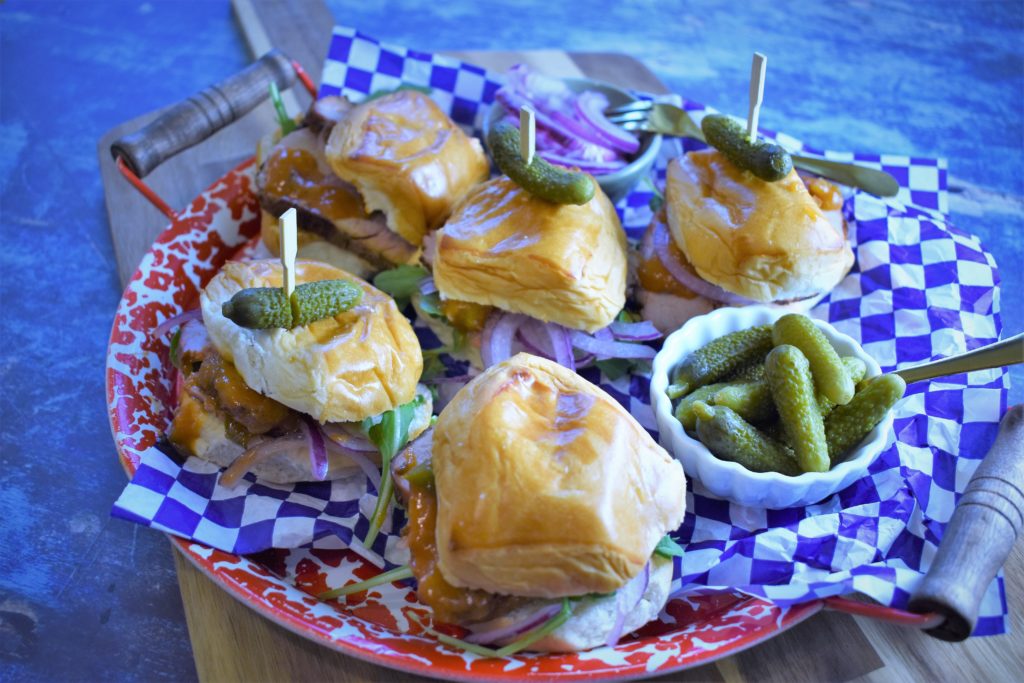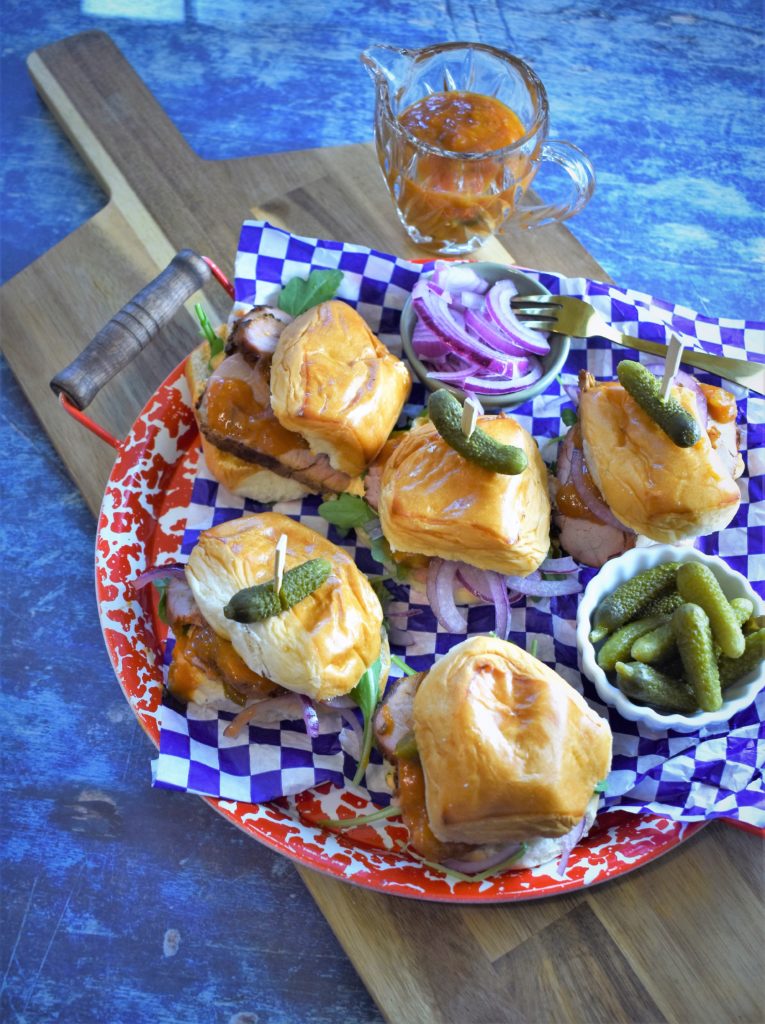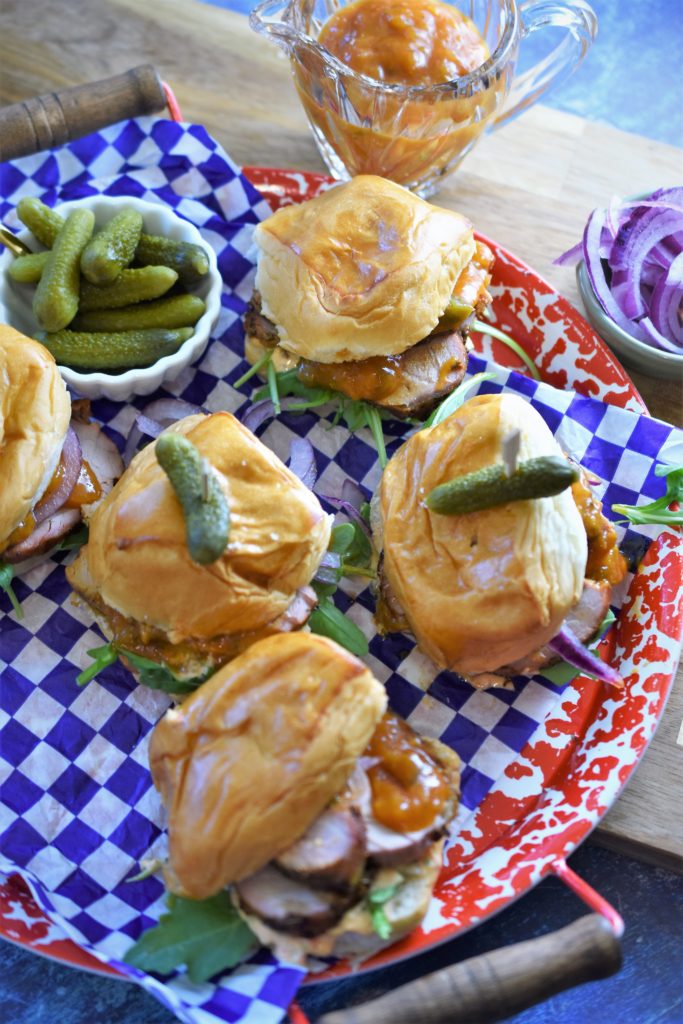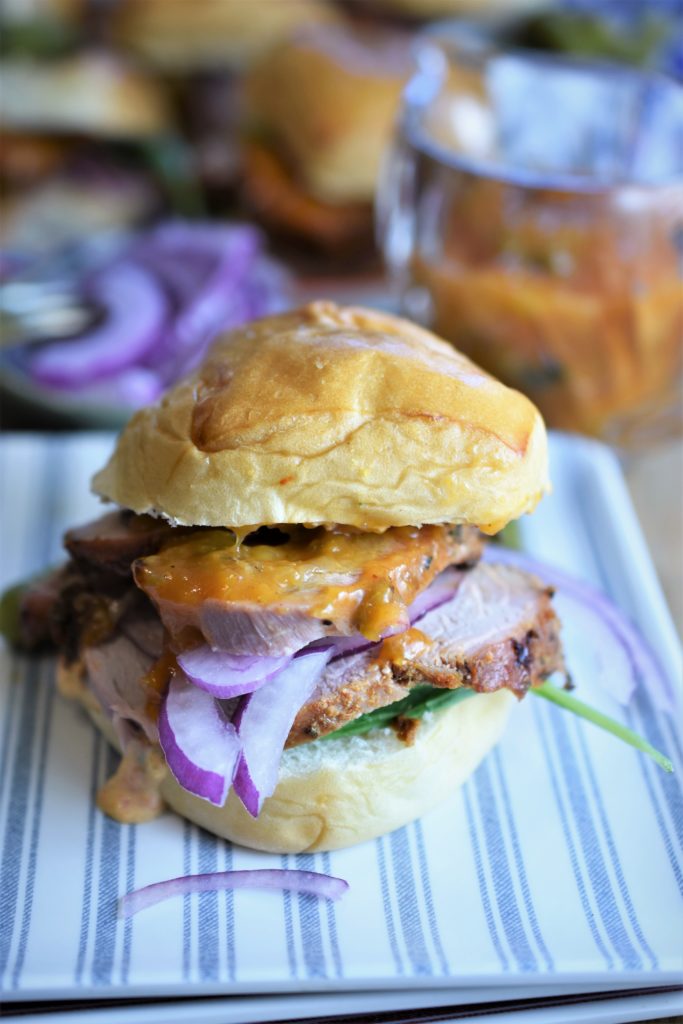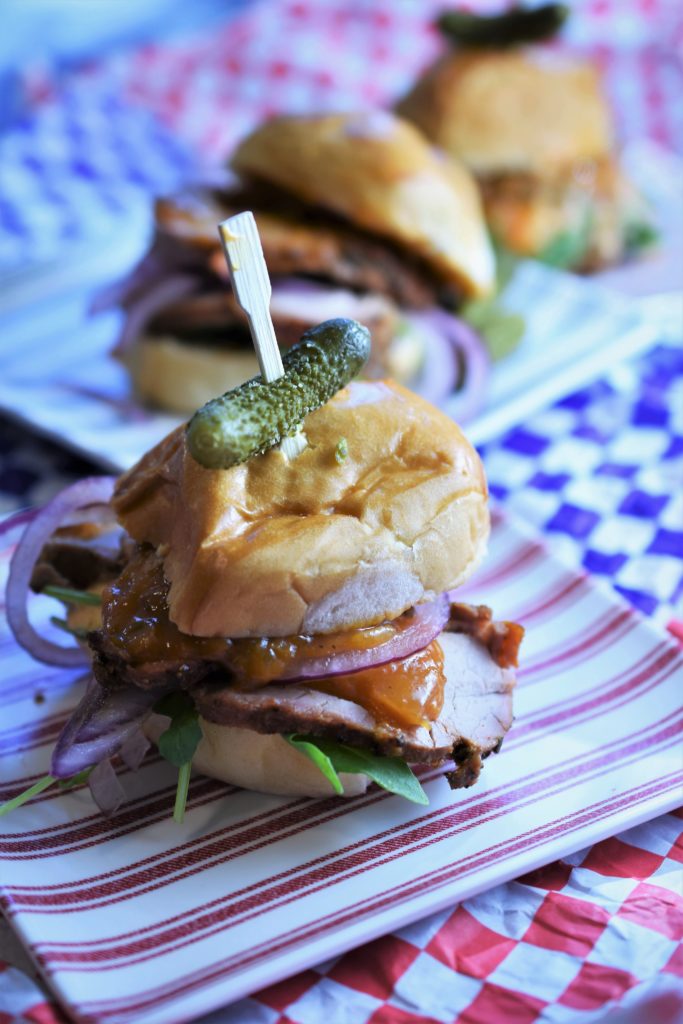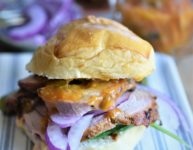 Peach Bourbon Jalapeno BBQ Pork Tenderloin Sliders with Pimento Cheese Aioli
These tender pork tenderloin sliders are all about summer with fresh peach BBQ sauce with just the right amount of kick from the jalapenos, no party should be without this crowd pleaser.
Ingredients
3

lbs

2 – 1 1/2 lb pork tenderloins, trimmed

2

tbsp

olive oil

1

tbsp

Dijon mustard

1/4

cup

Kentucky Bourbon

1/2

tsp

kosher salt

1/2

tsp

course ground pepper

2

cloves garlic, minced

2

tsp

ground coriander

2

tsp

smoked paprika

2

tbsp

brown sugar

1

tbsp

oregano, minced

1

tbsp

rosemary, minced
Peach Bourbon Jalapeno BBQ Sauce
1

tbsp

olive oil

1

large shallot, minced

2

jalapenos, seeds and membranes removed, chopped

2

cups

fresh peeled peaches, chopped

1/2

tsp

chili powder

1/2

tsp

kosher salt

1

tbsp

light brown sugar

2

tbsp

honey

1

tbsp

Dijon mustard

1/4

cup

Kentucky Bourbon

1

tbsp

corn starch dissolved in 2 tbsp water

1/2

cup

ketchup

1

tbsp

Worcestershire sauce
Pimento Cheese Aioli
1

cup

mayonnaise

1

tsp

chopped garlic

1/4

tsp

kosher salt

1/4

tsp

course ground pepper

1

cup

sharp cheddar, shredded

1

tbsp

pickled jalapeno with juice

1

4 oz

jar chopped pimentos, drained

1

tbsp

chives, minced
Instructions
Directions for the pork with marinade. Place the pork tenderloins in a resealable bag, mix all the ingredients in a small bowl, pour into the bag with the pork and let marinate for 2 hours (I did mine overnight and it was fabulous)

Heat the barbeque grill to medium heat and brush the grates with oil. Grill pork turning every 5 minutes until lightly charred on all sides, basting with the bbq sauce halfway through cooking. Cook until a meat thermometer reads 140 degrees about 15 to 20 minutes. Alternativley, you can roast the pork in a 400 degree oven if you don't have access to a bbq grill. Place on a platter loosely covered with foil and let rest for 10 minutes. Thinly slice and assemble the sliders with greens like arugula, the pimento cheese aioli, more bbq sauce and other toppings of your choice like pickled red onion and/or sweet bread & butter pickle slices. Makes 16 to 18 sliders, enough for 8 to 10 party guests
Bourbon Jalapeno BBQ Sauce
In a medium sauce pan over medium/high heat add the oil, shallot and jalapenos and let saute for 4 minutes, stirring occasionally

Add the peaches along with all the other ingredients, bring to a low boil and turn down to medium starring occasionally for 10 minutes. Take off heat and let cool and pulse puree with a hand immersion blender or regular blender until it's smooth but with a bit of chunkiness; transfer to container with led and refrigerate
Pimento Cheese Aioli
Combine all the ingredients in a food processor until smooth, cover and refrigerate until ready to use