These melt in your mouth short ribs are perfect for any dinner party, family dinner or an appetizer party when served in small glasses like I did at a party.  Comforting stick to your ribs creamy mashed potatoes with a bit of heat thanks to the horseradish pairs perfectly with the savory tender and smoky flavor of the short ribs; the finishing touch of the crispy sweet leeks on top is true bliss.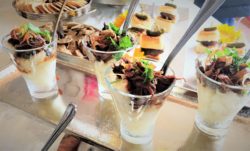 Cabernet Braised Short Ribs
Ingredients
4 oz. package of chopped pancetta
3 tablespoons vegetable oil
3 teaspoons of kosher salt
3 teaspoons of course ground black pepper
5 pounds of bone in short ribs
¼ cup of flour
3 teaspoons ancho chili powder
1 tablespoon Herbes of Provence
3 cloves of garlic, smashed
5 large shallots, chopped
2 celery stalks, chopped
3 carrots, peeled and chopped
1 bottle of cabernet
2 cups of beef broth
2 tablespoons of tomato paste
1 tablespoon Worcestershire sauce
1 cup of strong coffee
1 oz. package of dried porcini mushrooms
Instructions
Preheat oven to 350 degree F
Heat a heavy 8 quart Dutch oven over medium heat on the stovetop (if you don't have a Dutch oven or oven safe pot, brown the meat in a frying pan and transfer to a roasting pan)
Cook the pancetta until done, not crisp, remove from pan reserving the fat
Season the short ribs with the salt, pepper and dust it in flour
Add the vegetable oil to pan and heat up, add the meat in batches and brown all sides, remove and set aside
Add the chopped shallots, celery, carrots and garlic and cook for 8 minutes or so
Add all the remaining ingredients to the pan and add the reserved pancetta and short ribs
Cover and place in oven for approximately 2 ½ hours or until tender and meat is falling off the bone.  Serve over mashed potatoes with fried leeks. Serves 6 to 8
Buttermilk Mashed Potatoes with Fried Leeks  
Ingredients
3 pounds russet potatoes, peeled and quartered
1 ½ cups of buttermilk
¼ cup prepared horseradish
6 tablespoons of butter
Kosher salt and course ground pepper to taste
Instructions
Place the potatoes in boiling water over medium high heat and cook until fork tender for about 20 minutes
Drain and return to pan, season with a dash of salt and pepper and add butter, stirring until it melts.
Mash while adding the buttermilk and mash or whip until well blended and smooth, adding more buttermilk if you wish for desired consistency
Lastly adding horseradish, a bit at a time for your desired heat, adjust salt and pepper to taste
Serve with short ribs
Fried Leeks
Ingredients
2 cups vegetable oil
3 leeks, white and pale green parts, sliced, cleaned well and dried
¼ cup of corn starch
¾ cup of flour
Salt and pepper to taste
Instructions
In a deep sauce pan over medium high heat, heat the oil to 375 degrees or until hot
In a medium bowl, mix the corn starch and flour and add leeks, making sure they are well covered in the mixture and the leeks are in ringlets, by pulling them apart if necessary
Test a couple of leeks to see if they are frying well and you may want to turn down the heat a bit, when ready, fry the leeks in batches until golden brown and crispy, placing them on a paper towel lined dish until ready to use.
Serve sprinkled on top of the short ribs and mashed potatoes