Looking for that perfect light and fresh party food? The answer to your question are these quick, easy and flavorful gems will keep you dancing all night kicking your heels.   Cocktail parties can be filled with heavy, rich foods that can be overwhelming, especially during the holiday season.  This light and flavorful hor d'oeuvre combines the sweetness of fresh crab, a bit of spice from the wasabi along with the freshness of cucumber; fresh crab is always festive at any party.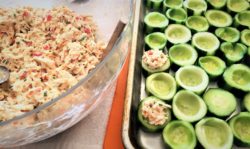 2 English cucumbers
½ cup of mayonnaise
1 teaspoon wasabi paste
Zest and juice from 1 lime
8 oz. of lump crab meat, picked over carefully to remove any shells
1 jar of chopped pimento, drained
2 tablespoons grated carrots, chopped
2 green onions, chopped
Micro greens, roughly chopped
Black sesame seeds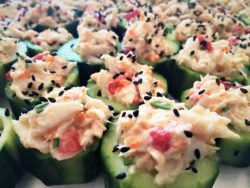 Directions
Peel strips of cucumber to create stripes and drag a fork into the flesh along the cucumber lengthwise to create grooves and cut ¼ slices on a diagonal and place on paper towel to absorb extra moisture and pat dry, set aside
In a bowl mix together the mayonnaise, wasabi paste, zest and juice of lime, pimento, carrots and green onion. Taste to adjust the spiciness of the wasabi and add a pinch of salt and pepper if desired
Fold in the crab and a small amount of chopped micro greens
Spoon a small amount on top of each cucumber slice, I found it easier to use two forks, garnish with a few strands of micro greens and black sesame seeds.
Makes about 30