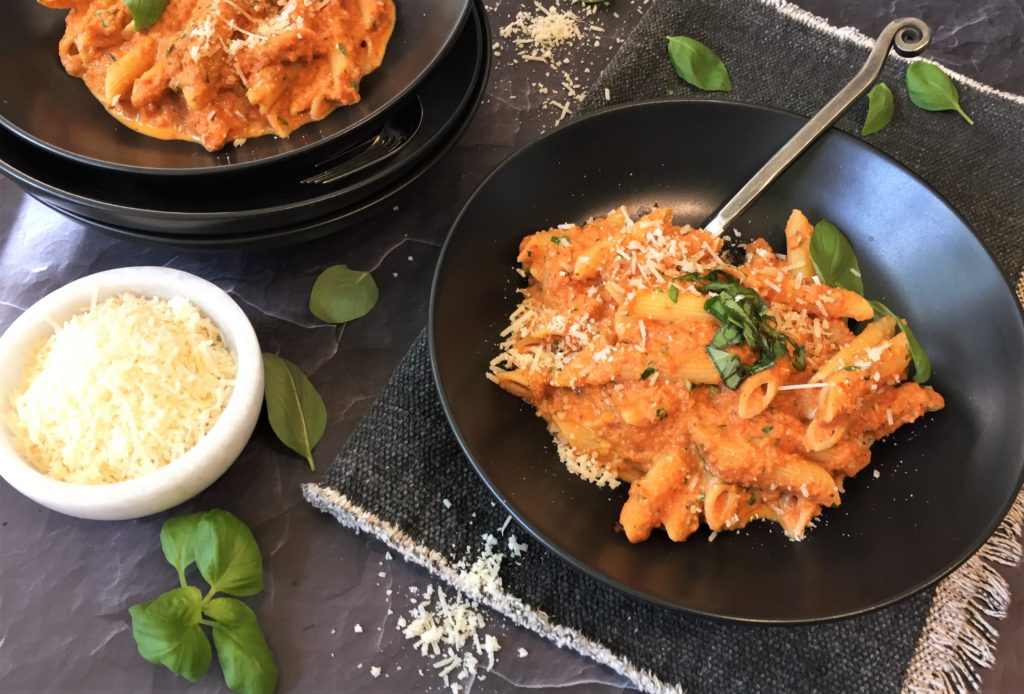 April 18, 2018 5:42 pm
Leave your thoughts
I really enjoy making this pasta dish, I created this recipe years ago with a twist, instead of using tomato paste, I use sun dried tomatoes…really gives it a rich tomato flavor that I crave. Growing up in my house there was always a pasta dish in our house on Sundays, my mom would simmer sauce all day long and the house smelled like an Italian restaurant and I could not wait to dig into it at dinner.  This is a much quicker sauce and it's not a marinara but it packs in the flavor and I love it over thick pasta like Penne or Rigatoni, throw some good Parmesan cheese on it and you will be in comfort food heaven. This recipe is quick and easy for entertaining or weeknight dinners with your family.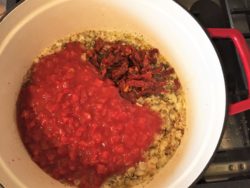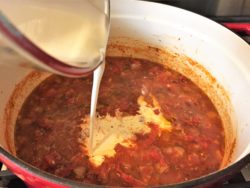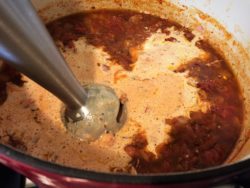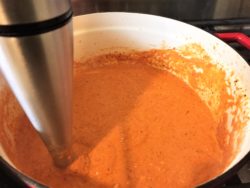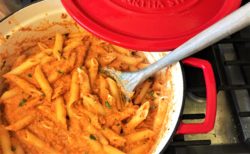 Ingredients
1 tablespoons olive oil
2 tablespoons butter
1 medium onion, chopped
4 garlic cloves, minced
½ teaspoon red pepper flakes
2 teaspoon Italian seasoning
½ teaspoon kosher or sea salt
¼ teaspoon freshly ground black pepper
1 cup vodka
1 ½ cup vegetable stock
1 28 oz. can chopped tomatoes
3/4 cup oil packed sundried tomatoes, drained
3/4 cup heavy whipping cream
¾ cup grated parmesan Romano cheese blend
1 lb. of Pasta, I used Penne in this
3 tablespoons fresh Italian flat leaf parsley, chopped
Flesh basil leaves, sliced for garnish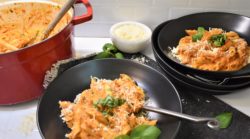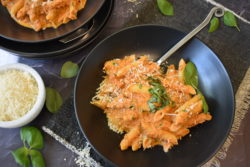 Directions
Heat the olive oil and butter in a 6 quart heavy bottomed sauce pan over medium heat and add the onion, garlic, red pepper flakes, Italian seasoning, salt and pepper and sauté for 5 minutes, stirring occasionally.
Add the vodka, vegetable stock, chopped tomatoes & sundried tomatoes, cook for 10 minutes and then turn heat down to low and cook uncovered for 15 minutes more.
Stir in the whipping cream and cheese and using an hand immersion blender, blend until smooth or puree in batches in blender, stir in the parsley ,cover and set aside to keep warm
Cook pasta according to package directions; stir the cooked and drained pasta and parsley into the sauce. Spoon into dishes and sprinkle with fresh basil and grated Parmesan if desired enjoy this authentic and delicious sauce, serves 4.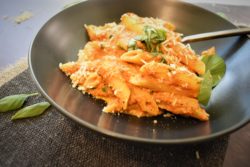 More Recipes:
---
---
Tags: Pasta Recipes, Sun Dried Tomato Vodka Sauce, Tomato Sauce Recipes, Vegetarian Vodka Penne Pasta


Categorised in: dinner ideas, entrees, Uncategorized, Vegetarian

This post was written by Joseph Sciascia