This is my 100th post, what a way to celebrate with these delicious sliders.
Do you like sliders but tired of the standard beef ones? Or you want to have a meatless Monday for a change? Or are you a vegetarian or vegan…think outside the box and don't put this recipe "in a box'; it's just good food and a wonderful dinner or party idea.  These are great straight from the grill but also good cold, so pack a picnic lunch with these or take it to the office and show your co-workers how chic your brown bag lunch can be.  You will have leftover Sun Dried Tomato Aioli, and that's okay, slather it on other sandwiches or your breakfast sandwich the next morning, even better…dunk your fries in it.
Enjoy!  Thank you for celebrating my 100th post with me today!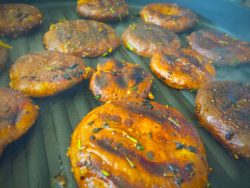 Shiitake Mushroom Sliders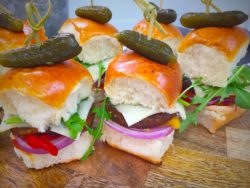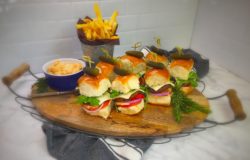 3 tablespoons olive oil
2 teaspoons fresh chopped rosemary
2 teaspoon fresh chopped thyme
1 teaspoon paprika
¼ teaspoon coarse black pepper
¼ teaspoon kosher salt
12 large shiitake mushrooms, stems removed
12 small slices of tomato, Roma tomatoes are a good size for these
12 small slices of red onion
1 small jar of red and yellow bell pepper, 12 small mixed pieces
Handful of arugula
12 small slices of cheese, I used Havarti (you can also substitute with vegan cheese if you like)
12 soft dinner rolls
12 mini pickles on 4 inch picks
Sun dried Tomato Aioli Recipe from other post, click here to view it: https://recipeforaparty.com/1018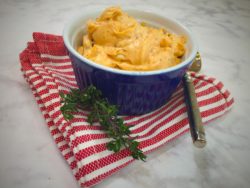 Instructions
Combine the olive oil, rosemary, thyme, paprika, pepper and salt, add the mushrooms and toss well, set aside for 15 minutes while you prepare other items.
Heat a grill pan over medium heat and add the mushrooms, grilling for about 5 minutes per side until you see some good grill marks, remove from heat and prepare your rolls.
Cut the dinner rolls in half and spread some sun dried aioli on each half, add the tomato, onion, bell pepper, top with a Shitake mushroom, top with cheese and a few sprigs of arugula, top with the top half of the dinner roll and stick a pickle on a pick through it. Enjoy!
Makes 12 sliders, enough for 4 people