I'm going to visit good friends tomorrow and my mom always taught me to never arrive as a guest to someone's home empty handed, so I'm bringing a snack.   So I thought I would bring hummus, yes hummus, I know so many people get tired of hummus, it seems to be everywhere, just a few years ago no one ever heard of it before.  To make things a bit different, I created a hummus recipe with edamame beans instead of the usual garbanzo beans.  Using an Asian flair, I combined it with flavors of ginger & lemongrass and it turned out so refreshing and a perfect background for fresh vegetables.  Eating healthy does not have to be boring, the bright flavors of this dip will awaken your taste buds and is perfect for that casual summer party.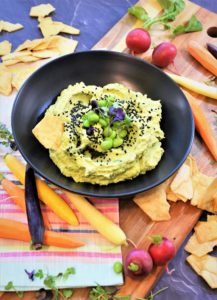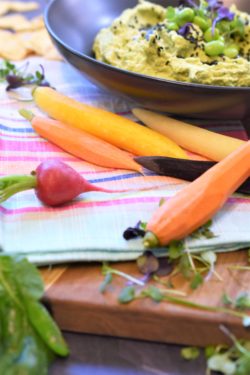 This is such a colorful dip, it really brightens up any tablescape!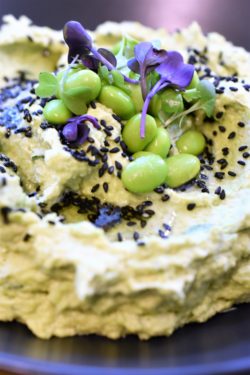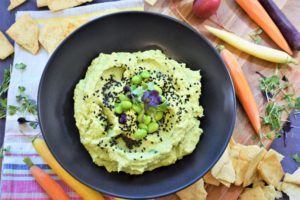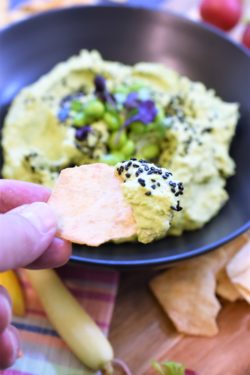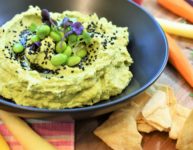 Lemongrass and Ginger Edamame Hummus
A delicious, creamy fresh hummus with citrus notes , perfect for summertime parties!
Ingredients
12

oz

frozen, shelled edamame beans

1/3

cup

tahini

1/3

cup

water

1

tbsp

prepared lemon grass paste (in most chilled sections in produce dept. at most stores)

2

tsp

fresh grated ginger

1

lime, juiced

1

tsp

kosher salt

1/4

tsp

cayenne pepper

1/2

tsp

ground coriander

2

tsp

garlic, chopped

1/4

cup

grapeseed oil

1

tbsp

chopped parsley

1

tsp

black sesame seeds for garnish
Instructions
Microwave beans in a covered bowl for 3 to 5 minutes, check halfway through for tenderness and stir or boil them in salted water for 5 minutes

Pour the edamame beans into a food processor and add the rest of the ingredients except the parsley and the black sesame seeds, blend until very smooth, stop to scrape sides and blend again.

Pour into serving bowl or airtight container and stir in the chopped parsley

Just before serving, swirl the top with a spoon and drizzle a bit more oil if desired and sprinkle with black sesame seeds and chopped parsley

Serve with fresh vegetables and/or pita chips, makes 2 1/4 cups
A healthy dip for any party and perfect for summertime!