Pot luck parties with friends and family are always so much fun; you can have a taste of many different foods and compare recipes.  This always gives a host a bit of a break from having to cook all the food, especially for a big party. I always have fond memories of pot luck parties growing up; it was so much of our social life with family and friends.  When our family hosted a party we always looked forward to Candy's warm artichoke & parmesan dip, the idea for this dip was just coming out in the early 80's, so we all looked forward to this new and exciting dish! I went to a pot luck party at a friend's house yesterday and I knew that there would be a couple of people there that enjoyed the vegan diet so I wanted to make sure to include them with my main course that I was bringing so I came up with this yummy and easy to put together dish.  Everyone enjoyed this recipe and several people had more than one helping and I was so pleased to bring home an empty casserole dish afterwards…I'm always happy when people enjoy my food.  Delicious food goes hand in hand with memories of parties and enjoying the dishes that other people make…good times for all.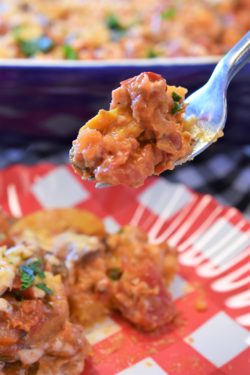 Note: you can make your own polenta, pour into a sheet pan and let cool and then proceed with the recipe but I wanted to make a recipe that was quick and easy for this pot luck party.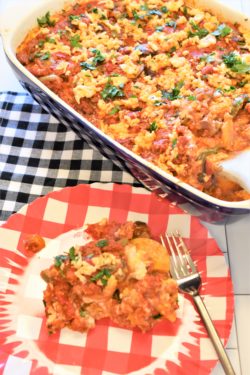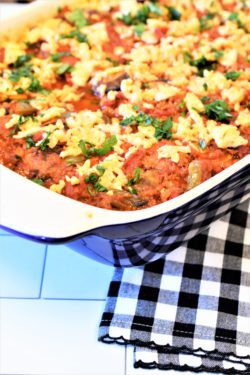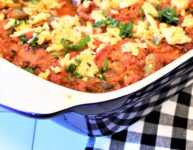 Vegan Bolognaise Polenta Lasagna
This easy to put together dish is a crowd please at pot luck parties or a family dinner!
Cook Time
1
hour
20
minutes
Total Time
1
hour
35
minutes
Ingredients
3

tbsp

olive oil

1

large onion, chopped

3

cloves of garlic, chopped

1

lb

vegan crumbled faux meat, I like Beyond Burger Brand, it's gluten & soy free

14

oz

frozen assorted colored pepper strips, thawed

10

oz

sliced mushrooms

32

oz

canned chopped tomatoes, I like San Marzano style

6

oz

can of tomato paste

2

tsp

dried Italian seasoning

1/2

tsp

chili pepper flakes

1

tsp

dried oregano, crumbled

1 1/2

tsp

fennel seeds

1/2

tsp

kosher salt

1/2

tsp

coarse pepper

32

oz

logs of already cooked polenta, usually sold in 16 oz each

16

oz

mozzarella style vegan cheese, shredded
Instructions
Over medium/high heat at the olive oil In a 6 quart sauce pan or frying pan, add the onions, garlic and vegan ground "meat", cook until most of the liquid has been cooked off and it's browned, about 6 to 8 minutes

Add the pepper strips and mushrooms and continue sautéing for another 5 minutes, stirring occasionally

Add the remaining ingredients except the vegan cheese and turn down to low and cover slightly and let simmer for 20 minutes, take off heat.

Preheat oven to 350 degrees F

Spray a 9X11 casserole dish with cooking spray or drizzle olive oil

Slice the polenta logs into 15 slices each and lay the first 15 slices flat on the bottom of the casserole dish and spoon half of the bolognaise mixture on top of that and spread evenly, sprinkle the vegan cheese evenly over that and then repeat with a second layer of polenta slices, remainder of sauce and shredded cheese.

Place the lasagna in the oven, covered with foil for 35 minutes, uncover and bake for another 10 to 15 minutes until golden brown on top

Cover and let rest for 5 minutes before serving, serves 8