I went outside this morning and discovered I need to harvest some herbs in my vegetable garden; wow…it's only been just over a month since I planted them and it's my first harvest of the season.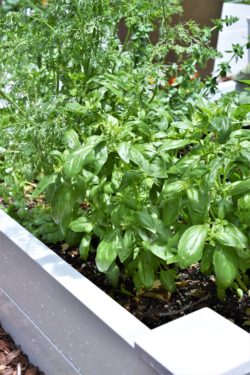 I decided I needed to make something with these fresh and very fragrant herbs so I came up with this recipe and it's perfect for a little snack later on with ice t while I enjoy sitting in my garden.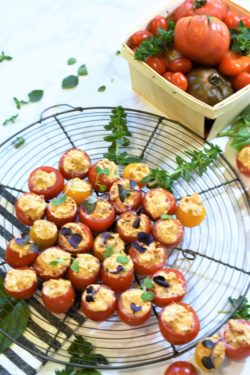 You too can make these delicious Mediterranean inspired stuffed cherry tomatoes and serve them at your cocktail party.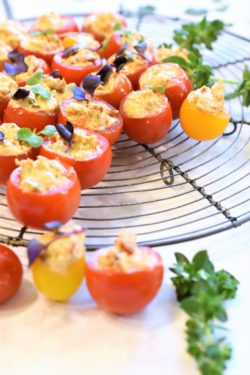 This is the perfect summer snack, taking advantage of all the fresh tomatoes that are at your farmers market or in your garden. The combination of the strong Feta cheese along with the fresh herbs and sweet sun dried tomatoes make a perfect filling for these beautiful edible rubies of nature.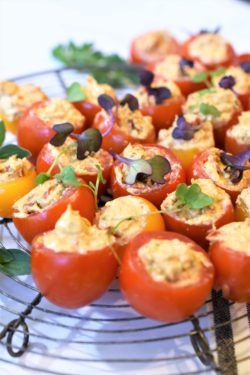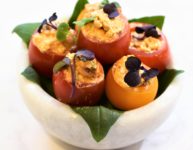 Herb, Feta & Sun-Dried Tomato Stuffed Cherry Tomatoes
This delicious summer cocktail bite combines the sweetness of garden fresh cherry tomatoes with the tanginess of Feta cheese and is perfect with a nice glass of chilled Rose
Ingredients
1

pint

cherry tomatoes, approximately 30 to 40

1

cup

Feta cheese, crumbled

2

tbsp

milk

1/4

cup

oil packed sun dried tomatoes, drained and chopped

1

tbsp

fresh oregano, chopped

1

tbsp

fresh basil, chopped

1/2

tsp

red pepper flakes

1/4

tsp

course ground black pepper

1/2

cup

fresh herbs or micro greens for garnish
Instructions
With a paring knife, cut the tops of the tomatoes and score around the inside of the tomato, cutting the membrane

Take a very small spoon like a ¼ teaspoon measuring spoon, hallow out the inside of each tomato along with the seeds and juice, set aside.

In a food processor fitted with a metal blade, add the Feta cheese, milk, sun dried tomatoes, oregano, basil, red pepper flakes & black pepper, pulse process a few times and then blend until creamy and smooth, scraping the sides of the work bowl half way through

Stuff each tomato with the cheese mixture using a small spoon and chill in the refrigerator until ready to serve.

garnish with fresh chopped herbs or micro greens and enjoy

As an appetizer, serves 6 to 8