I love the flavor of Marsala wine in the classic Italian dish, chicken Marsala and I thought, why not use those wonderful flavors of the wine from that dish and use it in a delicious risotto but without the chicken.  I did a party recently and instead of serving the risotto as a main course, I served it in porcelain spoons as an appetizer before dinner and the party guests loved it.  Creamy, savory risotto is so comforting and serving this only gave the party guests more anticipation of what was to come with the rest of the dinner menu.  Note, this dish is equally great if you want to make it vegan by omitting the butter and the cheese.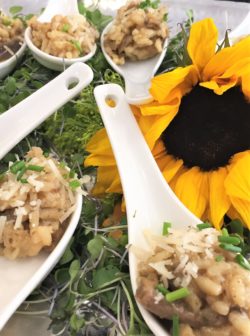 Ingredients
8 cups of water (you will be using 5 to 6 cups of this once the stock is made)
1 ounce dried porcini mushrooms
2 tablespoons butter
1 tablespoon olive oil
1 small onion, chopped
2 teaspoons fresh thyme leaves, removed from the stem and chopped
2 cloves of garlic, chopped
½ teaspoon kosher salt
¼ teaspoon coarse ground black pepper
8 ounces sliced cremini or white mushrooms
1 ½ cups Arborio rice
¾ cup sweet Marsala wine
¾ cup grated Parmigiano Reggiano cheese (extra for garnish)
Chives for garnish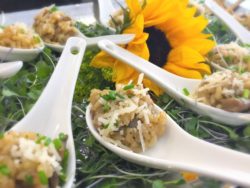 Directions
Bring 8 cups of water in a stock pot to a boil with dried porcini mushrooms, turn down to simmer for 20 minutes; strain and discard the mushrooms, return the liquid to the pot on the stove to keep warm on simmer.
In a separate 4 to 5 quart heavy saucepan over medium/high heat, add the butter, olive oil, onion, thyme, garlic, salt & pepper and cook for 3 minutes, stirring occasionally
Add the mushrooms until they have browned a bit, an additional 3 to 4 minutes.
Stir in the rice and ladle in about a cup of warm mushroom stock, stirring occasionally until the liquid is absorbed
Add the Marsala wine and another ladle of stock and continue cooking until the liquid is absorbed and repeat the process of slowly adding the stock, one ladle at a time until it's absorbed, you will not need all the mushroom stock, the cooking process of the risotto should be about 25 minutes or until tender and creamy. Adjust the salt & pepper if needed
Stir in the cheese, serve in bowls or spoons and garnish with extra cheese and cut chives
4 to 6 servings or about 30 servings in porcelain spoons as an appetizer