I was inspired by this recipe from a memory of a restaurant I worked at as a server back in 91…many years ago….too many!  There was a pasta dish there that had artichoke hearts and mushrooms in it with cream and it was very good.  I did a party last weekend with an Italian theme so I came up with polenta wedges with artichoke & mushroom ragu served over the top and it was awesome.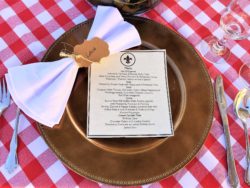 Sometimes I just don't know  when or how I'm inspired  when I'm designing menus for clients, I guess my memory still serves me well with dishes I used to serve many moons ago.  In my opinion, polenta is the second Italian comfort food next to pasta.  You can serve polenta so many ways, soft, in wedges, fried or baked in a casserole.  I like the polenta wedges with this recipe, when it cools, the texture hardens like a cheese and it cuts very nicely and can be grilled, fried or baked before eating.   One hint while making this recipe, cook the polenta first so it has time to cool while you're making the ragu.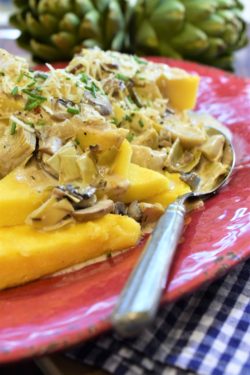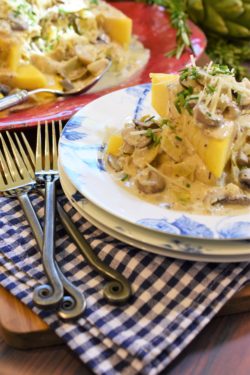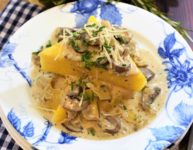 Polenta Wedges with Artichoke & Mushroom Ragu
Creamy wedges of polenta served with a light artichoke & mushroom sauce, perfect for a side dish or a main course.
Ingredients
Polenta
4

cups

water

1

tsp

salt

1

cup

instant quick cooking polenta

4

tbsp

butter

1/2

cup

grated Parmesan & Romano cheese blend
Artichoke & Mushroom Ragu
2

tbsp

olive oil

2

tbsp

butter

1

small onion, chopped

3

cloves of garlic, chopped

8

oz

sliced mushrooms

1/2

cup

dry white wine, like chardonnay

2

cups

frozen artichoke hearts, thawed and chopped

1/4

tsp

coarse ground black pepper

1/4

tsp

kosher salt

1

tsp

dried tarragon

1/2

tsp

dried thyme

2

cups

heavy cream

1

lemon, zested and juiced

1

cup

grated Parmesan cheese for serving

2

tbsp

chives, chopped for serving
Instructions
Bring water to a boil in a 3 quart saucepan add salt and slowly add the polenta, whisking while adding it to prevent clumping, reduce heat and continue stirring for approximately 5 minutes until really thick, stir in the butter and cheese until well combined.

Pour out onto a nonstick sprayed cookie sheet or a 9X13 glass casserole, smooth out with spatula, and act quickly because this solidifies very fast.

Set aside and let cool for one hour, while cooling make the artichoke & mushroom ragu
Artichoke & Mushroom Ragu
In a large pan over medium/high heat, add the olive oil, butter, onion & garlic and sauté for 3 minutes, stirring occasionally


Add the mushrooms and cook for another 5 minutes or until the mushroom have browned nicely

Pour the wine over the mushrooms deglazing the pan, stirring around and making sure to get any browned bits that may have stuck on the bottom of the pan

Add the artichoke hearts, pepper, salt, tarragon, thyme and cream and cook for 15 minutes or so until some of the liquid has reduced, add the zest and juice of the lemon.

Cut the polenta into wedges, I cut it into triangles, heat some olive oil in a pan and warm up the polenta for a few minutes on each side over medium heat

Arrange on a platter or individual plates and spoon the artichoke & mushroom ragu over that, sprinkle with parmesan cheese and chives and enjoy