I took a scenic drive home today in the countryside on my way home from an appointment and I remember my partner's mom telling me to make something with peaches, she's visiting and I love to cook for out of town guests, and I saw a roadside fruit stand and I immediately pulled over. There were so many varieties of peaches, I wasn't sure what to get, so I picked up some white peaches but any juicy sweet peach would be fine.   When it comes to fresh fruit, nothing else tastes like summer feels…like fresh peaches and cherries.  I didn't want to make a big heavy crumble or crisp and we recently had apple pie, so I thought up something much smaller and not as heavy for this dessert.  The peach halve made a perfect vessel to stuff with cherry crumble, you can have one or two with a dollop of whipped cream or ice cream.  It's the perfect recipe for any party whereas a large pan of dessert just seems so overwhelming; this is a perfect sweet petite dessert and a delicious way to marry the flavors of two of summer's perfect fruit.
Fresh white peaches just waiting to be made into this scrumptious dessert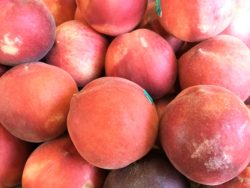 go ahead, try one…two or maybe three, no one is watching…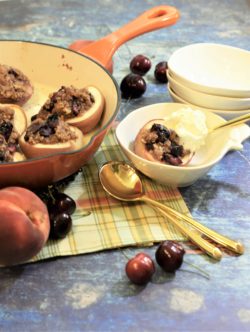 Don't you just want to take a bite of this?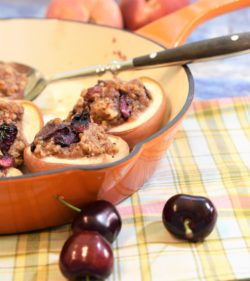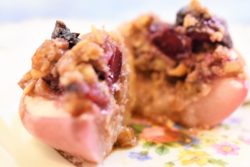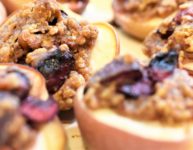 CHERRY CRUMBLE STUFFED PEACHES
Ingredients
Ingredients

4

Peaches

1

cup

pitted cherries

cut in quarters (about 16 cherries)

4

tablespoons

butter

softened

¼

cup

flour

¼

cup

oats

¼

cup

brown sugar

¼

teaspoon

cinnamon

¼

teaspoon

salt

1/8

teaspoon

nutmeg

1

teaspoon

vanilla

¼

cup

chopped pecans
Instructions
Preheat oven to 375

Cut the peaches in half and carefully remove the pit, core out the lining of the pit of each half and scoop out some peach flesh about the double the size of the impression of where the pit was. I used a melon baller and it was quite easy to do.

Pit the cherries and cut each one in quarters and set aside

In a mixing bowl, combine the butter, flour, oats and brown sugar, mix with a fork and incorporate well, mix in the sugar, cinnamon, salt, nutmeg and vanilla

Stir in the pecans and cherries

Stuff each peach half with the cherry crumble mixture, don't be afraid to pile it on each one, any leftover filling just add more on top of the peaches

Place in a buttered casserole dish and put into the oven and bake for 35 to 40 minutes until bubbly and golden

Serves 4 to 6, serve warm with a dollop of whipped cream or ice cream