Chocolate Truffles –Joseph Sciascia
Yield: 40 to 45 truffles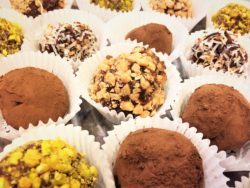 Holidays are around the corner and these bite sized treats are very popular at parties and perfect for a sweet ending at any affair.  Giving them in a nice box as a hostess gift at parties or to a friend as a treat is also a very good option; this recipe is uncomplicated and is full of flavor.  You just might be sneaking a few from the refrigerator the morning after a party to have with your coffee…I do all the time.
1 lb. of semi-sweet chocolate chips
2 tablespoons unsalted butter
1 cup heavy cream
1 tablespoon light corn syrup
1 teaspoon vanilla extract
1 cup Shredded coconut, toasted
1/2 cup Pistachios, crushed
1/2 cup Dark cocoa powder
1/2 cup Toffee Bits
Directions
Heat the chocolate chips and butter in a medium glass bowl in the microwave for two minutes, stirring every 30 seconds. Set aside
In a medium sauce pan, heat the cream and the corn syrup until simmering and remove from heat.
Pour the mixture over the chocolate mixture, adding vanilla and stir until well combined until it is well incorporated and smooth.
Pour into a square casserole dish and place in the refrigerator for at least 2 hours
Using a small ice cream/cookie scoop, make small balls and dipping the scoop in hot water between making every few to keep from the chocolate sticking too much in the scoop.
Place the chocolate balls back into the refrigerator for another 30 minutes
Roll the balls in various bowls of coatings, some in crushed pistachios, toffee bits, toasted coconut and some in dark cocoa powder and place in small cupcake papers.
Serve right away or put in a covered container and put back into refrigerator until serving.
Best served about 30 minutes after removed from fridge to get a little soft and creamy.
Enjoy!