As with a previous post I had mentioned that I have pears coming out of my ears from various gift baskets I received over the holiday.  After much thought, starring deep into my pantry and looking around at my culinary appliances and supplies I came up with this refreshing sorbet.   I dusted off my expensive ice cream machine that I only used once and I bought it over 2 years ago.  I get overwhelmed and intimidated by kitchen appliances just like a lot of cooks, so it will be exciting to put it to some use.  I noticed a bottle of elderflower syrup that I have not used in a while and I've only used it for a refreshing mock tail that I blogged last summer and sometimes I've had it with tonic over ice; the tangy sweet floral aromatic notes will be a welcome surprise to this recipe.  Remembering in the back of my mind that it's a new year and that means new adventures in all aspects of my life including cooking and how I approach food and develop recipes.     I hope you all join me in this adventure, there are endless possibilities in food and the best is yet to come.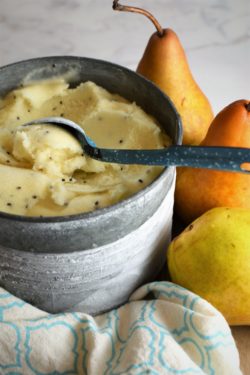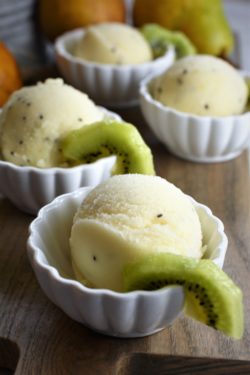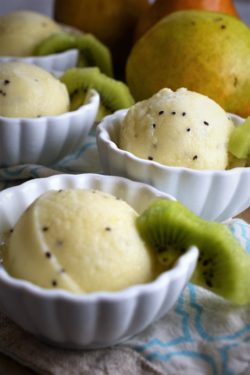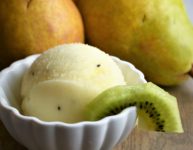 Pear, Kiwi & Elderflower Sorbet
Sweet and refreshing sorbet with hints of floral notes from Elderflower
Total Time
1
hour
10
minutes
Ingredients
3

cups

ripe pears, cored, peeled and chopped

1

cup

kiwi fruit, peeled and chopped

1 1/4

cups

white grape juice

1/3

cup

sugar

2

tbsp

light corn syrup
Special Equipment: 1 1/2 quart capacity ice cream machine
Instructions
Put pears, kiwi, white grape juice and sugar into a sauce pan on medium high heat.

Bring to boil and then lower heat and simmer for 10 minutes

With an immersion stick blender directly in saucepan, puree until smooth or you can use a food processor or blender to puree the fruit, let cool on the counter for half an hour

Stir in corn syrup and elderflower syrup, cover and chill for two hours in the refrigerator.

Freeze the chilled mixture in an ice cream maker according to manufacturer's instructions.

Serve right away or transfer to a container with lid and place in the freezer.