A client requested veggie burger sliders as part of a small bites luncheon menu coming up this week so they can offer some vegetarian/vegan choices for some of the party guests. I created these chipotle BBQ chickpea sliders with secret sauce for their veggie loving party goers.  The menu that they are having has pulled chicken sliders, hamburger sliders and other delicious choices for hungry appetites.  I know that the grocery stores have a huge selection of veggie burgers nowadays on the market but I wanted to make these veggie burgers from scratch.  My client didn't mention that she wanted to have these vegan or not but I wanted to make them that way just in case there would be people at the party that eat only a vegan diet; this would give them something to eat besides just vegetable crudités.  Vegan party food need not be boring or bland, my recipe for these sliders turned out fabulous and full of flavor not to mention protein packed and of course scrumptious looking.  You don't need to be a vegetarian or vegan to enjoy these delicious sliders… you just need to be hungry, that's no secret.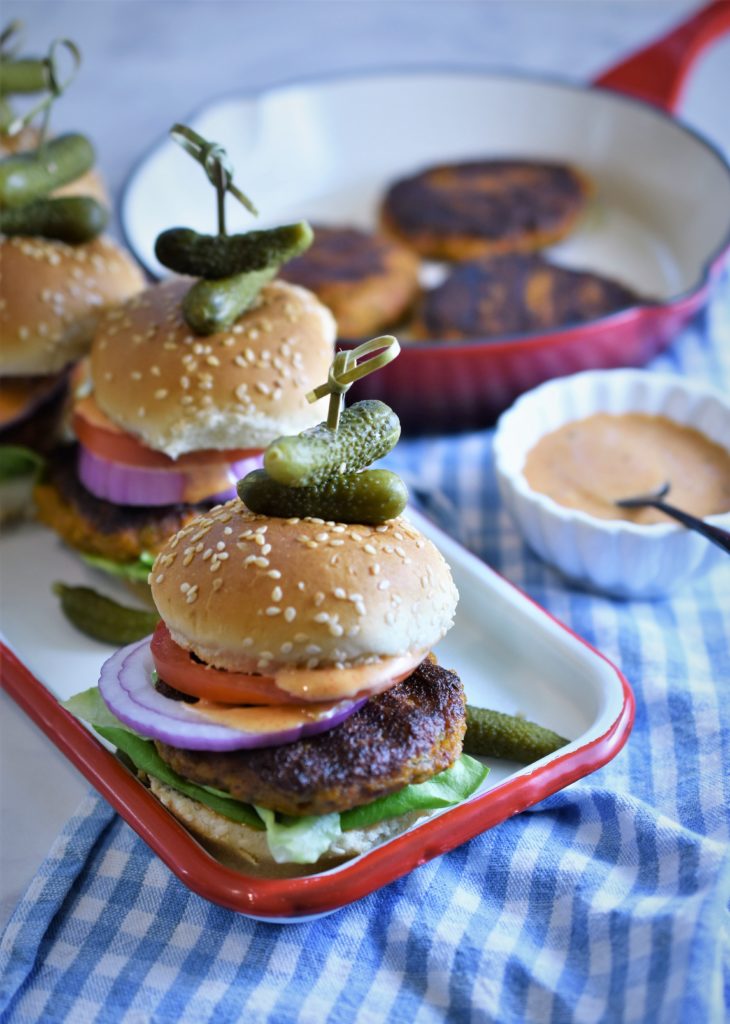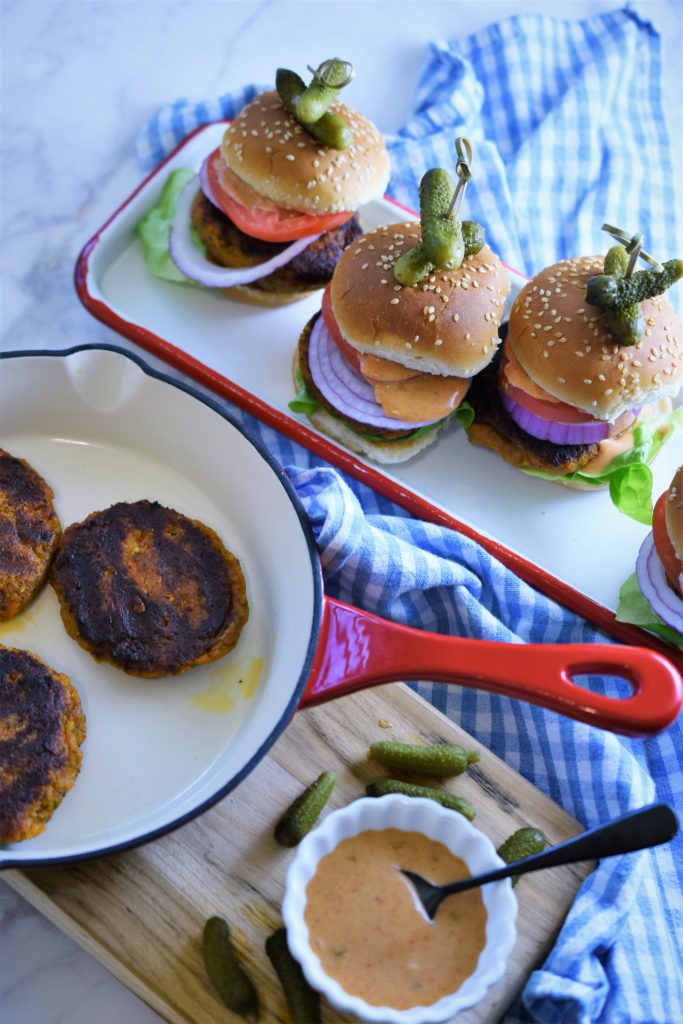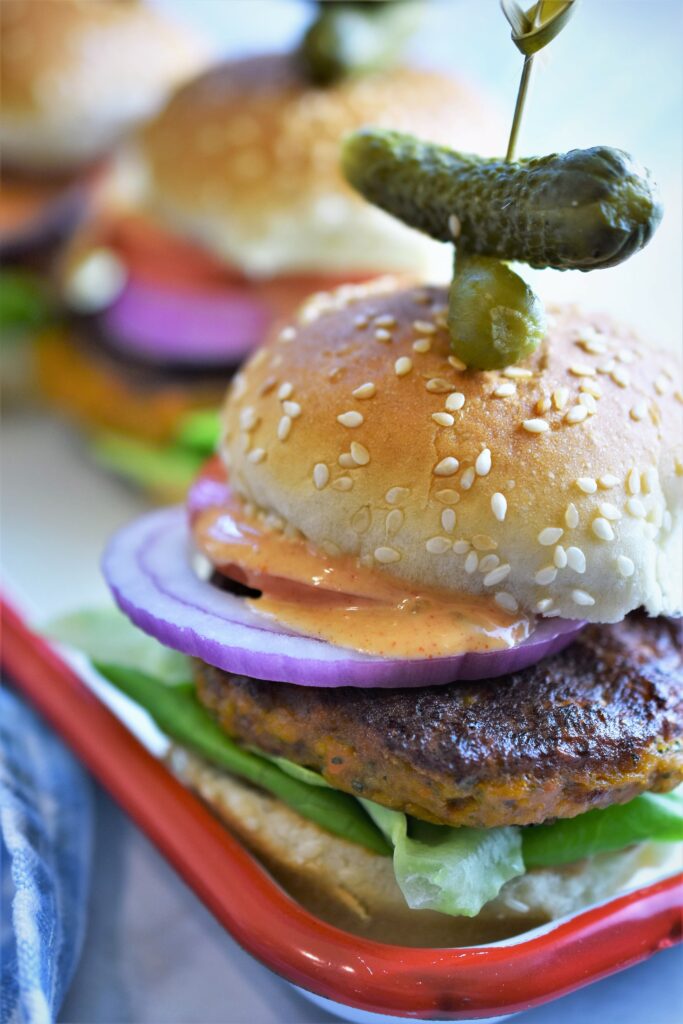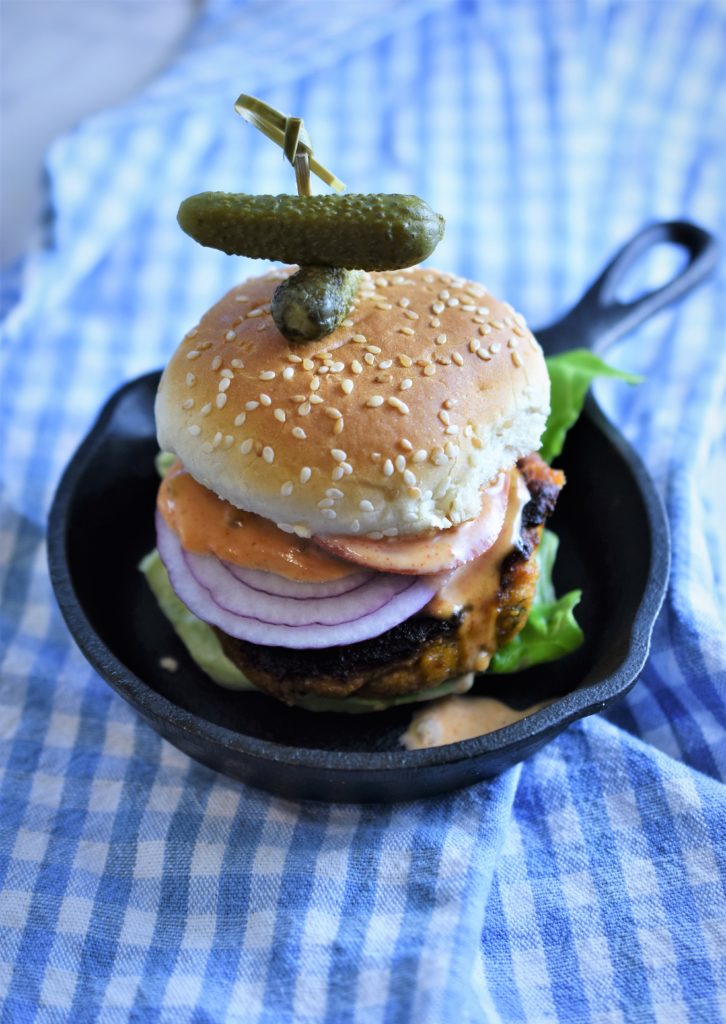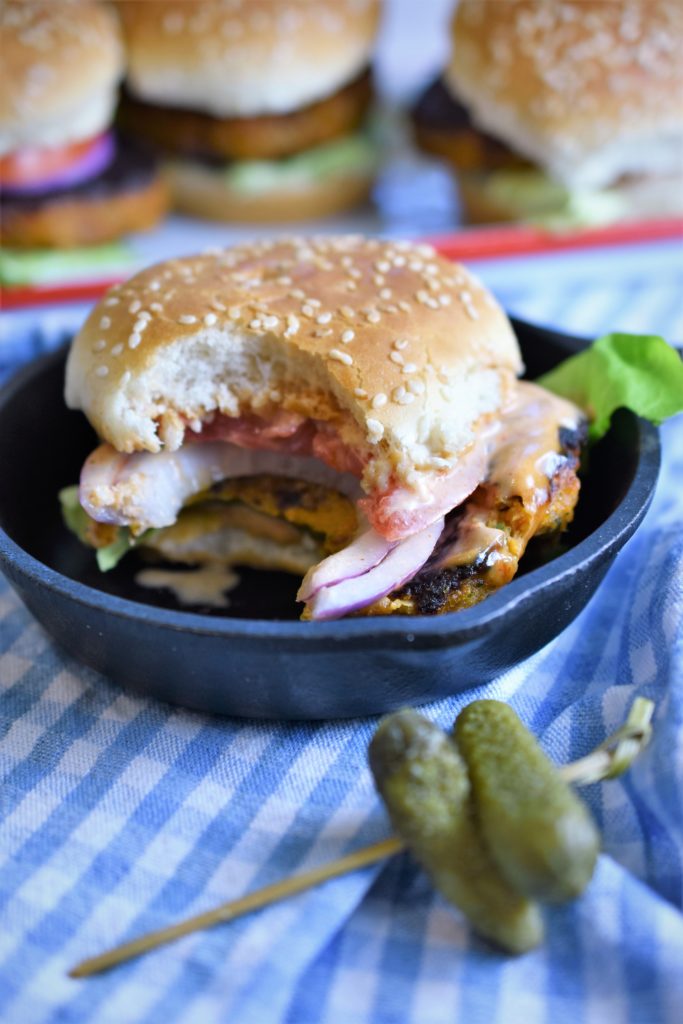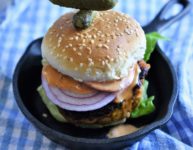 Chipotle BBQ Chickpea Sliders with Secret Sauce
These scrumptious tender, but crispy burgers have just the right amount of spice and the secret to these bad boys is that they are vegan!
Ingredients
1

tbsp

olive oil

1/2

cup

chopped onion

1/2

cup

shredded carrots

2

garlic cloves, minced

1/4

cup

sun dried tomatoes packed in oil, drained and chopped

2

15 oz

cans of chickpeas, rinsed and drained

3

tbsp

BBQ sauce

1/4

cup

vegan mayo

1/2

cup

cilantro, chopped

1

tsp

cumin

1/4

tsp

kosher salt

1/4

tsp

course black pepper

1

tsp

smoked paprika

2

tbsp

chipotle chilies in adobo, minced…more if you like it hot

1 1/2

tsp

baking powder

1/2

cup

all-purpose flour

1/4

cup

vegetable oil for frying
Secret Sauce
2

tbsp

BBQ sauce

1

tbsp

sweet pickle relish

1/2

tsp

smoked paprika

1

tsp

white vinegar or rice vinegar

1/2

tsp

sugar

1

tsp

Dijon mustard

1/4

tsp

cayenne pepper

1/2

cup

vegan mayo
Instructions




In a small frying pan over medium high heat the olive oil and add the onion, shredded carrots, garlic and sun dried tomatoes and sauté for 5 minutes, stirring once or twice, turn off
heat and let cool.













In a food processor fitted with a metal blade, add the chickpeas, BBQ sauce, vegan mayo, cilantro, cumin, salt, pepper, paprika, chipotle chilies, baking powder, flower and the sautéed
carrot mixture.  Pulse mix until all blended into a thick paste…it will be sticky.













Since mixture will be sticky, with wet hands, form the mixture into 10 equal sized small patties and place them on a parchment lined sheet pan, cover with damp paper towel and let
rest in the refrigerator for an hour.













While chickpea sliders are chilling in the fridge combine all the secret sauce ingredients in a small bowl, cover and place in the fridge until you assemble the sliders.













Heat oil in pan on stove on medium high heat and cook the patties for 4 to 5 minutes per side until brown and crispy













Serve on small dinner rolls with the secret sauce and other toppings of your choice. Makes 10 sliders