At a recent party that I did, I wanted to honor the birthday party guest with a classic Scandinavian dish, so I made him Toast Skagen, (shrimp toast with caviar). The honoree and many of his friends are from the Scandinavia region so putting this on the menu among other dishes were well received from many guests that were crunching on these savory canapes while sipping champagne and toasting his 80th birthday.   Elevate your next cocktail party with this easy and yet sophisticated Hor d'oeuvre for the upcoming holidays.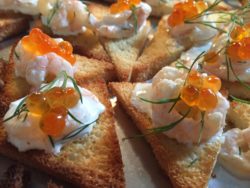 Ingredients
5 slices of good white bread, crusts removed and cut into 4 triangles each
2 tablespoons melted butter
2 tablespoons chopped dill, extra sprigs for garnish
4 tablespoons mayonnaise
2 tablespoons sour cream
1 tablespoon Dijon mustard
2 tablespoons minced onion
2 teaspoons horseradish
1 tablespoon fresh lemon juice
2 cups of fresh cooked small shrimp, patted dry
Salt and pepper to taste
4 ounces of whitefish or salmon roe
Instructions
Preheat oven to 400 degrees F
Melt butter in a microwave safe bowl for about 30 seconds, brush the top side of each cut bread piece and put buttered side up on a baking sheet and bake in oven for 6 to 8 minutes or until toasted, take out and let cool.
Stir together the dill, mayo, sour cream, mustard, onion, horseradish and lemon juice
Fold in the shrimp and season with salt and pepper to taste.
Spoon a small amount on each toast and top with a bit of salmon roe and a sprig of dill.
Makes 20 canapes