Curried Roasted Zucchini Hummus
Dip, dip, dip…everywhere you go there is some kind of dip at parties!  People love dips, they are easy to prepare and can be made ahead, the ideas are endless and you can please the different tastes of your guests.   This dip is a flavorful version of hummus that will be a nice change from the standard one.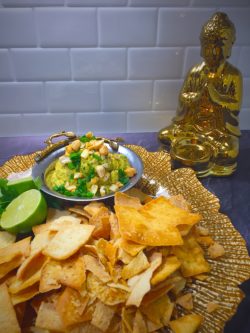 Ingredients
1 16 oz. can Garbanzo beans, drained and rinsed
2 medium sized zucchini, sliced
2 cloves of peeled garlic
¼ cup Tahini
¼ cup extra virgin olive oil
¼ cup of water
1 tablespoon lime juice
½ cup of Cilantro
2 teaspoons of yellow curry powder
¼ teaspoon cayenne pepper
½ teaspoon Salt
¼ teaspoon Pepper
Extra chopped cilantro for garnish
½ cup of chopped cashews for garnish and crunch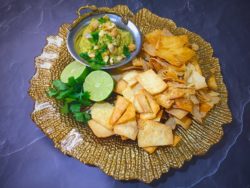 Directions
Preheat oven to 375 degrees F
Place the zucchini on a non-stick sprayed or parchment lined sheet pan, drizzle with 1 tablespoon of olive oil, sprinkle with a pinch of salt and pepper and roast until golden brown, about 20 to 25 minutes, take out and set aside to cool.
Meanwhile put remaining ingredients in the food processor and blend until smooth, add the zucchini and blend until smooth
Pour into a dip bowl and garnish with chopped cilantro and cashews and enjoy with pita chips and/or veggies.