This tomato bruschetta is always welcoming at many parties, I updated this classic appetizer by adding parmesan cheese to it and drizzling balsamic glaze over the top.  Great any time of year, especially during the warmer months when tomatoes are at their peak, if you want this in the winter months, use cherry tomatoes, usually much sweeter.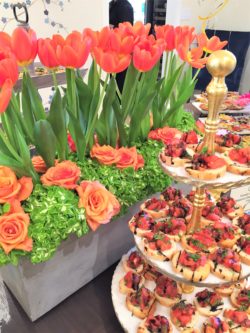 Yield: makes 24 pieces
Enough for 6 to 8 as an appetizer
Ingredients:
7 ripe roma tomatoes
2 tablespoons tomato paste
1 tablespoon olive oil
2 cloves garlic, minced
¼ cup grated Parmigiano Reggiano Cheese
½ teaspoon red pepper flakes
10 fresh basil leaves, thinly sliced
½ teaspoon coarse ground black pepper
½ teaspoon kosher salt
1 baguette of sour dough or French bread, sliced
Olive oil spray
Balsamic glaze for drizzling
Instructions:
Preheat oven to 425 degrees F
Slice the baguette into half inch slices and place on a parchment lined cookie sheet, you should have about 24 slices of bread, and spray each one evenly with olive oil spray
Place in oven and toast until lightly browned around the edges, about 8 minutes, take out and let cool.
Cut the root end of the tomato off and cut a deep X into the tomato and squeeze the seeds out of each one, chop and put in medium mixing bowl.
Add all the other ingredients except the balsamic glaze, mix well.
Place the toasted baguette slices on a serving platter and spoon some tomato mixture onto each one.
Drizzle with some balsamic glaze.